Hello guys and gals,
As I've gotten quite a few questions about how I did the gems bursting from the armour on of my old Emperors Children army, I thought it was time I did a small tutorial for you on how to do it.
Unfortunately I only found out my lighting sucked by the time I finished the thing, so the pics are nothing to boast about..
The subject is the upper leg of a (chaos) marine that I'll be using for a tutorial on how to paint pink! Meet Mr. S: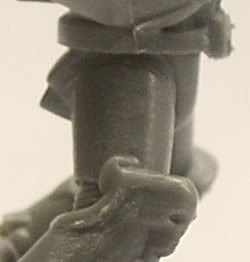 Step 1:
Put a small ball of greensuf on the place you want the gem to be. The ball I used in this picture is actually about 1,5 times as big as what I actually used..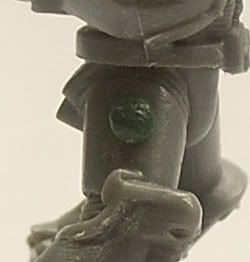 Step 2:
Flatten the edges of the ball with the round part of a GW greenstuff tool-thingy. Smooth out the edges to make a nice bump in the armour like so: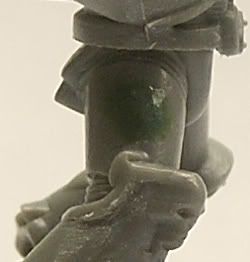 Step 3:
Take a sharp hoby knife and draw the gem in the greenstuf with the (moistened) tip of the knife. Hold the knife at an angle from the center of the gem outwards. This will give the gem a more rounded shape and you press the edges of the armour upwards a bit.
Step 4:
Now use the knife to make some cuts in the armour to make it look more burst than melted: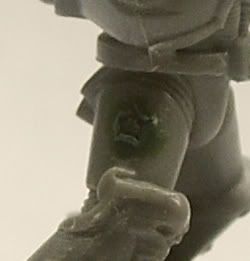 And a better pic of the finished gem-fro-armour-thingy:
Next up is painting the mini..
Hope it helps!
John