Hello all!
I have made it a project to build a cityfight table, and over the last few months I have been plugging away at it - in my spare time. So I thought I would share with you guys my baseing techniques.
So I have come up with a relatively easy and good looking way to put together urban scenery. Maybe some of these pictures I'm posting will help other players with ideas on how to make city terrain.
This tutorial is far from complete but lets get it started anyways.
So here is what I started with:
carpentry glue
white glue
utility knife (heavy)
scissors
ruler
felt tip marker
various paint brushes
GW black primer
GW city ruins boxed set (3 x ruins set)
IKEA gravel (aka fish bowl gravel - or could be used for vases) in two sizes small and large
sand (or GW basing sand works)
Pink foam insulation
hard board 3mm (actually used for backboards of shelves, and some cheap walls)
extra sprues
foamcore 1cm wide
folk art paints (acryllic black, grey, white etc - these are relatively cheap and much more cost effective to use on scenery than GW paints)
I'm sure i have left something out but I will add anything I remember....
Stage 1: Construction
Build your cityfight kits! (this step could be replaced by building custom scenery but for the purposes of this tutorial I just want to keep to assuming that you have ruins premade.) Don't forget to add things to the ruins such as pipes, I-beams, and various creative touches to add to the figure. This can be done using small copper piping, thick wire, extra sprues, and even old ball point pen tubes.
You can elevate the model using pink styrofoam insulation as in one of the pictures below, or you can keep it at ground level. Think ahead about what you would like your piece to look like when complete.
Cut an appropriately sized piece of hardboard to fix your ruins to. Note that I have left room for a sidewalk on all sides. Use the carpenter's glue to fix your scenery to the base. This works best I find.
Then take a piece of card (I used an old MCain's Pizza box) and using a ruler mark down 1" squares, in a checkerboard pattern. Do about 1'x1'.
Once complete use your utility knife along with the ruler to cut along the lines carefully creating a ton of little card squares. These are your sidewalk tiles.
Glue on the side walk tiles as you prefer them to be placed. Cut some of them up and scatter their shards in teh vicinity to represent crushed, broken tiles. Remember this is a warzone, tiles will not be pristine.
Lastly glue any other pieces such as lamps, ladders.
Stage 2: Basing.
Remember this is a warzone. If you are going to make craters, there is a splash of debris that will fall in the general area. If a buildling has fallen their will be debris, and chunks of wall. One thing to keep in mind is that if you are making terrain you should leave room for figures so you can play a functional game of 40k. You may have to substitute realism for space.
With that said I look at the ruin, and the base, and think if this building has fallen, where would debris land? And place it accordingly. In areas where there might be a floor or wall fallen over I might put a chunk or two of foam core or additional floor tiles from the GW kit. Add rubble to these chunks and voila you have a pile of debris!
Foam core is cool because you can manipulate its shape.. In the pictures above you can see the white chunks of foamcore. You can cut it to look like a chunk of plascrete that has fallen through the ceiling, and cracked in half. You can make big cracks running through it using an xacto knife or pen.
So..... I place my large bits. Chunks of foam core, chunks of pink foam, chunks of cut-up sprue all fixed to the base with carpenters glue.
If you are going to crater this sucker, now is the time. If you see my one piece that is unpainted it has a big old crater in it. Hard to see at this point but its dug down with a knife.
Next put down a thin layer of glue wherever you plan on putting debris. If you plan on putting down piles of debris either use more glue, or build it up using pink foam insulation chunks.
Now I place a small amount of the large gravel to represent larger chunks of debris, and I use smaller gravel a little more generously followed by sand to fill all the other areas in. You might have to use the carpentry glue for the large gravel, however the smaller stuff will hold with plain old white glue. As a last touch I add plastic bits around, such as lasguns, imperial bits, wartime debris of all sorts, human bodies, skeletons, or anything you can think of to add realism. My favourite is adding beams of metal (sprues) to the debris piles to look like iron beams/columns have come down in the ruin.
Don't forget to put some rubble on the 2nd or 3rd floors as well! They are not going to be sparkling clean after half the building got shelled!
Now I take the model outside and prime it black. The good thing about priming it once its on a base, is that the primer doesn't go to waste. It gets fixed to the base a wee bit and it helps the application of the grey paint.
PLEASE NOTE! If you are priming a terrain piece with styrofoam on it (foamcore, or insulation) - spraypaint will melt the foam so you need to apply a layer of glue to the foam and let it dry before attempting to spray it. (ie. the pink foam above can be seen to have a layer of glue coating it.)
Stage 3: Painting
Now once your model is primed you can begin to make that rubble look like actual rubble instead of the bottom of a fish tank.
Mix up some grey paint - what kind you use and how you get it doesn't matter just find what is right for you. I like a darker grey because it is easier to dry brush on lighter colours.
Paint it up. Do not water down the paint too much or it will soak into the hardboard base and warp it and you will be left with an unstable platform of a city ruin.
Don't worry about getting paint on the ruin itself. You have to worry about good coverage on the gravel or you will have bits sticking through. I rushed this batch but I will be going over it with another light coat to ensure good coverage.
When I go back after the grey is dry I will patch up all the areas on the plastic ruin itself with chaos black, before painting the ruin.
Next I dry brush the ruin with a large brush if you can find a brush that is more than an inch thick you're going to have an easy time drybrushng this, if not you will be at it for a while. Dry brush once with codex grey, followed by a light drybrushing of space wolves grey (or equivalent). If you want do a VERY light drybrush of white on all the rubble.
Next paint the ruin. Paint the model any way you like, keeping in mind battle damage, smoke damage, fire, shell impacts, etc. Painting is at your discretion depending on how much time you want to put into it.
I just drybrushed this manufactorum and it turned out nicely.
Some other scenery samples: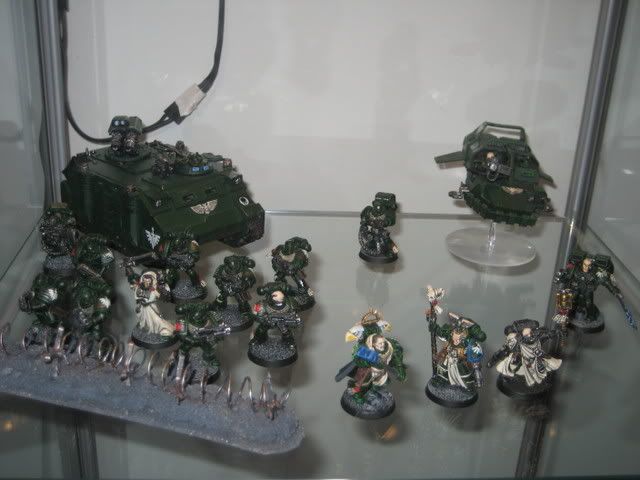 Edited by The Angelus Sanctus, 13 July 2009 - 01:03 PM.