I figured I'd chuck this in here. This is an old VDR I once made for a competition, and has been seeing action as a neat-looking Vindicator in the mean time. But it would make for a cool Marine Basilisk...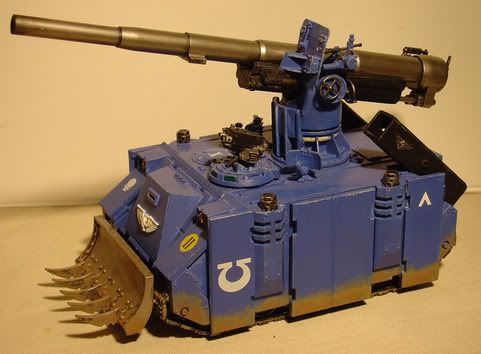 Points:
225
Unit:
1 Space Marine Destroyer
Type:
Tank
Weapons and Equipment:
- one Earthshaker Cannon (with Direct/Indirect fire capabilities)
- one pintle mounted Storm Bolter
- two Hunter-Killer Missiles
- extra armor
- smoke launchers
- searchlight
Armor:
Front..Side..Rear..BS
..13.....12.....10.....4
Options:
The Destroyer may choose any of the following options from the Space Marines Codex: Dozer Blade, Power of the Machine Spirit.
According to the VDR rules it was pegged at 185 for the weapons and armor, but not including the secondary upgrades, so I just rounded up to 200 for simplicity, then added 25 to be able to fire directly and indirectly.
I see it as a long range support asset for marines. I can imagine a techmarine seeing two vehicles in front of him: a Predator with a wrecked turret, and a Basilisk with a wrecked chassis, and some armor plates not being used, and thinking "Hmmm..."
Edited by Seahawk, 09 February 2008 - 07:45 PM.