With the release of Assault on Black Reach, like so many others, I have decided to start another Marine army. I traded away the Orks for even more Marines so I now have a sizable force. I hope to have it expand over the coming months once I have my current contents painted.
Their colours will be as follows: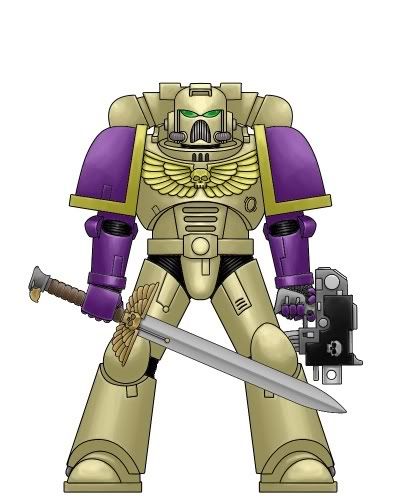 Menoth White Base (Bleached Bone) torso and legs with Liche Purple arms and pads with gold trim and eagle.
Their badge will be the skull headed eagle: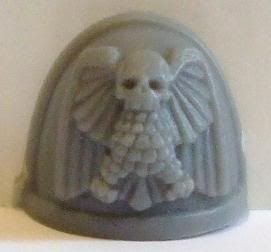 Background wise I want them to be devout and perhaps spread their gospel. I figure since I'll be using both the double headed aquila and the skull one, that it'll be the two paths the potential convertees can choose. The Emperor, the regular aquila, or death, the skull headed one. This option, of course, if only for humans, and any xenos they face automatically get the 2nd option. Since they will be devoutly religious to the Emperor, they'll be called 'The Emperor's Word' and follow the codex.
The fluff is very WIP and I hope to develop this as I progress with the army.
The first unit I have begun work on is a Terminator Squad.
and a close up of the completed sergeant to show scheme and basing.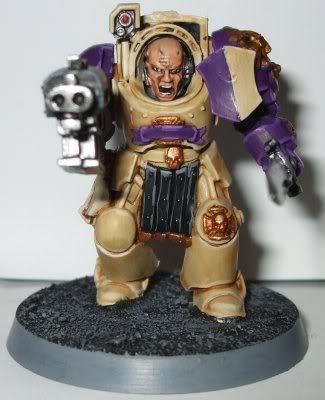 So far the army contains;
20 Tactical Marines, 10 Terminators, 2 Dreadnoughts, and a Terminator Librarian who'll have blue arms instead of purple to show his designation.
I'm going to try and complete a few minis every couple days or so, school and work permitting but figure if I assembly line the tactical squads, then it should go quite smoothly.
Until next time,
Khrangar
Edited by Khrangar, 11 January 2011 - 03:49 AM.