Vindicators finished, glory to Chaos!
Command Vindicator, Quor Bifrons
Quor Andras
- I do realize it's kind of weird that the helmets are just... there, but I really couldn't think of a way to stick them to the tank without it looking weird - tried sculpting little GS "nails" but that didn't really look good. I'm gonna say they've been bolted to the shield through their backs. Might be kind of hard to spot in the pic but I sculpted an intestine running down from where the Guardsman's guts would be, resting between the Ultramarine shoulderpad and the White Scar helmet. Oh, and the green Chaos skull-helmet on the bottom right is a Dark Angel - local joke.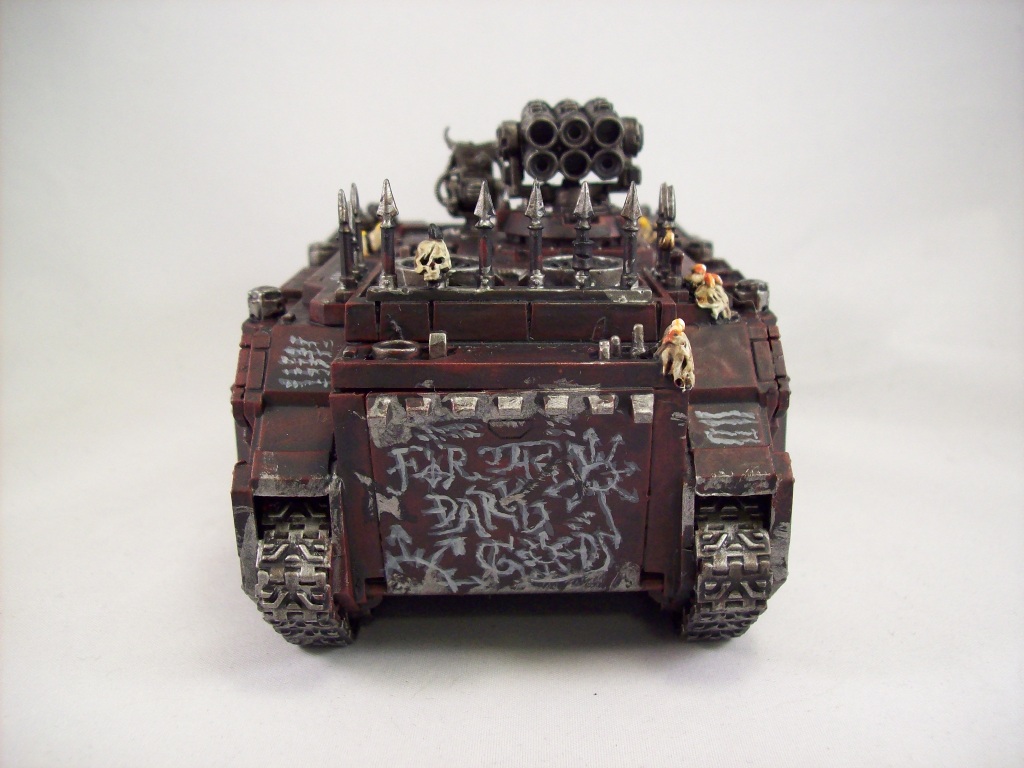 Quor Oriax
- a.k.a. The Scripticator. Had lots of fun with this one, think it may be my favorite of the bunch. Considering doing this with all my tanks but I'm kind of worried about it being overpowering. If I ever do this, I won't retouch Vanessa, she's fine as she is.
And here's a shot of all my tanks together, lighting's not great and the preds are kinda blurry but I don't really have the space to set up a better shot at the moment.
Will be working on the Discords and the Cultist Overseer tomorrow. Don't see them taking very long, then I'll start working on a Defiler. I have a Land Raider but I don't want to touch it until the new 'dex, it's a longshot but I've kind of got my fingers crossed for a Reaper autocannon variant... not that the lack of one would prevent me from making one anyway...