Righto, mini-update - not much done over the past week. No real reason, I'm just lazy.
Anyway, I've gotten a little bit of work done on Raz's base, just put him on a lump of greenstuff and started piling up as many skulls as I could find, which of course wasn't enough, so I'll be ordering some more.
Also, started up a little something new today - converting Sicarius to Chaos: because it's always good to have a little irony in your diet.
There will be more GS work to cover up the U's and such, but this is just to give a basic idea.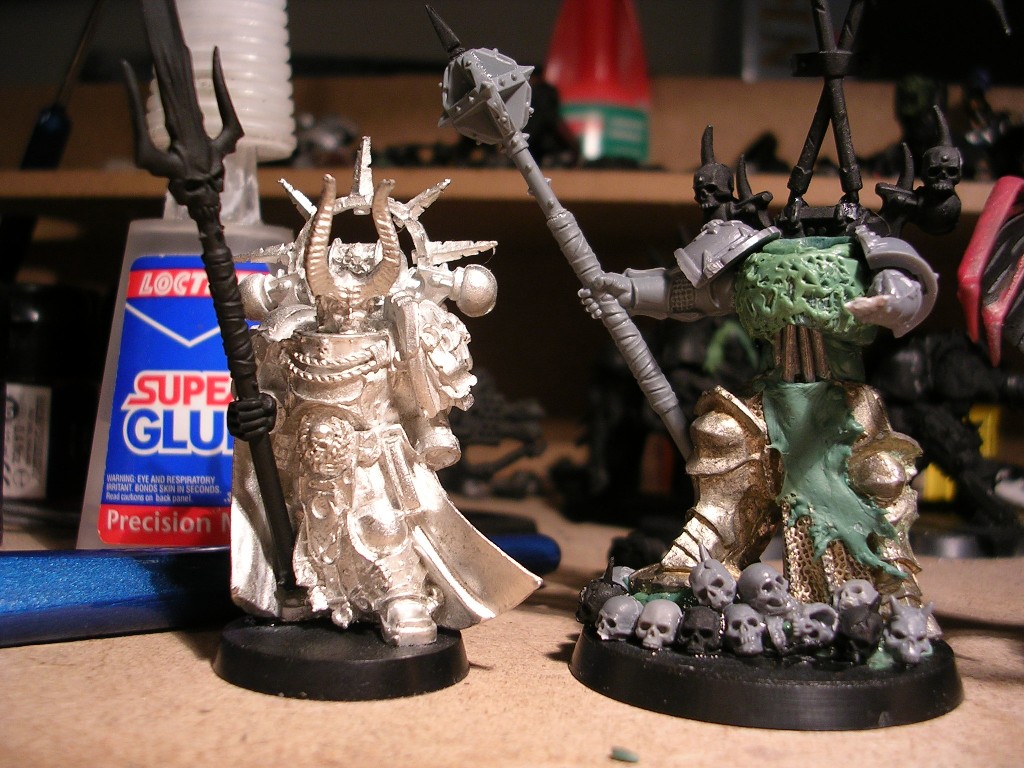 He'll be a Lord. Another one. =P Fluffwise, my army is the II Cohort of the XIII Warhost, with elements from the Anointed I Cohort, so he's going to be the Acolyte of said II Cohort.
EDIT: That was a bit confusing, so, without further ado, The Razterpretation of Word Bearer Terminology (mostly gathered from the Dark Apostle novel. I might be wrong about captains = Acolytes, but it's vaguely defined in the novel and I like it, so whatever, and if not, who's the Second Acolyte?). Basically, think of a Warhost as a chapter-size element, of which the Word Bearers have an indeterminate amount as far as I know. Each Warhost is led by a Dark Apostle, who has an apprentice, the First Acolyte. A Cohort is like a company, made of roughly 120 marines in 10 twelve-man squads (got the 12-man thing from Lexicanum), and is captained by an Acolyte. The I Cohort is made of Terminators and is called the Anointed. The Acolyte of the Anointed is NOT the First Acolyte; instead, he serves as Coryphaus, serving as an Apostle's war advisor, but he is not on the chain of succession for First Acolyte and so he can never become Dark Apostle.
With that out of the way, paintwork on the First Acolyte, a.k.a. Leroy, is progressing slowly, since I always seem to get sidetracked converting something. All I've really gotten done is the base red. You can see his wing on the right of that pic.
P.S. Happy early-in-case-I-don't-have-time-to-post-tomorrow Thanksgiving, B&C!
Edited by RazakelXIII, 27 November 2008 - 04:54 AM.