Although I keep a lot of my progress blogging done off-site, I thought given the nature of the board I would try something different and attempt to "maintain" a progress blog here. Granted I'm not a fast painter/modeller/etc, but hey, when it comes to all things Marine, why not post them here!!
In theory, the blog will just be an amalgamation of all works Marine, so chances are there will be frog leaps between Loyalist and Traitor.
However to start the blog off (and i thank both kikkala and RazakelXIII for this) I thought I would post up the progress of my Word Bearers.
Most of this post will be a tad bit wordy (ok, bad pun) but I haven't really photographed alot of my progress, since most of my work thus far has involved being hunched over a table with hobby knife in hand. However, there will be some pics! Not fantastic one, but one must start somewhere...
Progress wise:
- My 'Dark Apostle' is still very much in pieces, since I'm still trying to figure out what pieces i intend to use, not to mention how they'll all come together. Initial plan was to use Chaos Warrior parts, but that felt somewhat messy, so i've leaned towards the Possessed parts. I'd still like to use the Chaos Warrior parts, but we'll see. Alot of work will be required, and by the end of it, there may be a small total of warrior parts used, but i'll keep thinking it over.
- A second marine has been made and to be different i actually gave it a 'wrist mounted' bolter. I personally think it looks great as impractical as it may sound. I'll try to get a picture of that soon.
- Current mini has been graced with a loin cloth, some seals and (sadly) a horrible attempt at recreating my '06 work on the WB Legion symbol and flame motiff. How it got worse over two years i don't know, but i'm not happy with it. I have taken a picture of it, but by the end of the weekend, that pad will be back to looking pure red again and i'll have to hit the scrap minis to work on the motiff again. On the upside, two years later, it's nice to see the WB crew is being finally realised.
Anyway, picture time!
The test mini from '06. Mind you, when i say test, i do mean test, so the paint job is quite sloppy, but it was to give me a feel for the scheme and technique required.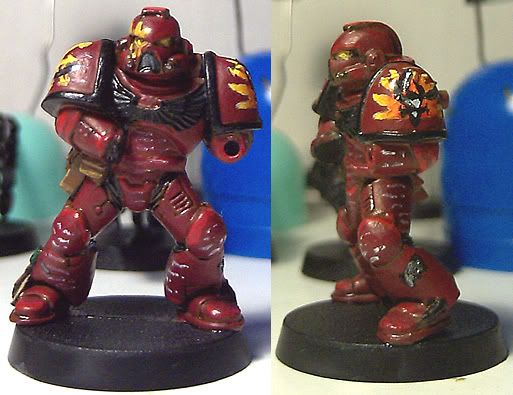 Current look of the first WB '08 mini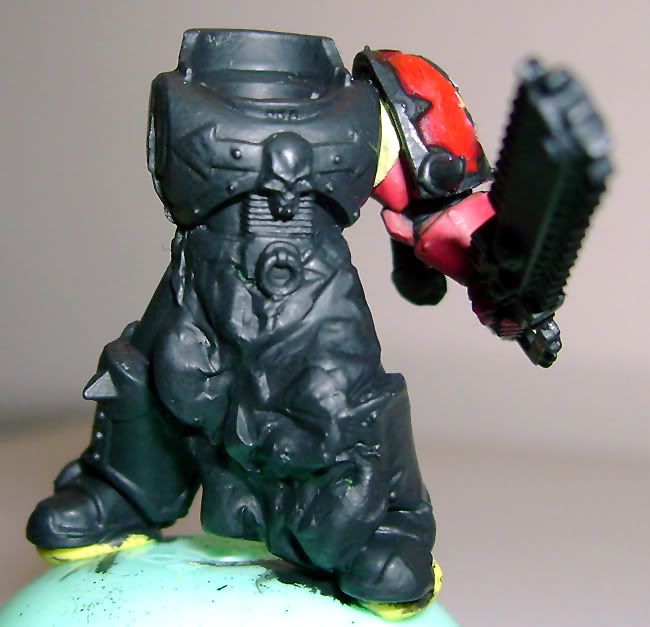 And lastly the horrid shoulder pad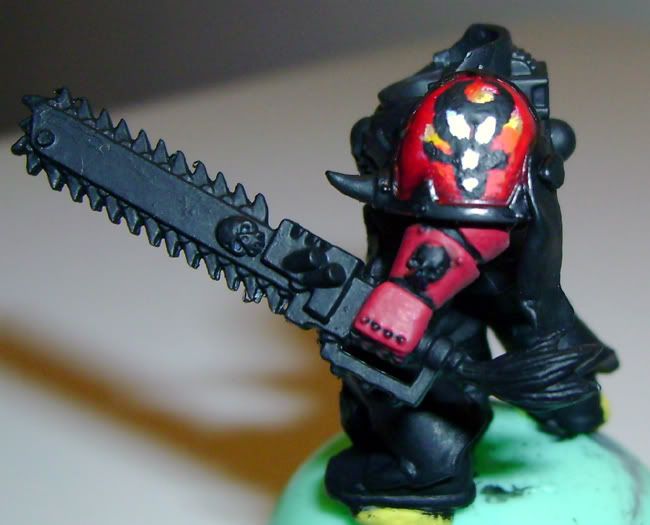 Updates "soon".
Edited by The Angelus Sanctus, 03 March 2009 - 01:49 PM.