Grail Company
, Part 3
Weber pivoted the bulk of his shell and raked a long beam of energy across the charging Tyranid Warriors as he advanced toward them. His firepower was mirrored immediately by Alaric's Zeal, the twin beams cutting down a beast completely. A few of the other control beasts in the brood had already fallen, but the will that controlled them dragged them back to their feat despite their grievous wounds.
"Zeal and valour! We end it now, brothers!"
Had he not been encased and immortalised in his sacred shell, Weber would have taken a deep breath at those words as he braced himself for what was to come. The dreadnought crushed into the Warrior brood with a thunderous boom, scattering them and sending the beasts reeling. They recovered with inhuman quickness.
They were upon him, and Weber's assault drill whirred loudly as it crunched through hardened chitin and shell. His viewport was darkened by alien shadows and ichorous blood, illuminated intermittently by point-blank fire from his lascannons. His storm bolter was beginning to overheat from constant firing into the melee.
Unnaturally sharp claws tore gouges into the sacred shell of his body, and Weber's sensors were screaming alerts at him. He could not see, but he did not need to. The massive strength of the dreadnought would crush foul Xenos wherever he struck. Weber smiled in his sarcophagus as his sensors detected the barely audible battle-cry that told him that his brothers were surging forward.
***
Venerable-Paladin Weber, the Relentless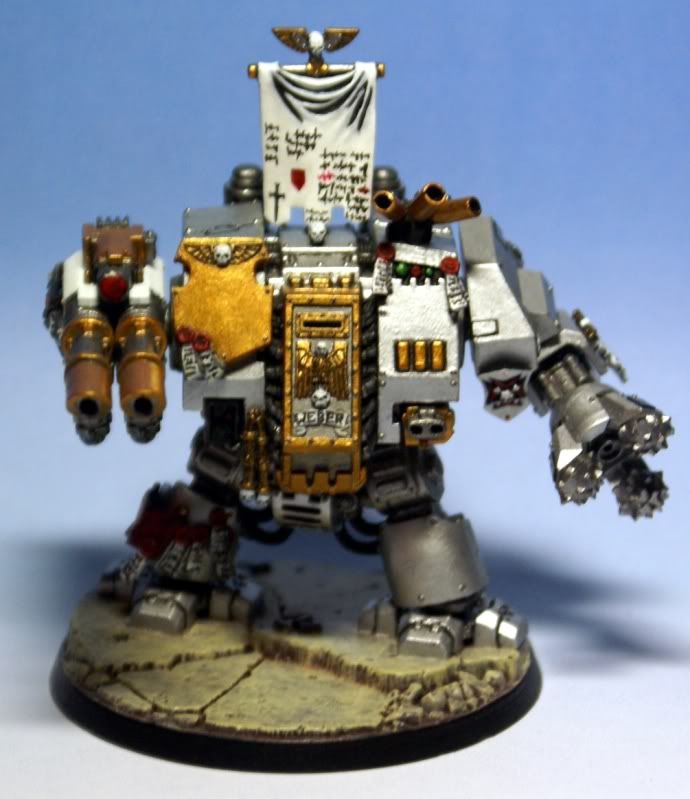 Weber was once a Champion of Grail Company, and is Paladin Latham's immediate predecessor. When he was mortally wounded by a daemonic Prince of a renegade Chapter, Alaric ordered Weber's body be interred into a sarcophagus, so that he may continue to serve the Emperor and fight alongside his battle-brothers.
Weber bears a simple banner into battle, one incorporating his personal heraldry and various passages extracted from the Litanies of Hate.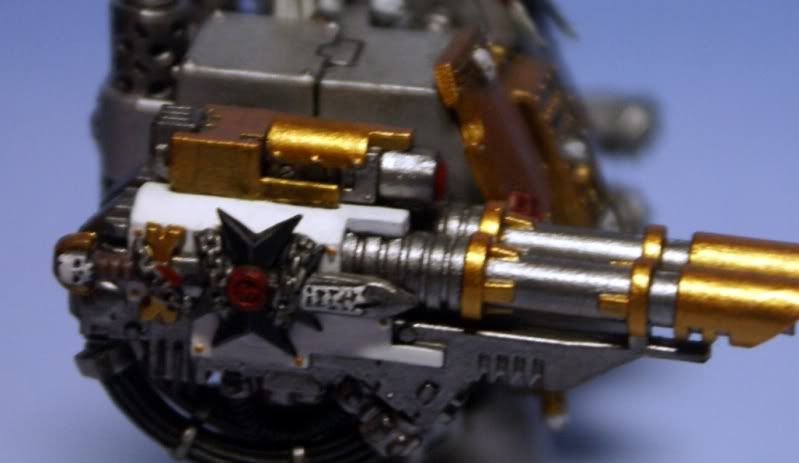 Such was the reverence for Weber that instead of passing his sword and shield on to his successor, they were instead affixed to Weber's shell, that he may be close to his weapons of war even in death.
In combat, Weber performs fire-support and close combat duties where the fighting is thickest, as befits a warrior as implacable and capable as him. His twin-linked lascannon has accounted for many a vehicle, and the assault drill he wields has shattered many a bunker.