Greetings! I am Das Brutus. My familiarity with the game is basic. I've helped a friend paint his armies and I've been following the updates of the Movie and New Video Game about to be released.
I build costume armor and props, having completed a Halo Recon Spartan, Halo ODST Spartan, Halo ODST Soldier, and a Star Wars Mandalorian Shadow Trooper. (The helms can be seen in the upper left of photo below)
This year I decided to have a go at the most bad arsed armor ever... the Space Marine. Black Templar Chapter to be specific.
Here's what I've got so far:
I will be drybrushing the detail on the skull and wings (white) and adding the crosses to the shoulders... but am unsure as to what to do with the knee and helm... The Chainsword (recreated from the Ultra Marine movie pics) will have many more layers of gloss black with white accents, silver teeth, and gore - lots and lots of gore! The Bolter is awaiting completion and will be painted the same as the Chainsword... accented with the side skull and wings in silver and white.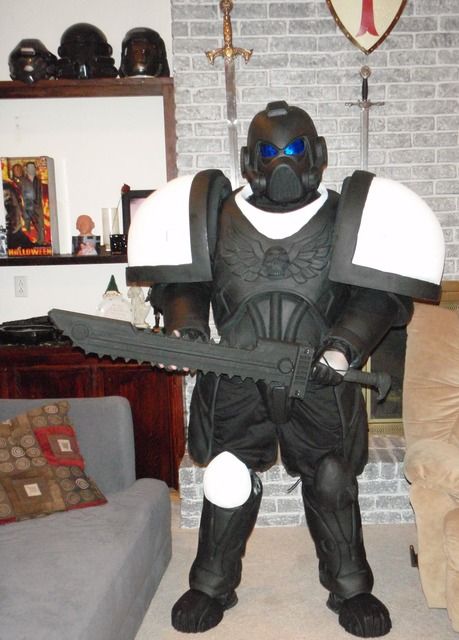 Any suggestions? All are welcomed...
I've not found any "clear" pics or artwork to guide me on my decision... and would like to make a splash when visiting the Games Workshop store in the Grapevine Mills Mall later this year...
BTW: All pieces are
one of a kind
and I am unable and unwilling to reproduce them... I don't wish a C&D from GW
Edited by das brutus, 15 September 2010 - 04:09 PM.