Back in July 29th of 2008 I wrote my friend Dark Bjoern telling him about my fluff and his thoughts and or opinions on it. This is basic idea of my army, The War Wolves of Fenris. I hope you enjoy! comments and or questions are more than welcome.


Prologue

Imperial Records indicate that around 218. M31: The surviving Wolf Lords of the Space Wolves Legion gathered together and elected Bjorn the Fell-Handed as their leader, awarding him the title Great Wolf. Bjorn gathers together the chapter and announces the Great Hunt in an attempt to find their Primarch, the wolf king Leman Russ. Legend say that the Great Hunt ends in failure and sadness..

Act I: The Phantom Wolves Return

Rune lord, Njal Stormcaller tells the tale of the phantom wolves. They are the wolf hounds of Morkai, warriors of the wolf king, Leman Russ. Forever roaming the galaxy, without a wolf lord. The war wolves are led by the last of the Varangi, his name is Uncas the warblade. Accompanied along side by five of Bjorn the Fell-Handed's wolf guard named Wulfric, Rothgar, Gunnar, Jotun, and Tyr. Along with a 100 Fenris warriors, who all swore an oath under their great wolf's banner. Their story is an epic tale known today as the wardancer saga.



It was Uncas who helped gathered the remaining wolf lords, electing Bjorn the Fell-Handed as their new leader and giving Bjorn the title of "Great Wolf." Uncas along with the wolf priest, and rune priest became Bjorn's mentors and personal advisors. The wolf council was formed, and set forth the task of uniting the warriors of Fenris, and protecting the borders of the Fenris sector. It was a new age, a time when the entire Imperium of man seemed lost without an Emperor and a Wolf King. Uncas, eventually took on the role of wolf guard battle leader, fighting for the great wolf Bjorn the Fell-Handed. Many wars and campaigns were fought under the new great wolf, bringing honor to the sons of Russ and restoring glory to the Imperium of man.

Uncas was but the youngest member of the Wolf King's war council. It was a brotherhood of hardened warriors, and amongst these axe brothers was a mighty warrior and close friend named Buleye of the thirteen great company. Leman of the Russ admired Uncas's rebellious ways, and called him a MaveriK. Uncas would fight along side Leman on many wars, earning his place amongst the mightiest of the Vlka Fenryka. Bjorn the Fell-Handed and Uncas became great friends, as the first great wolf took on the role as leader of the once legion. It was during this time, that Bjorn announced the first great hunt.



In the early days of the newly formed chapter, wolf companies were much larger and varied in size. During the first great hunt, the great wolf decided to split his great company into two smaller warbands. In hopes to widening the search for their great primarch, Leman Russ. One warband was lead by the great wolf, while the other was lead by Uncas. The first great hunt ended in failure, although wars were fought and worlds were liberated, the hunt for the wolf king was unsuccessful. Witnesses report that, Uncas and his fleet was heading back home to Fenris, when all of a sudden the gates of Morkai swallowed the fleet whole into hell itself forever cementing their sacrifice in history, at the halls of Russ. Uncas and his warband disapperared and became legends.

[Uncas is described by many as an anti-hero amongst demi-gods. He is a great and cunning tactician, and a giant wrecking ball in the battle field. Uncas was known to be marked by Lokyar the great Lone Wolf of Fenrisian legend. But he was able to command and earn the respect of the warriors who fought under him. It was Uncas's stubborn refusal and dertermination that helped keep the remaining warband alive in the warp. Although they suffered terrible losses against traitor legions, and chaos warp beast. The warband manage to keep their numbers high and strong. Throughout the years, inside the warp Uncas became cruel and ruthless. It is said by his enemies that the phantom wolf was a sadistic and vindictive warrior of Russ. Uncas vowed to his warband to bring them back home to Fenris, and fight by their Great Wolf Bjorn the Fell-Handed.]



Uncas and his warband fought along side various smaller warbands of the 13th company inside the Eye of Terror. It was during these encounters that Uncas and his warband grew to understand the difference of time within the warp, compared to time in real space. Rune priest Torvald, of the thirteenth company updated Uncas of the world outside the warp. Exchanging stories, and intellegence about the enemies they cross. Torvald even mentioned about a young wolf blade, who we all know today as all-slayer, Ragnar Blackmane. It was Torvald that helped Uncas and his warband return home by using his rune magic. The recent encounter with Ragnar was used by Torvald as an anchor and beacon home to real space, for Uncas and his warband to cross over.

In appearance, these war wolves of Fenris bare colors from the great crusades. However during their time in the warp, the warband had adopted crimson colors along with their pre heresy colors of grey. Many Imperial scholars speculate that the crimson is a pagant meaning for war, blood, the loss of their pack mates, rage, or even hate. Unlike the 13th company, these war wovles eventually return home to Fenris. They fought along side with Ragnar's great company, aiding them in fighting on a planet during the last days of Abaddon's 13th black crusade. Uncas and the remaining warband grew a mutual respect towards Ragnar's great company. Ragnar and Uncas become new allies and great friends, and exchange stories about their aventures. Ragnar remembering Torvald in his younger days during his time with the Wolf Blades. The war wolves finally return to the Fenris sector and to the Fang, only to come back and find things very different.

Wolf lord Ragnar Blackmane, walked Uncas through the Fang. "Nothings changed much, except allot of new faces" Uncas's thinks to himself. Wolf lord Ragnar Blackmane points out the various warriors from other great companies as they walk by. "Right there, is Dark Bjoern of Krom Dragongaze Great Company, Jonny Wolf , Marek Grimfang, Warhorse47, Decoy, WolfLordLars, stinkenheim, Beef, Lord Ragnarok, Max Dammit, DV8, Vash113, Bran Scalphunter, Grey Mage, Mikal Wolfheart... just to name the few" says Ragnar. [sorry if I forgot you!]



Uncas is given a private moment with the now venerable Bjorn the Fell-Handed. An iron priest ask Uncas, "do you wish for me to wake him?" Uncas replies "no, I am but a ghost... let my lord sleep." Uncas felt hurt, and broods in silence with the hulking venerable. Remembering Bjorn as what he once was. From the young warrior, to becoming the great wolf and be considered as one of Uncas's closest friend. Uncas is flooded with emotions, as he is taken back to the burning of Prospero. Remembering as Uncas fought beside Bjorn and recollecting the bittersweet irony of Bjorn's words about dreadnoughts and becoming what he feared most. Uncas, is probably one of the very few people today who can understand the unspoken words that plague Bjorn today of being abandoned by his master, our lord the wolf king Leman Russ. Uncas sat beside the giant machine for all night until he was summoned by the current great wolf, Logan Grimnar.

A huge feast was prepared to honor the return of the lost warband. At the great hall, the mighty warriors are celebrated as heroes and legends amongst the gathered wolf lords. Everyone in the warband is over joyed, but only amongst them keeps his composure.. Uncas. The celebrations would continue on until morning, until suddenly amongst the drunken words spoken amongst one another, their loyalty to great wolf Logan Grimnar was put to question. The oath the war wolves took was towards the trueclaw, Bjorn the Fell-Handed. Which came into conflict with the current great wolf Logan Grimnar. Logan realizes the importance of such warriors and has them swear their fealty.



Logan's wolf guard: Swear your oath and fealty to our great wolf Logan Grimnar.
Uncas: My oath and my loyalties are to our wolf king, Leman Russ and to my lord, Bjorn the Fell-Handed. I know of no other, that is his equal.
Logan's wolf guard: Bjorn is no longer great wolf of the chapter
Uncas: I have sworn my blade to Bjorn. He is my lord. Do you question his worth wolf guard?
Logan's wolf guard: nay, he is our greatest warrior and our *interrupts the fool*

Uncas: do you always speak for your lord? does he not have a tongue of his own? I cant respect someone I do not know, especially if he lets fools speak for him!
Logan Grimnar: is that a challenge last of the Varangi?
Uncas: No young pup, it is a statement! know the difference.
Logan's wolf guard: you dare speak to our great wolf in such a manner?
Uncas: I have, and I just did

Uncas ever defiant looks at Logan and says, "I have sworn my blade to Bjorn.. he is my lord." Whispers amongst the wolf lords are made and Logan feels a insulted but keeps his composure. The wolf priest and rune priest gathered along with the wolf lords find themselves conflicted. Uncas and Logan decide to settle the matter in a friendly duel, it is a fenrisian way. The only way to earn respect is through fighting, if Logan wins Uncas and the war wolves swear their fealty under Logan. If Uncas wins, he and his war band remains as they are.. phantoms of the past.



Uncas and Logan are evenly matched, Logan was a little stronger while Uncas was allot faster. Each warrior would counter each others attack as the two fought on as equals. The two giants fought on for a full day, and as both Logan and Uncas lay exhausted on the broken ground around them, Logan suddenly started to laugh. Logan has never felt so alive and found himself having fun. The entire Fang was in silence, as every warrior watched the two clash in as the epic event unfolded in front of their eyes.

Uncas finally stands and looks down on Logan, saying "I grow tired of playing with this pup, this ends here.." Logan, the "old wolf" seeing the seriousness in Uncas's eyes, agrees and stands up. They continue to brawl, the fight becomes increases with intensity, and becomes more ferocious. Uncas was ruthless and cruel, he was sadistic in the manner of his fighting style. His thoughts were focused on Bjorn the Fell-Handed, and how this pup Logan considers himself a great wolf. This thought angered Uncas even more, provoking the beast inside. Logan managed to break one of Unca's ribs, while Uncas managed to blacken one of Logan's eyes. Both warriors were covered in blood.

Legend say, it was then that the two giants became blood brothers. Uncas, grins and delivers a blow to an unsuspecting chin, finally dropping Logan. As Logan dropped, Uncas held onto Logan's arm breaking it in the process. Logan recovers to see Uncas and the war band leave the great hall. Along the way out, Uncas managed to grab the shocked wolf guard he had argued with earlier. Grabbing him by his beard, Uncas held him in an ancient muay thai clutch and unleashed several devastating knees to the face, breaking his nose and jaw in the process while Uncas said, "never speak out of turn, and know your place wolf guard. I am Varangi." Everyone who watched, were astonished and speechless.

Another one of Logan's wolf guard speaks in a furious tone, "what shall we do with them great wolf?" all eyes were on upon Logan as he says... "they are not exiles, rogues nor outlaws. They are but phantoms that walk amongst us, they are free to stand and speak amongst the sons of Russ. Let them re-supply! they are warriors of Russ, but fight more like sons of morkai." Uncas with his back facing Logan still standing at the doors of the great hall speaks "when our lord wakes, or is summoned to battle we will be at his side. We are the war wolves of Fenris. Our duty and our oath is to fight along side our great wolf Bjorn the Fell-Handed. Any who question this shall die by my blade. The war wolves of Fenris are here to protect Fenris, its borders and the people of the Imperium. We will travel the galaxy and fight our enemies. Xenos and heretics beware, for we are the emperor's wolves, the sons of Russ."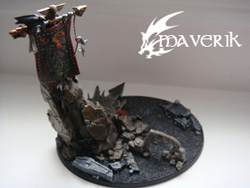 ----
The concept of my lost company had been in the works since the late 90's. I decided to hold back on my storyline until a horus heresy novel was done about the wolves. Prospero Burns came out, and I incorporated what Dan Abnett added to the Sixth Legion. So pretty much this is my lost company background fluff. The idea of my war band is similar to the 47 Ronin without a master.

[QUICK BIO]

The wife and I. Anyway, I got into Warhammer 40K through my older cousin. He introduced me to Rogue Trader and taught me how to paint miniatures. We did a few RPG adventures with his friends using the book, and my character was based out of a Space Wolf, and named him Uncas. I became more involved with Warhammer 40K once 2nd Edition came out. My army has been Space Wolves ever since! I took a break from war-gaming, and got back into playing/collecting around late 2007, early 2008. I'm currently repainting my army to the darker pre-heresy look. I've also been doing allot of conversion work on my army. I'm looking forward to having my army finally done. I'll get there eventually!

A little bit about myself? I'm Filipino, moved to Canada when I was 8yrs old. I'm into art, comic books, manga/anime, paintball/woodsball, MMA, traveling, keeping fit, swimming, surfing, I'm into martial arts... I have several black belts in (Filipino Martial Arts, Kickboxing, Tae Kwon Do, etc etc.) sorry I can't think of anything else right now...

Anyway, at first she didn't believe how nerdy I was. So she once said talk nerdy to me; instead I showed her my Space Wolves the rest is what they call is history! or maybe it was my masters degree in Psychology that impressed her?! she was still in nursing during that time and six years later, I've manage to get her into reading 40K novels. We are both into allot of sports, paintball, and traveling. She's into certain video games, loves Anime and Manga as much as I do. Warhammer 40K wasn't so much of a stretch for her especially when Starcraft II and Dawn of War games came out. We bought an Alaskan malamute puppy last year and named him Kiba "Fang" in Japanese. It's all the geek in me can ever ask for!

--EDIT--
Changed font size. Sorry for the lack of updates. Thank you for looking!
Edited by MaveriK, 15 March 2014 - 11:30 PM.