Hey all, figured I'd share my wip with you as well - don't expect frequent updates as the progress is quite slow
I started building this army some time ago, before the current blood angel codex, and really wanted Lamenters and a full battle company. What's more space marines than death from above, I though? Descent of angels before the rule actually existed? So, here my plan was born for a complete battle company in drop pods. Just for kicks
Eventually, the blood angel codex came out, and lamenters being officially a successor from them I was torn between the two codices - especially when I found the line in the white dwarf: "Blood angels are still a codex chapter".
I was trying on the BA codex for size when forgeworld announced IA:9, and soon learned that the special character for the lamenters in there was for C:BA. With this backing, my choice was eventually made.
In the meanwhile, I've got a bit painted up as well of course, and I can show you that
First squad, led by brother-sergeant Hamael:
I've got a few extra shots of Hamael too:
And this squad is the only one that has their ride finished, so far: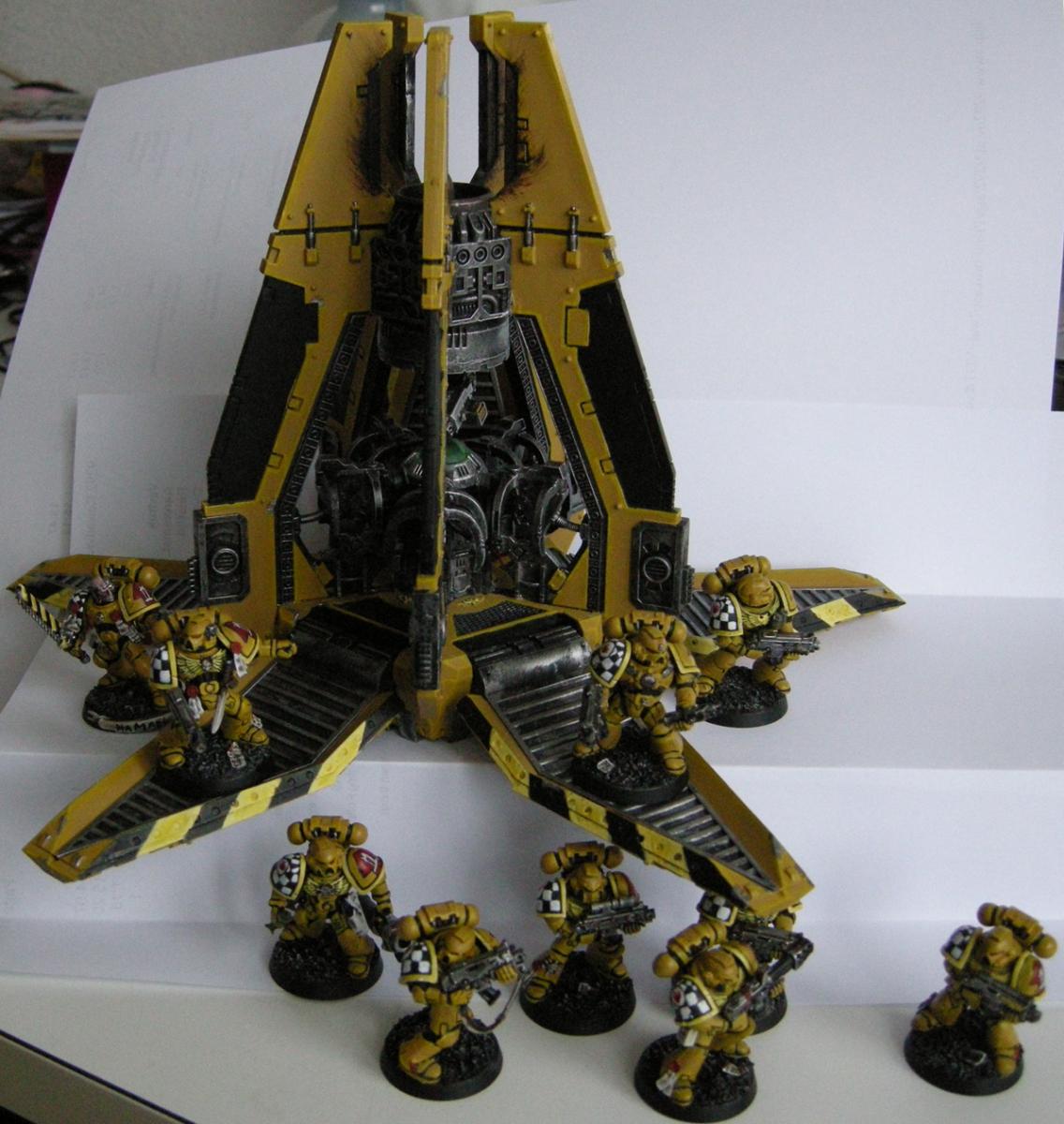 Hamael is a stoic character, and can hold an objective against impossible odds. At least, that's what I thought up about his character as I built and painted him. Turns out he actually does that in my games too!
second squad, led by brother-sergeant Verrin:
Verrin is more of a hothead (hence the warmer colors in his painted face and more agressive stance). Of course, this sometimes translates into the game as well, but that's entirely my fault.
Bored with tacticals, I switched over to some assault marines, eight squad led by brother-sergeant Deimos
And a close-up of the sergeant, with a scratch-built hammer
So far he's had the worst luck ever in my games. Either he was the only guy to fail his armor save in a combat just initiated with T6 wraithguard, or he takes 4 combat rounds to finally hit something and then roll snake eyes on the to wound roll. I hope this all was caused by him and his squad not being fully finished yet, and that in the next game his performance will go up as he's no longer laughed at by his battle-brothers Hamael and Verrin.
One thing is still not finished on 8th squad: the auspex. As you can see in the next picture (or so I hope), I try to do something special with the auspexes of every squad, and I haven't decided on this screen yet. Suggestions are welcome!
On that note, every squad has a few specialist guys in them apart from the sergeant, special and heavy weapon. All have an auspex guy, an explosive expert (with extra helpings of grenades), a corporal who leads the other combat squad should they split up, and a sniper/sharpshooter with a scoped bolter.
To lead them all (for now at least), we have a chaplain! Nothing special, but showing him nonetheless:
And in a fit of "I want something else to paint yellow apart from drop pods and power armour, my dread Ignis. I chose a normal dread, as in the BA codex it seems furioso's are only assigned to the 1st company. Took a black reach one, put the legs in a different position and built my own mark V (for vonny) heavy flamer.
To finish out a playable 1000 pts army, I am currently using a 'test' model vanguard as a sanguinary priest (as it has some white on his armor).
Eventually he might get a black helmet to note his veteran status.
I've stuck to codex coloring instead of blood angels coloring, as that seemed more appropriate at the time... still thinking of using the C:SM.
I've just stripped an old apothecary model I once got my hands on a long time ago, before I even started my tyranids, and plan on converting it to be my jump pack sanguinary priest. This is the model used:
(image courtesy of games workshop's website).
I'm not sure though on how much white to put on my sanguinary priest, and where to place it. I thought about half, or even quartered coloring. I thought about greeves and arms differently colored, and a lot of other things, but I'm undecided as of yet. That the yellow main color makes for a very different look tahn the pretty blood angel red is certainly a factor that makes this decision a bit more difficult, since I've seen some very nice sanguinary priest schemes for the red blood angel armor. Any advice on this is also welcome
What else do I have to say? Not much I guess. So I hope you enjoy the images!