Hi Guys,
As I seemed to be taking over the DA Showcase thread recently I thought it may be better to start my own topic to show my models.
If I have posted this is the wrong place let me know
Apologies first as this will be photo heavy. If anyone wants me to upload specific models/views let me know.
I started collecting DAs about a year or so ago as a change to my Tau empire army and it has exploded into almost a full Company (the remainder are unpainted in a big box).
Some of the photos are a little poor due to sand in the camera but I will be investing in a new one soon
The 4th Company (so far) and attached troops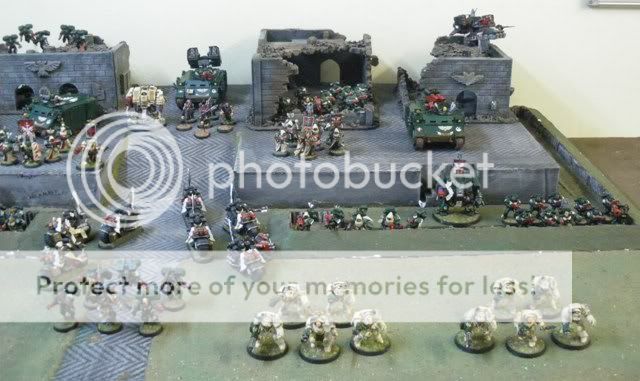 4th Company:
Brother Dreadnought Ignus
Brother Dreadnought Gideon
Servitors and Servoskulls (no Techmarine yet!)
1st Squad
2nd Squad (Rhino-Whirlwind magnetised)
3rd Squad (Rhino-Predator magnetised)
4th Squad (Partial marines, Rhino-Razorback)
5th Squad (Marines waiting paint, Rhino-Razorback)
6th Squad in a box
7th Squad (to be completed)
8th Squad (to be completed)
9th Squad (to be completed)
10th Squad (to be completed)
Edited by Elmo9141, 26 October 2012 - 06:10 PM.