pros and cons
its prudent to cover this first, land speeder storms whilst excellent and fun to play do have some downsides.
CONS
they cannot be taken as dedicated transports and take up a fast attack slot (the biggest detractor IMO)
they are open topped and fold like paper
they cannot be taken in squadrons/multiples per FOC slot
fast attack is the back bone of a very static space marine armies ability to react to the enemy, and for alot of people they just dont have the FOC spaces to waste on a single open topped speeder.
its also important to note that many space marine players look to the fast attack section for thier melta platforms, which is IMO the best place for a land speeder storm to take up should you want to include one.
PROS
they can scout and outflank (aswell as deepstrike)
they can alpha strike (first turn assaults)
they mechanise scout squads
they are open topped
they have cerberus launchers which reduce enemy Ld by 2 when you charge them
they have jamming beacons which create areas on deep strike denial (excellent against daemon armies)
like most speeders they are very flexible and can be outfitted to do a variety of roles.
unit building
the hardest part of gaming is getting the army build just right, not only do you want the unit to be effective, but you want it to mesh with the army list as a whole
ive seen alot of different 'builds' to LSs and scout squads, but there are certain rules i personally work to.
1: always give them a dedicated 5 man scout squad, the sheer number of times ive seen people argue they will combat squad a unit of scouts is staggering.
whilst it does make some sense (in that its cheaper to combat squad) it does mean you cannot outflank the speeder with the scouts inside.
its quite confusing game rule mechanics, but since you cannot combat squad before deploying the unit you cannot choose to embark a combat squad on an outflanking speeder.
2: storm teams work better in dedicated roles, flexibility is good but you sacrifice thier ability to perform thier main job in order to cater for the 'what ifs'
example would be running a MM storm for taking out vehicles, yet giving the sergeant a combi flamer and power sword wouldnt help in thier main role.
i am a little bit more flexible in that second point, but only to the degree that its possible to cater for other eventualities without negating your main use, example would be adding meltabombs or a powerfist to an anit ifantry based unit to give it extra oomph vs vehicles.
3: match the weapons: rule of thumb is to give a combi-weapon to the sergeant that matches the weapon on the storm.
multi-melta = combi-melta
heavy flamer = combi-flamer
heavy bolter/assault cannon = heavy bolter scout
the best advice i can give is figure out the role you want the storm to fulfill and give the storm the weapon needed to do the job. then let the storm dictate the squad you take to go inside.
the most commonly used storm builds are
1: the tri melta storm aka the "melta torpedo"
LSS with MM @65pts
5 scouts with combi-melta and meltabombs @90 points, add a powerfist to taste.
2: dual flamer storm
LSS with heavy flamer @60pts
5 scouts with combi-flamer and powerfist @110 points, add meltabombs to taste
i have seen builds with combi-flamer and power weapon, although id say if you want the Pw drop the combi so you get the +1A for dual ccws.
3: dual HB storm aka "dakka storm"
LSS with HB @50 points
5 scouts with HB @85 points, add upgrades to taste, meltabombs, combi-weapon etc
alpha striking
land speeder storms have the scout USR so are capable of shooting at close rnage and assaulting in the first turn.
of course it only really works if you get the first turn, otherwise my advice would be to outflank them.
Deploying and scout moving:
The scout move means they can move 24" in the pre game scout move phase.
to make best use of this you have to get the deployment right. sadly they dont have infiltrate which means you have to deploy them with your normal forces.
always deploy them as far forward in your DZ as you can, if your running just the one storm deploy it centrally, for two deploy them eqidistant from centre (about 12" each from the centrepoint), three would be one central and the other two eqidistant.
its an approximation but it allows you to reach most parts of the battlefield with scout moves and first turn 12" movement.
assuming pitched battle set-up, and for these examples assuming melta storms vs a mechanised opponent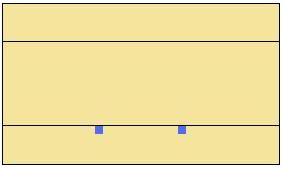 the two melta storms set up evenly spaced, approx 24" from each other and 24" from each table edge.
if your opponent deploys on one flank both storms can still reach them
here your opponent has gone for a flank attack, hoping to deny many of your units on the opposite side from joining the battle and therefore hitting half your army with the whole of his.
so you scout move your storms to knock out his armour early on.
the 3 vehicles at the front could be predators, vindies, or razorbacks/rhinos, all castling up around the land raider behind them carrying something very gribbly indeed.
the scout move limitation is only that you dont come to within 12" of the enemy, yet in your first turn move the storm can move 12", the scout sqaud may disembark 2" and assault 6".
So although your opponent has castled up its entirely possible that you can still get to it.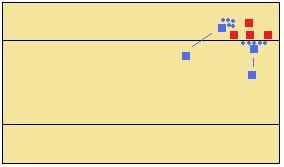 here you have 2 combi-meltas (BS4) and two multimeltas (BS3) all within short range.
my rule of thumb is to always shoot the combi-weapons first, if you get a good shot off then the multi-meltas can be used to target another unit, and given it has the longer range youll probably be getting 2D6 pen too.
in this pic assuming the shots dont destroy thier targets, all four vehciles can be multi-charged by the two scout squads, aslong as the meltabombs hit the lan raider krak grenades are very good at rear armour 10 and whats best is that since your opponent has yet to move, they all hit automatically.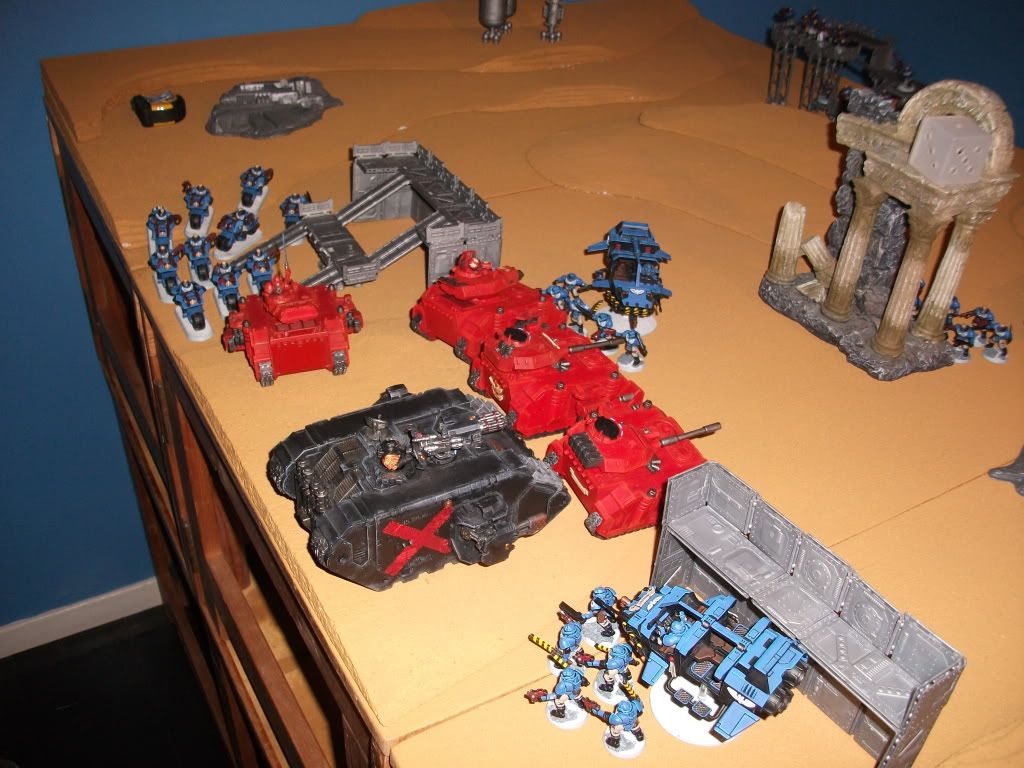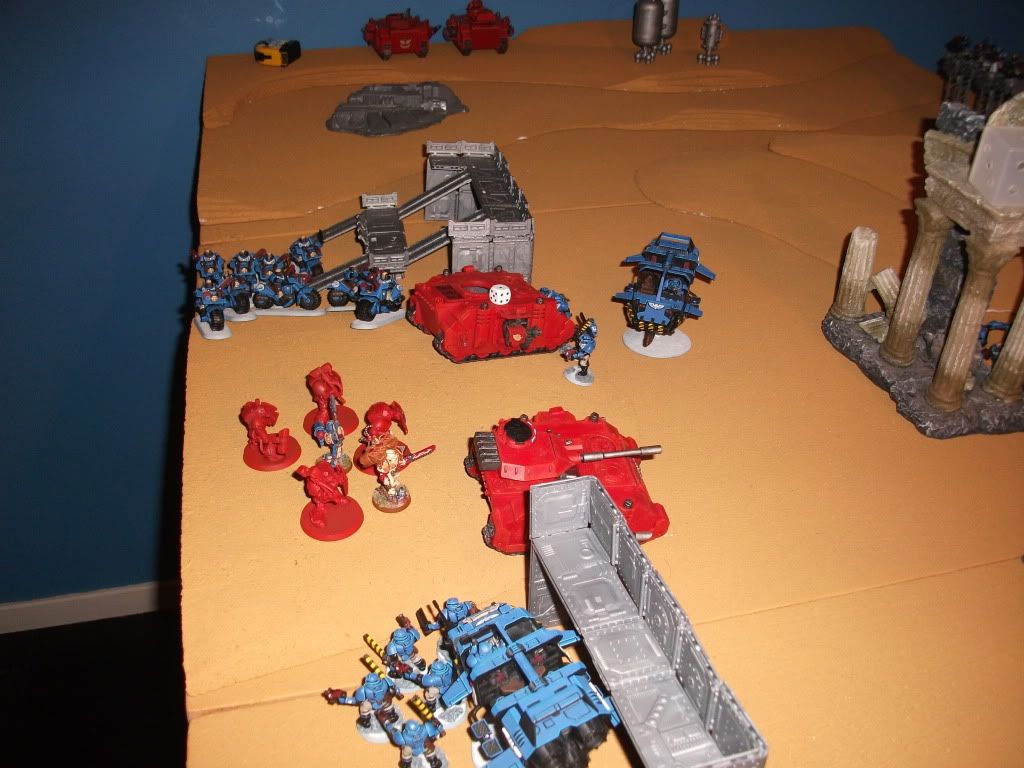 here are some before and after pictures from a recent game, my opponent tried to castle up but my two melta storms and my scout bikes hit everything leaving his whole mechanised army in tatters.
It should be noted i made a mistake in that deployment, i should have sent both storms on the flanks and used the scout bikes against all three predators at the front.
we live and learn
Straight at them:
in this diagram the opponent has set up his battlewagons so he can drive straight at your army, here ive shown the storms crossing each others paths and the reason for this, is that if you move more than 12" you get a cover save shouldyour opponent steal the initiative.
if this happens they will probably still die, but will require twice theguns to do so, your scouts ay still be in good enough shape to complete thier mission in the next turn.
again carfeul placement and shooting order could mean all three targets can be hit with these two 'units' both in shooting and assault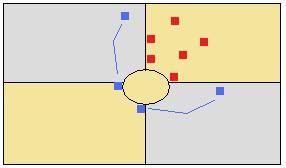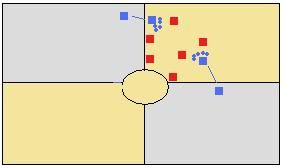 here ive shown the spearhead scenario, deploy your LSS as far forward as possible as close to the middle as possible (12")
even if your opponent deploys his more valued mech units at the rear its possible to still reach them with a 24" scout move, just remember to skirt the 12" no go zone
alternate uses
LSs excel at alpha strikes, but a good (great IMO) may be able to deny them thier main use, by reserving or deploying thier own scouts or sacrificial units to prevent your movement shenanigans.
also if your opponent is using a DE army with vect who steals initiative on a 4+ you might feel unsafe about commiting them to an alpha strike (or you dont win first turn or have DOW deployment)
the land speeder storms can outflank and come on later to target troublesome vehicles or units.
if you building a storm for other purposes being able to outflank is great, there are people who use them as late game objective grabbers, once your opponent starts to commit his main units he wont want to turn them around to deal with a storm squad at his rear, especially if youve the rest of your forces knocking at his door
in this scenario a flame storm build can be great at targetting lootas, dev squads and artillery
the dakka build although restricted by having moved are great at objective grabbing.
stationary they kick out quite a few shots (being open topped) and if you 'park' them near objectives in terrain when they get shot down the scouts tumble out into cover and can keep on shooting. if equipped with cloaks thier cover saves can be increased, giving them greater durability.
scout equipment
ive already covered the synergy between the sergeant and the storm itself, but what about the squad, what should we equip them with?
with the exception of the dakka builds its unwise to take a heavy weapon, storms are mobile and that heavy wont see much action.
the options are, bolters, snipers, ccw/pistol and shotguns.
beng heavy the snipers arent great for much else than the dakka type builds, although given your aim is to pump out shots bolters would serve a better purpose there.
bolters in general are pretty nice weapons, but unless your running a dakka or "drive by" build they will hamper any assaults you want to make.
for clarification a "drive by" build is similar to a dakka build but yourintent is to move 6" every turn and lay down fire, this goes well with bolter or shotguns, but also allows you to use other weapons on the storm such as a heavy flamer, you literally psh forward 6" a turn and lay down fire at infantry units.
the last two options are ones that would interest a more competative minded general, if you want t maximise shooting damage the shotguns are your friends, being S4 they can be used to shoot rear armour of vehciles hoping for the odd glance to stunlock an intended target (at Ap- its -3 on the damage table for glances, so you cant get better than a weapon destroyed result.. unless they are open topped)
shotguns can also be used on anti infantry units, essentially they are I11 attacks, and good vs units that have higher initiative like eldar and thier S&M cousins, kroot hounds and some daemon units.
my favourite fall backs are the ccws and pistols, you still get the S4 shots, although not as many but the extra atatcks are always nice.. giving 5 scouts more attacks than a flat footed ten man tactical squad.
the main reason i use ccws is becuase i use storms to take down vehicles, which means for the most part the enemy charges me, if hes I4 i get 10-11 attacks back and can take a few chaps with me n the way down.
cerberus launchers
this wargear is a hidden gem for the storm squad, a -2ld modifer is very good, infact if you can combine a charge with a more powerful unit then you only have to win combat by a small margin and you can make the squad run
there is some RAW discussion on the whether or not 2 or more storms cerberus launchers can be stacked, the wording is unclear, and despite my own opinions that they do, ive honestly never been in a postion to use them as such.
also rememebr the -2Ld works as soon as you charg the enemy, so space wolf players with counter charge have to roll at a lower leadership, really useful against long fang units who seem to have more attacks than they really should.
jamming beacon
In all my games ive only ever used these things against daemon players, that being said they worked beautifully
they create a 12" area infront of your army where daemons cannot deepstrike without greater risk of scatter, and with scout moves you can place them anywhere you like as the enemy doesnt start on the board
heres a game i had vs khorne daemons, i used infiltrate to deploy my units in a corner with no terrain (other than what i was deployed in) and scouted the storms to create a screen infront of my army (was using flame storms with shotguns at the time)
my opponent had to deploy outside of a second turn charge range so he didnt scatter off from the jamming beacons, essenitally i got two rounds of firing before he even got close enough to charge.
we played twice, first game i tabled him with no casualties, second time i took minimal losses and again tabled him.
final thoughts
its important to know that storm squads are pretty much suicide squads when used aggressively, but they rarely fail to cause damage.
this however creates some other tactical uses, if for example i use a tri melta storm to knock down a transport, and a tooled up vangaurd squad disembarks.
if i elect to charge them, i may cause a casualty or two but they would kill my unit, consoldiate and move towards my lines in thier next turn (5 scouts arent that durable).
if i remain stationary i make them charge me (im about two inches away from them), when they then beat me they only get thier consolidation move.. meaning in your turn two the nasty assault unit is only a few inches way from thier DZ allowing you more time to shoot them down.
there are one or two more aspects to storm teams that need discussing:
beyond Ics giving them better abilities, vulkan twin linking thier weapons, tigarius asllowing them reserve re-rolls, shrike giving them fleet etc scouts are pretty autonomous units, however given a teleport homer a storm team can be used to bring down terminators in the second turn.
of course this is largely dependant on them still being alive, rolling for reserves and making sure the storms jamming beacons dont counteract the teleport homers.
Edited by greatcrusade08, 29 October 2011 - 12:37 PM.