Iron Warriors 5th Grand Company
This is where we hold them! This is where we fight! This is where they DIE!!!!!!!!!!

Hi everone

This is going to be a army log on my brand new (well 6th) Iron Warriors force. Hope to take photos though out the progress. I am aim for Throne of Skulls April tournament down in Warhammer World for the deadline.

Also in a few days time, Thur 17th Nov. This is going to mark ten year of collecting Iron Warriors for me, a army that has been my favrout of all time armies, along with Space Wolves & Black Templars.

I've alway been a big fan of Chaos Marines thanks to John Blanch art work from WD 202/2nd Ed Codex Chaos & have been battle with Chaos for 15 year now. From my second army in 40k being Black Legion, to my Iron Warriors & my Chaos Daemon in 2008.

For the Iron Warriors it all started when 3rd ed came out. One of my friends converted up some really nice Obliterators for his Thasound Son army, before we had the current models we have today. Also gaming wise Obliterators where complete diffrent from the way they are today & your able to take up to 6 in a single unit.
Also back then, Index Astarties where being release in the White Dwarf, given us a wealth of background into some of the famous Chaos Legions & Space Marine Chapter, even with some rules to field these armies. Like White Scar make great use of bikes, but not allow them some other chose with in codex Space Marines. The Index Astartirs also had a lot of cool art work inside as well, for me I really like the art work base on the Iron Warriors.

Since then my Iron Warriors have been battle it out against many oppents, fought in many tournaments & winning some honour from a few player chose award for best army

I though the best way to mark ten year of collecting Iron Warriors would be, to start a brand new army, well my 6th Iron Warrior force. Few of the reason is down to, I'll need to move from the old GW Inks to the current wash which are brillaint (Badab Black wash is the future!!) & also Games Workshop release a lot of cool kits over the years to further convert models which I really enjoy doing, it rare if any that I have out of the box armies, everthing got a conversion in some shape or fourm.
Chaos Marines offer a lot in term of being one of the most convertible (sp) armies out there in the 40k world along with Orks.

I'll be aim my new Iron Warriors force for Throne of Skulls April, which will mark ten years of attend tournament & then for the rest of 2012 from Throne of Skulls down in Warhammer World, to local tournaments though out Scotland.

To start thing off, here some of the new Iron Warriors I been working on since last week

First Iron Squad - Iupatus Proeliator

This was the Iron Warrior Marine that I posted a few weeks back




The first half of the squad I been work on last week & hope to finish tomorrow




Melta arm Iron Warrior - I base the Iron Warrior pose roughly on the art work of Cadaras Grendel from Graham McNeill novel "Iron Warriors"




Cadaras art work from the Black Library web site




Some recently made Iron Warriors for my first squad - The model with the Heavy Bolter/Assault cannon going to be my Autocannon arm Iron Warrior, it just look cooler & anger.




Trophie




One of the reason I like Chaos Space Marines is adding trophies. Like my Mk5 Iron Warriors force. Mk6 Iron Warrior force will make great use of trophies. These are all going to be base upon past & present oppents that I had great games against from my local GW, gaming club & tournaments. It why I also like to keep count of my games for my Iron Warriors & Space Wolves.
So everon trophie you'll see on my Iron Warriors will have a story behind it, of a battle I fought many years ago to recently battles.
This Black Legion trophie is base on White Dwarf own Christian Byrne when I fought his Black Legion during Grand Tournament 2006 down in Nottingham/Warhammer World.

I've still to build the Champion for Squad - Iupatus Proeliator, just waiting on a few friends to get me some bits for the conversion. I've also to make a Iron Warrior carry the Icon of Glory. So hopeful try get both these models made during the weekend.

When I work on any army, I alway like to get my 2x Troops & HQ out of the way. I tend to get the first squad done follow by any transport, then move onto the next troop chose + transport. Then I'll paint up my HQ after word. Once the legal part of the army done, I'll tend to work on anything from there. It just save time & energy. I loss count of the time I change a army list & that Elites unit, say of Terminators are no longer needed... while none of the troops or HQ done.
So getting your troops & HQ out of the way, this allow you that time to make any changeies to the army list while collecting. Then after word I'll let the gaming make any changies.
I also tend to try get a army fully painted before I hit the gaming table as well. Just me personial I hate useing unpainted armies for a lot amount of time.

So once I got my Champion & Icon of Glory Bearer made up. I'll get to work on my Rhino for squad - Iupatus Proeliator

Also I wanted to try out a idea for my Obliterators, useing the Plastic Chaos Terminators along with the Devastators weapon. I really like the current Obliterators models don't get me wrong. But being metal & because I travel to my local GW, gaming club & to tournaments, metal models tend to add bit of wight along with all the other stuff or when travel to a tournament. He still WIP painting wise




I hope he alright. I am not wanting to go to over the top with the heavy weapons.

Also though I would show some of my older IW models or Chaos in general
This was my first Iron Warriors back 10 year ago, where it all started being my Warsmith Abhorred Riddick in Human fourm before the Daemon Prince (metal) model was ever release. Back when you where able to Mail order single bits.

Photo was taken back in 2009, I'll try get some new photos soon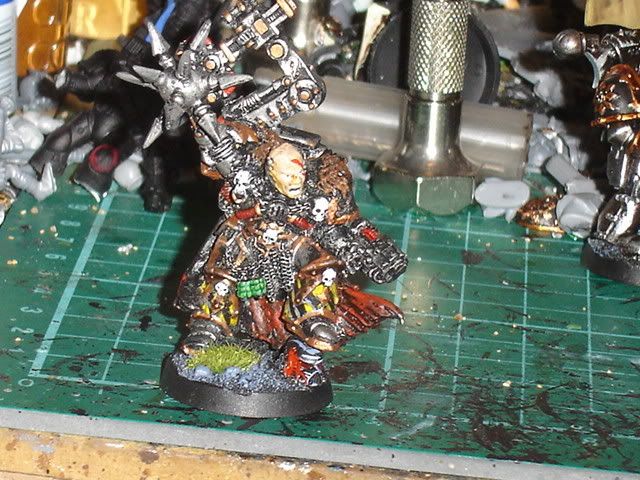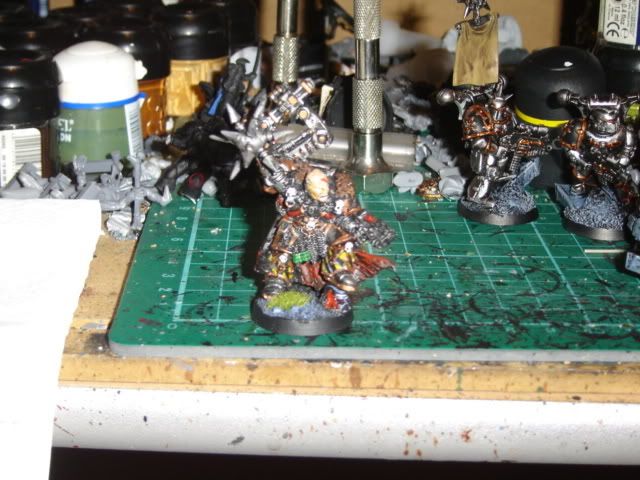 Abhorred Riddick was the model that started the Iron Warriors for me, he was the first model I got back on the 17th Nov 2001. Then by Christmas I had the rest of my Iron Warriors for Conflict Scotland 2002.
You can see the rest of my Iron Warriors from though out the years by these fourms, just check my old topics.

Also I commented on Black Legion. This was my Chaos Lord & one of my first conversion I try after seen John Blacnh art work 15 year ago (was only age 10 back then)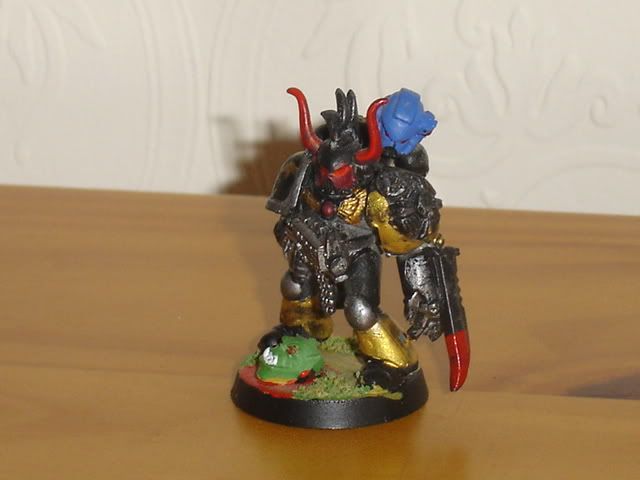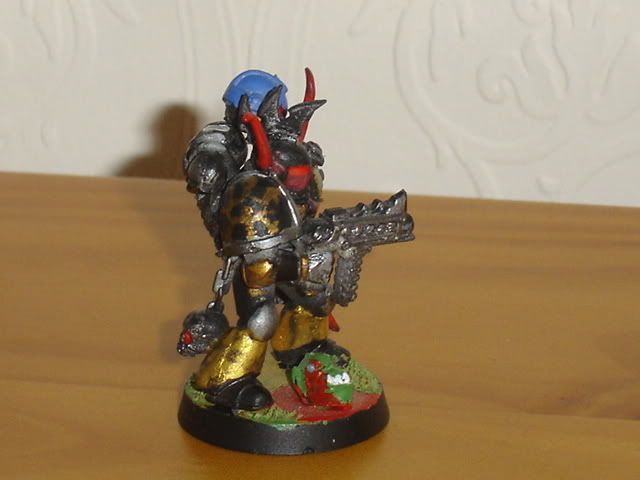 Also John Black Art work, I though it would be cool to let new hobbiest see this. Photo was taken during the Grand Tournament 2007 when I was down in Nottingham/Warhammer World. This was in White Dwarf (UK) 202 & 2nd Ed codex Chaos Marines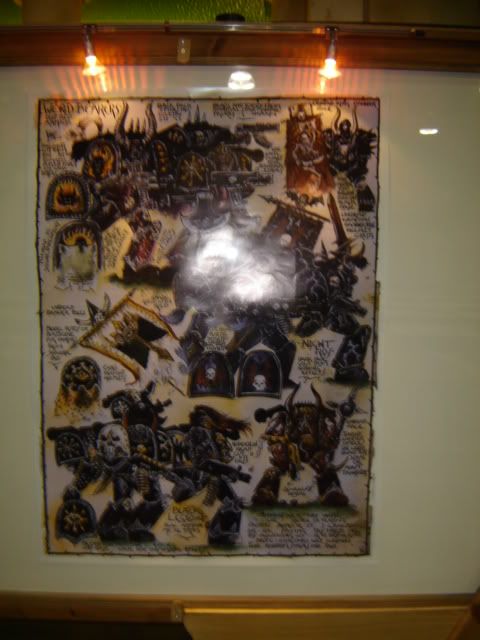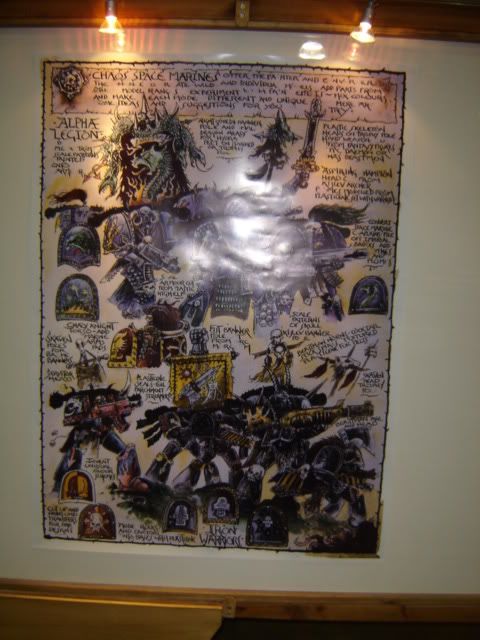 A lot of stuff will be play a big role in term of give me idea from - John Blanch art work shown there. Graham McNeill Iron Warriors novels. Bloodquest comic Black Library use to do base on a Exile Blood Angels Captain in his quest in the Eye of Terror to claim a relic. Wade or know as Teethgrinder on these fourm (Games Workshop staff memeber) Khorne Bezerker army. Christian Byrne Black Legion. Andy Chamber Iron Warriors from 2nd ed era.
Codex Chaos Space Marine 2nd ed & 3.5. As well as a lot of conversion work George Dellapina done back when he had his models in the WD.

Finial here my recent tidy painting area




I'm going to aim get another update on Thur 17th.

IP
Edited by Insane Psychopath, 31 August 2014 - 09:24 PM.