I thought I'd kick off my vow with a few pictures of where I'm starting from. I've already been working on these models for a doubles tournament in February but there's still some assembly to do. The photos could be better but these are also my initial test shots using my new camera-phone. When there's actual painting on display I'll make more of an effort. Expect to see these develop too as the project goes on.
I, Brother Cactus of the Dark Angels, vow on the honour of my Chapter to paint and present at least Belial and his command squad,
two
three Ravenwing bikes and an attack bike on or before the 31st of March, 2012. I promise to provide at least two WIP updates, preferably with pictures, in that time. I vow that if I should fail, I will provide the Librarium with an article and wear the Signature of Shame until my penitence period is done.
First up is my Deathwing command squad. The apothecary and the standard bearer have magnetised arms for different situations, however alternative weapons can wait for another time. Today it's all about the storm shields.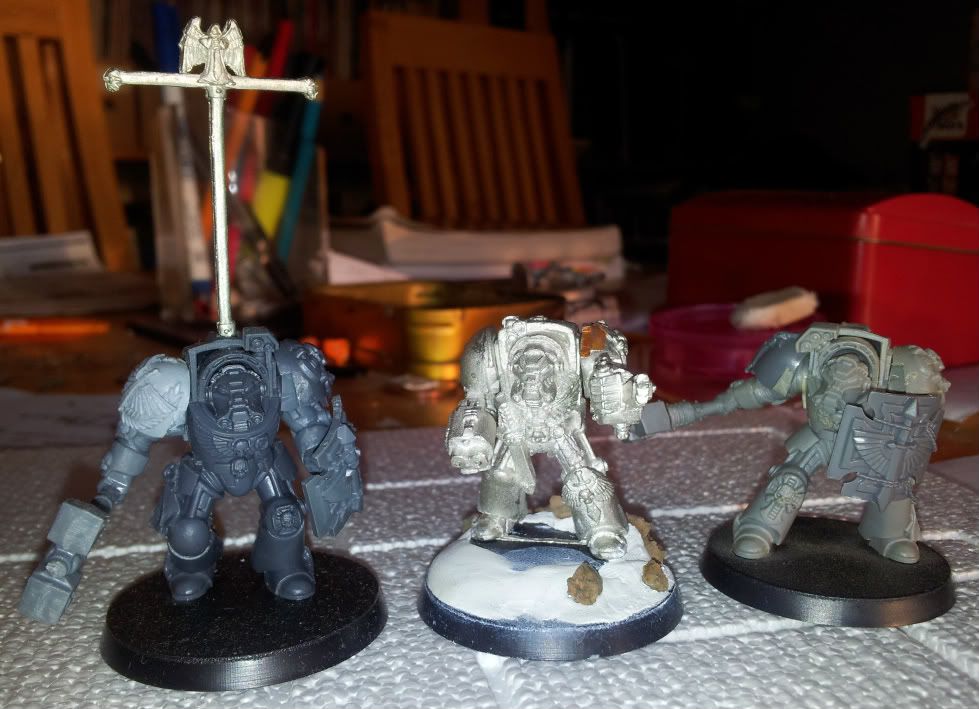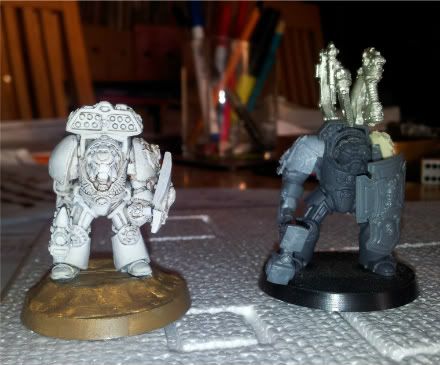 I might add a few details to make them more Dark Angely but they're pretty much ready to start painting. They're on hold for a few days though. Courtesy of Komodo I've just discovered Army Painter's Skeleton Bone spray primer. When it's delivered I'll be using that instead of painting bleached bone over a white undercoat.
Belial arrived in the post yesterday - I'll be using Forge World's Lugft Huron model as the basis. I already have a Belial with lightning claws, this version will be equipped with a thunder hammer and storm shield. It's going to be a real shame having to cut up the arms, especially the lightning claw, but I want those shoulder pads!
This photo's just a tease really.
Finally the Ravenwing. There is a third member of this squad but he's all done apart from his base, so not eligible for the challenge. Sprues of Ravenwing parts and riders not shown. I'll be digging through my bitz box and you don't want to see a photo of that.
The attack bike's been kicking around for years but never made it to the front of the painting queue until now. The two bikers will each be toting a meltagun.
Edited by Cactus, 31 March 2012 - 06:18 PM.