For this year's LPC vow I have decided to return to my Scions of Dorn DIY chapter. I have chosen a biker force from the Sixth Reserve company, with a bike mounted captain and command squad, along with an attack bike squadron. Thanks to a Ravenwing battleforce box I picked up over Christmas I have now got enough bits for the force, and have been painting them up over the last week. It's not complete, especially as I have got bogged down with making some proper sized bike / attack bike bases (like the ones from Dragonforge) but have got some very poorly lit pictures of the current progress on the attack bikes.
The sergeant's bare plasic and primer attack bike, with the gunner angled off-centre. The blue back-pack will end up green. There are a few very minor tweaks and conversions, like the blank chest-plate and the sergeant's skulled shoulderpad which came from a chaos marine.
Shot of the squadron at the moment. The other two bikes and crew are nearly finished bar some highlighting and minor details. You can't see the company designation on the right kneepad in this picture, but the Sixth Company has a horizontal red bar on a yellow field, a simplified version of the captain's own heraldry. The bases should give me plenty of room for detailing the terrain, although not set on exactly what form it will take.
The tactical arrow and tenth squad 'X' can just about be made out here. You should also be able to see the Mechanicus shoulderpad on one of the gunners, as the bike has frequently suffered from mechanical failures in recent battles and so the captain has requested one of the brother-adepts from the chapter's armoury accompany - who would normally crew a much more complex armoured vehicle - to placate the bike's tortured machine spirit.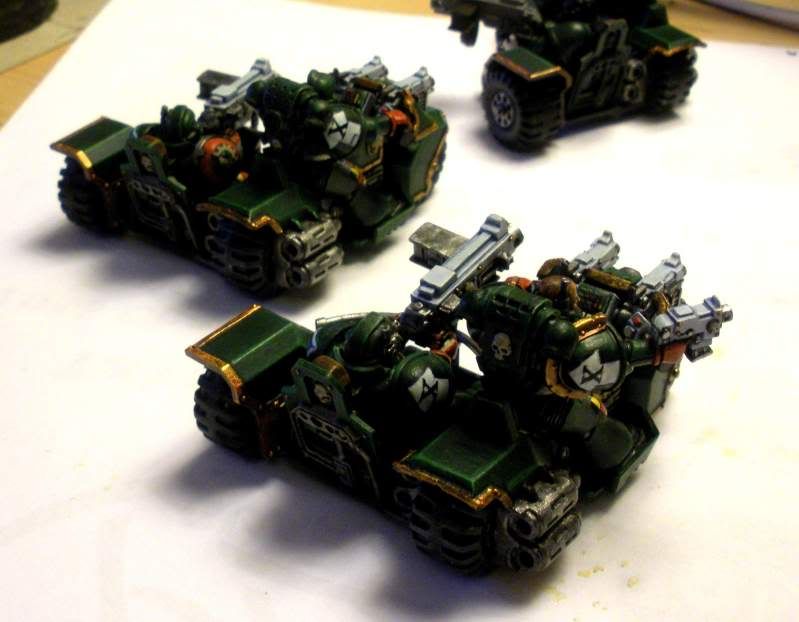 A shot of the Scions of Dorn stylised 'S' chapter symbol.
Well, as I catastrophically failed the last two LPC's, this is at least a good start at fulfilling this year's one!
Regards,
Aurelius.
Edited by Aurelius Rex, 17 March 2012 - 05:38 PM.