The Far-Seeing Eye
You're in the middle of a tournament game and you're doing okay.
You and your opponent have been battling it out tooth and nail, but you've managed to get the upper hand in the last turn of that awful Capture & Control game which almost always ends in a draw for you.
You're contesting his objective and claiming yours.
In a last ditch effort, the opponent focuses every last remaining bit of firepower he has on an assault squad led by a librarian that you have camping on an objective.
He doesn't wipe them out, but causes 2 casualties - enough for a Ld10 break check.
Simple enough...
But you fail it.
Your models fall back off the objective and he snatches a draw from the jaws of defeat.
Forget about it.
It happens.
How about this then, rather:
You're playing your local guard adversary.
Your attack bikers have just penetrated his Leman Russ Executioner tank and thank goodness because, unfortunately for you, if it were able to survive, your poor DC/RAS/Termies/Sang Guard etc etc would be blasted to kingdom come next turn.
You roll for the damage result - not sweating...counting on AP1 to ensure that 5 of 6 results rolled will garner a desired effect.
You roll a 3.
It's "Immobilised" only.
The next turn you feel it's angry plasma death.
Forget about it.
It happens.
So, Blood Angels....
They're great with DoA, yeah? Only a d6" scatter! What wonderful news!
So, you place a big 10man RAS, attached priest and attached librarian what you "think" is 6" away from the enemy (or at least knowing that the chances of scattering in a "bad" direction fully in that direction are soooooo small and unlikely)
But, you scatter and find out...nope..nope...it wasn't quite 6" away....you subsequently roll a 2 and then have that whole squad lost in the warp.
Forget about it.
It happens.
These are all hypotheticals.
All "what ifs".
But....
all these situations or situations very similar to these are events that are very, very likely to occur in our gaming experiences if they haven't already.
Strategies and tactics surrounding Warhammer 40k can be said to be about essentially knowing the odds, playing to the odds and working around that. However, you know just as well as I, that sometimes those odds don't go in your favour or according to what is thought to be probable.
Sometimes you have some crazy rolls that just defy probability. This is how the game goes.
And there is nothing 40k players can do to change that....
Except us Blood Angels players.
With that in mind, I have only one question:
Why
wouldn't
we want an ability to re-roll any dice roll of our choice in the game?
Enter Corbulo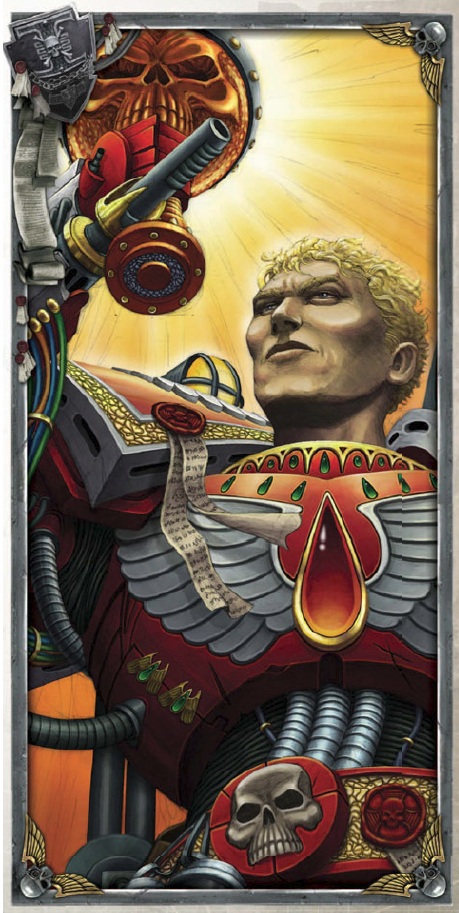 For 105 points we have access to the Sanguinary High Priest Brother Corbulo.
Before I even start talking about his stat-line and applications in the game I want to focus on what I do believe is his biggest selling point: the above mentioned re-roll.
I challenge BA players, especially players that do not use Corbulo to take a small piece of paper with them to their next game or tournament and title that paper "Rolls I duffed that Greatly Influenced the Game". Essentially note where you fail an LD check, where important models of an exploded vehicle gets pinned or has to run, where you fail to penetrate a Rhino with a lascannon, where you fail a DT check to charge into close combat, where you scatter poorly into danger, where your opponent force-weapons Mephiston - rolls a 2 on his hood check- and you roll a 1 !!
Anything like this.
Note it.
Write it down.
Remember it.
Now understand that you don't have to be bound to the same restrictions as
everyone else
and understand that BA are blessed with an ability that allows us to greatly turn the tides of battle.
Corbulo's reroll is incredible and is one of the most overlooked boons that we have.
There are very few reasons to not grant yourself this boon in a competitive environment.
APPLICATION (aka: When should I use it)
While I do not attest to have a sure-fire system of when to use and when not to use Corbulo's roll there are a couple of considerations you may wish to look at:
1. Don't be too hasty:
Games with opponents of high caliber are usually tight affairs that go down to the final moves/shots. Don't waste the re-roll on something in the first turn or two that you can potentially work around in other ways.
Exception:
The exception to this "rule" is if a pivotal unit is instrumental in your armies synergy - eg: a storm raven with heavily laden cargo Immobing itself leaving DT in turn one.
2. Don't risk long shots:
Using Corb's for things like 5+ or even 6+ saves or to-wound/pen rolls is less than ideal. You are not doing well to hedge the bets and mitigate the dice in a way that will stack the odds in your favour. Rather go for the dice rolls that will garner a higher percentage chance of success from the outset. eg: Failed 2+ armour saves, failed Dangerous checks on vehicles, Failed Ld10 checks, DT checks of 3"+, psychic hood checks where your opponent rolls low etc. Essentially, you want to know that your reroll is much more likely to succeed that it is to fail.
Exception:
If you are hopelessly outgunned, the terrain is awful and your opponent has the alpha strike army from hell - then yes - your only hope may be to go for that long shot and try steal. But, if its not your only, only, only chance rather work around it.
3. Ask yourself will this change the game now:
Ask yourself if you rerolling the dice will change the game
"here and now
". If the dice roll you failed does not immediately impact the game, then you need to really consider hard if you want to use the re-roll. Eg: If mephy takes his 1st wound from failing his 2+ armour in turn 2, you may not want to use Corbs right away. You may want to save it for that next turn where he needs to cast Sword to fight the Paladins nearby etc.
Exception:
If you can reasonably be expected to know the outcome of the next few steps and know that even though there is no immediate impact, the repercussions of failing will be apparent or far reaching. eg: in the Mephy example above, say he is about to be charged by a squad of 10 Stealers- While him losing that one wound now may not make any difference, its possible that when he is charged that one wound can make the difference between him staying alive and him dying to rending hits.
Beyond the Re-roll
Enough about the re-roll.
Let's take a look at Corbulo the character.
NOTEWORTHY POINTS:
1:
"He has Feel No Pain on a what...?!"
The most noteworthy plus is not on his statline per se.
It's the fact that Corbulo has the best standard save in the game.
He has a 3+ followed by a 2+ Feel No Pain.
This means one thing - every single non-AP2+, non-S8+ wound should be finding it's way to our priests face.
If you take a huge torrent of fire on a small squad, then stack all the wounds you can on Corbulo
The implications here are that he will save your squad size from diminishing more than anything else available to you.
This also affects the way you position him in combat. You want him in base to base with as
MANY
non-PW foes as humanly possible, while you use the other models to get into BTB with the PW models if there are any. (You should see Corbs tarpit a fat squad of Gaunts!!!) While other priests shy away from models in BTB- Corbs should be jumping in head first vs. standard models.
2: Statline:
WS-5, Init-5 (6on the charge!), W-2 and
5 Attacks
on the charge makes for a fairly decent melee support in non-specialised roles.
Add to this his
Rending

S5 Chainsword
and you have a very understated unit capable of surprising your opponent.
Corbulo is not a beatstick.
Do not let anyone tell you he is.
He is however a very underestimated unit. In normal circumstances he strikes at init5 with 4 attacks. The threat of rending causing grief to even marines.
I believe he makes the perfect support character because of this.
APPLICATION:
Corb's application will not work across the board irrespective of list- as awesome as he is. Different list genres/types/styles will really make a big impact on the value you get from this model.
Mixed Mech/Hybrid Lists
Corbulo is best, though not only, used in more aggressive lists or lists with a lot of combat focus. He has good combat potential, and with smart placement on your part as a general, you can avoid special weapons.
While he wont be the first to get out of his Rhino/Razor, he is usually part of the counter charge element in most of my armies.
I strongly advise using him aggressively (though not foolishly) if you play a combat heavy or combat ready list.
DoA
If you play a DoA or pure jumper list, you will struggle to fit him in, and it may not work to your style- theres nothing really to consider in this case. Don't do it. If you use a few other units I probably wouldnt pay 105 points for Corbs to babysit your Dev squad (unless maybe you were using Vanguard Veterans too)
Razor Spam Mech
Mech lists that dont rely on any combat aren't likely to really rely on him too much.
Depending on your HQ choice (if it's mephy- then I would consider making the points for Corbs) you may not even need him.
If your Mech list relies on naked priests or no priests then the same applies. Lists like these rely on redundancy to work from the outset, so a re-roll becomes somewhat
passe
.
Corbs is great as a support IC for a claiming unit. He makes the unit incredibly resilient to standard attacks and this means that more focus will be put on a smaller unit that is claiming an objective. I strongly recommend him for Razorback squads, claiming RAS in Rhinos and potentially claiming drop pod squads!
In Closing:
If it wasn't clear enough already, I'm a fan.
However, I'm a fan not through blind devotion and irregular anecdotal occurrences, but through consistent saves this one unit has granted me.
I had decided against taking Corbulo into tournaments on 3 occasions in the past.
All 3 occasions regretting it, and in 2 of the tournaments losing games (and doing very poorly subsequently) on literally one dice roll.
In any competitive environment I will be taking Corbulo, and I'd like to challenge and recommend to other players that do not usually do so, to give it a go if it fits the theme of their army.
I hope this tactica has been of use!! And I hope if you've not been using Corbs or been unsure about him, that this sways your mind.
Regards,
Morticon
Edited by Morticon, 10 May 2012 - 09:34 PM.