Greetings. Welcome to my WIP log for my Raptors chapter. Firstly I will give a brief overview of my plans and rough ideas for my army. From time to time (most likely at the completion of each squad) I will add some fluff. Throughout the log expect me to throw insults at a variety of different Chapters and their ridiculous ideologies of warfare, so don't be offended and feel free to hurl some insults back.
Ok here are my main aims....
1) To get a table top standard force for Apocalypse size games (5000pts)
2) I plan on getting the army painted to a decent standard and will then go back and add battle damage and extra details as the units evolve in campaigns.
3) Batch painting is always an area I have struggled with so I am attempting to conquer that Demon through some new techniques.
4) I have always hated using transfers/decals but have discovered new tips (right here on B&C) that I intend to use.
A quick introduction to my Force's theme....
1) The force will represent The Raptors 5th Battle Company set roughly 20 years after the conclusion of the Badab War (55% operational strength)
2) Will not have many battle tanks (LR, Predators, Vindicators) to represent those lost in the war (expect patched up predators from razorbacks etc)
3) Will have a large 10th company attachment representing the rebuilding of the company (Plus I also want to be able to use a full scout 1500pt force!)
4) Stern Guard and Vanguard will be Badab war Veterans from the 5th. There will be a small 1st company attachment.
OK I know people want pictures so here is a Converted 10th Company Chaplain who has come to oversee the development and suitability of the scouts (who I will call shadows because I can.)
But dont expect to see any paint on him for a while as I have got my Companies first deployment... The E Tenebrae Lux Challenge. I intend to use this to paint up the power armoured sections of the force (well some of them anyway) and once this is over start on the scouts who I want to model to be doing scouty sort of things such as setting booby traps, tampering water supplies and general mischievous things.
Ok The first squad in my vow. (have not cleaned up back packs or drilled bolters as yet)
The contents of my full vow..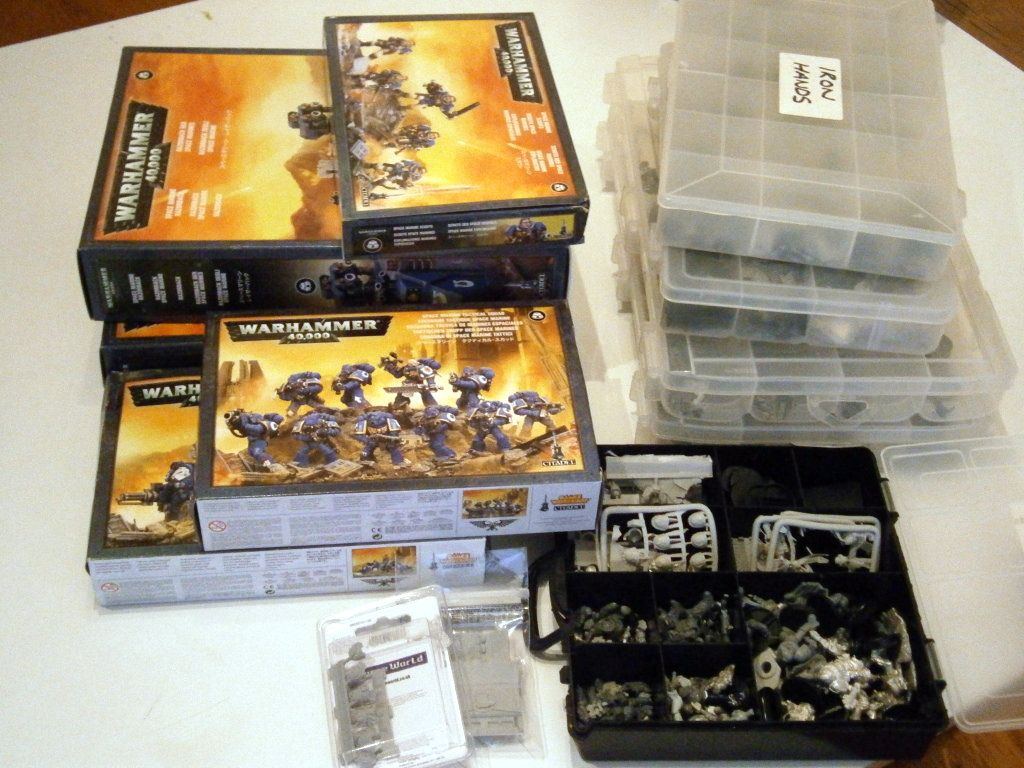 My lovely green selection....
An organised painting area for now...
Well that's all for now. Hope to have this squad done for the weekend.
Cheers
The Yak
Edited by The Yak, 10 July 2012 - 05:49 PM.