Right just found this site and thought I'd go ahead and see what you guys think of my own chapter codex marines. Been posting over at both Warseer and Dakka dakka but as of yet have had only one reply to about eight posts to I hope given that were all marine players in some shape it'll be recieved better here.
The force has basically come around as a combinatoon of old models that I had from when I first started the hobby and the newest boxed sets (both DV and AOBR). Now as stated above these are my own chapter but the DV models are scuplted as DA, and wanting to run it as a bog standard marine list rather than DA and not particualry wan't to file all the models down due to laziness and the fact that I'd proabaly ruin them in the process I had to think a little. Anyway this is what I came up with.
Let me introduce you all to the Swords Of Truth.

Clearance level Charlie: Accepted
Accessing file Swords Of Truth
Displaying Chatper Overview

The Swords Of Truth are a third founding Dark Angel's succesor chapter that display all the stubborness of the Dark Angels even going so far as to ignore thier parent chapters organisational structure regarding the Deathwing and Ravenwing, preferring to organise themselves in the same way as other codex chapters. Thier symbol is a adaptation of the winged sword that the Dark Angels bear with black wings and a golden sword. The chapter itself is at the moment realing from a devestating blow dealt by the Fallen (See sub section Damatres Disaster) and at current have no scout company and only three companies worth of Tactical Marines. As such although they would normally followed the rigid structure of the Codex Asatres, they currently have their Devestator and Assault companies dispersed to serve amongst the depleted Tactical companies. This combined with the full strength Veteran company (see sub section Damatres Disaster) having also been dispersed under the belief that their superior skills and equipment, usually held for specifically hazardous tasks, would be useful to their brother marines at a time when casualties can ill be afforded.

This combined arms approach gives the chapter just under six equally equipped companies (exceptions to the 3rd and 4th companies which are noted below) which they can call upon. The chapter is also currently Fleet Based (see sub section Damatres Disaster) with most of their strength situated around the Eye Of Terror helping several other chapters with containment duties. Of note is also that several of the companies (3rd and 4th) have a severly depleted vechile pool (see sub section Damatres Disaster) and have developed a reliance on covert operations and correctly timed Terminator strikes using skills learnt and adapted from their time serving with alongside the Raven Guard.

Chapter motto:

'Truth and Honour Endure'



File Closed at users request
Now heres some photo's of my finsihed minatures with some WIP at the end (the terminators).

First up are some marines from Tactical squad Atarius 'The Hounured', Swords of Truth 3rd Conpany under captian Vanarta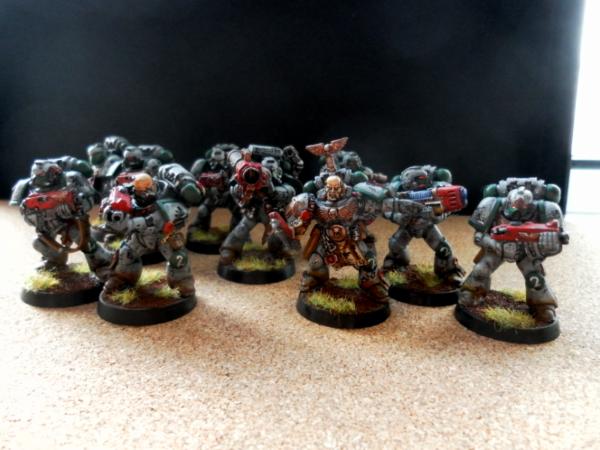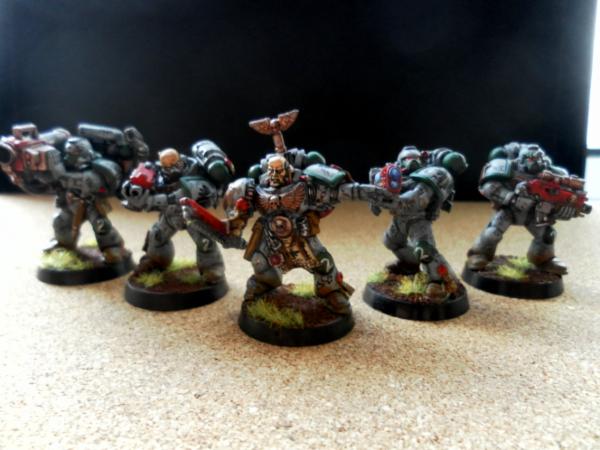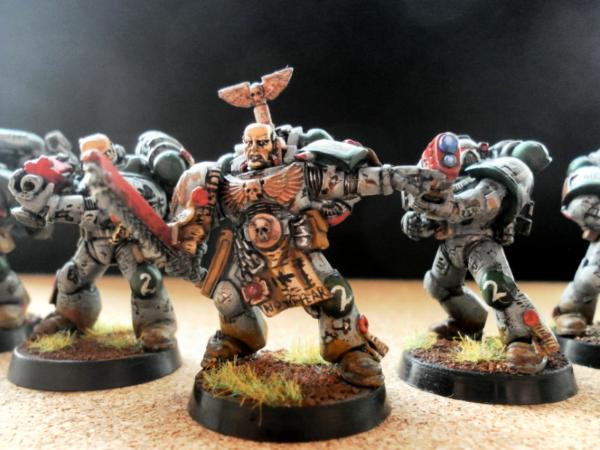 Brother Anarkus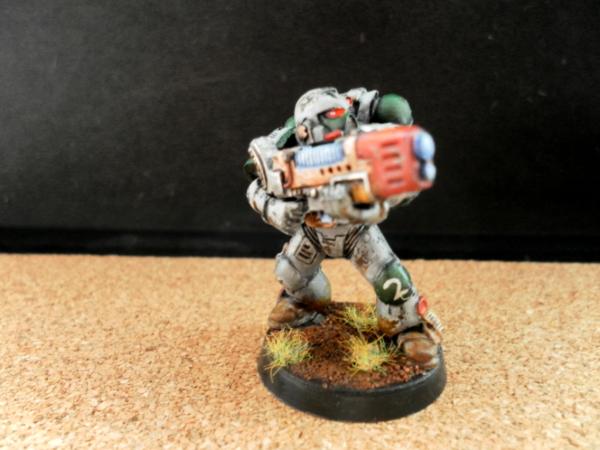 Next is Libarian Alphara. Now this guy i was worried wouldn't fit in with the army due to the colour scheme but I think it worked out quite well in the end and still fits in ok.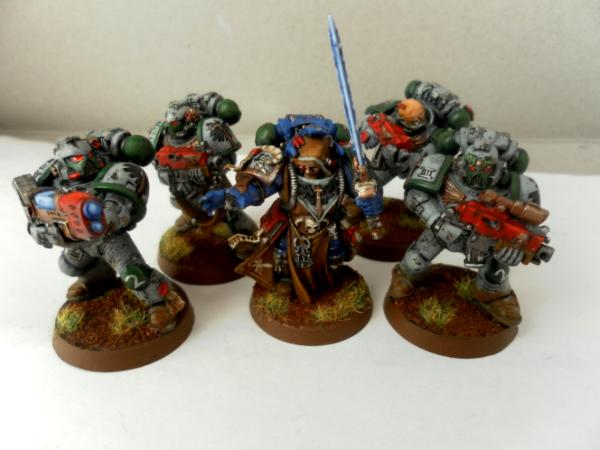 Next up 1st Tactical Squad Vanatra 'The Steadfast' of the Swords Of Truth 3rd Company

This squad was the one that Vantra led until he was promoted to company Captian. As such the squad retains his name rather than changing it to their current veteran sergeants name Jericho, like the tactical squads of the chatper normally do. This squad can also normally be found supproting Vanatra on the batlefield acting as his gaurd.


Now some close ups of the squad firstly Veteran Sargeant Jericho and the weapons speacilists.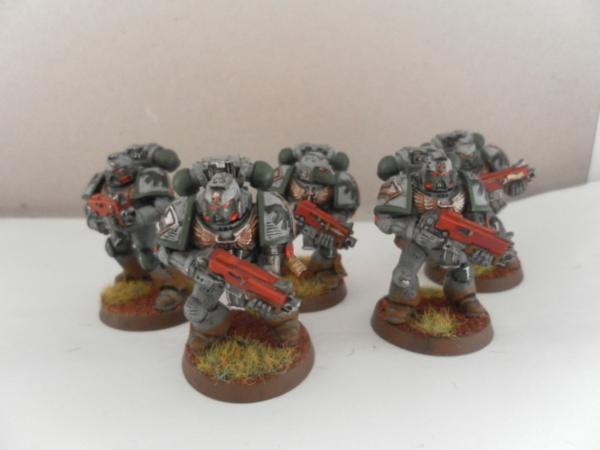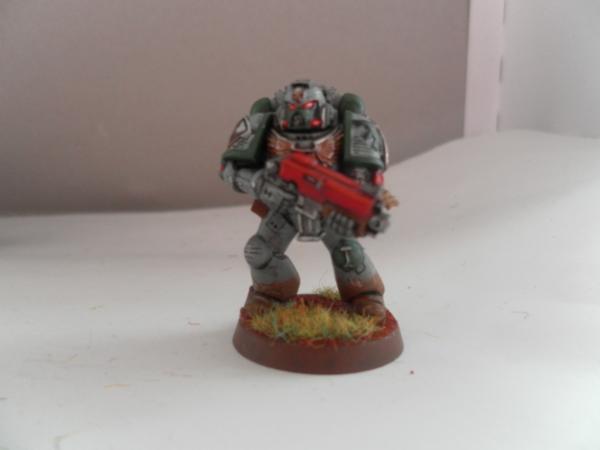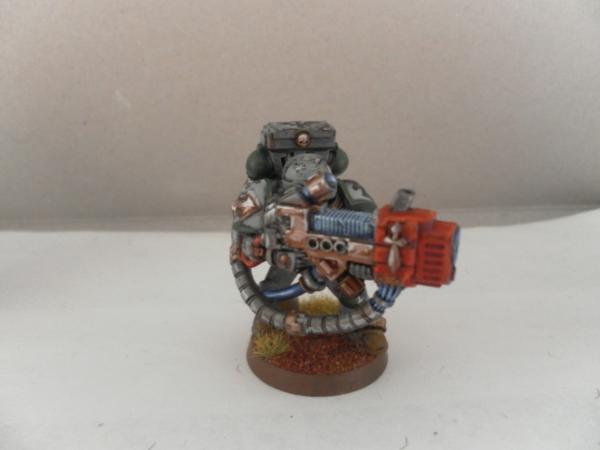 And an army shot of what I've painted up so far.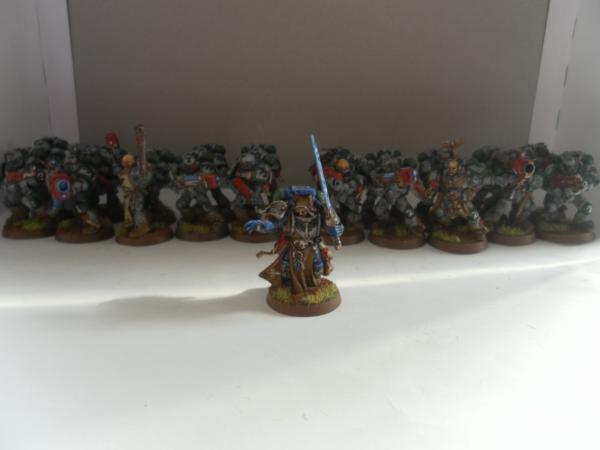 This is the terminator squad Octaro that I've been painting this week. Tried to help tie them into the tactical marines but at the saem time make them stand out so have decided that they should have a lot of gold on them seeing as the veterans helmets in the chapter are gold anyways as well as shoulder trims. I think the back story is going to be something along the lines of originally the entire suits were made from a golden metal but over the years of fighting and the fact that they lost thier homeworld where they sourced the material from means, a lot of the gold armour has had to be replaced with the standard grey coloured armour of the chapter hence why the terminators have a rather mishmash approach to where the gold plates appear on the models. This along with personmal heraldry and marking (such as the sheild designs on the AOBR ones) adds to helping the chapters elite stand out a bit from eachother while still remaining cohesive. As such the sergeants of the terminators and veteran squads will have more gold armour on them than the other veterans (as well as leaders and such). Anyway all this talk would be better explained in pictures so here they are.
Also note that thier all WIP.
First guy is finished in all but the base which due to the size I'm still making my mind up on what to put on it.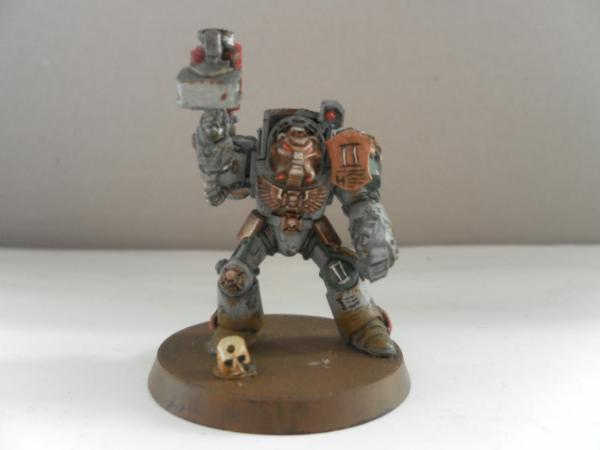 First of sorry its a bitt blurry. A rear view of the model. Decided it'd add a cool effect to have the armour powered by a plasma like source mainly to add soem colour to the scheme. Also shows some of my attempts at freehand.
Second guy which needs a few extra bits done to it but is mostly finished.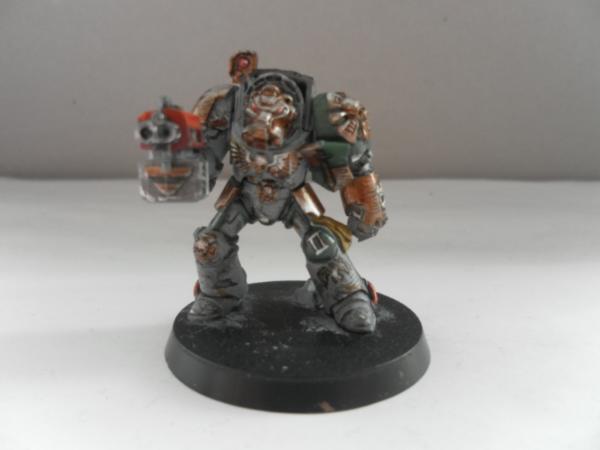 Top down view of the second guy with more freehand and battle damage.
basically only base colours on the sargeant but shows the increased amount of gold on him.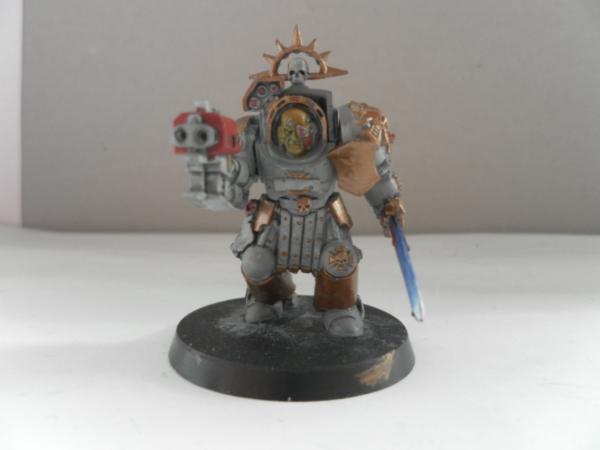 My first attempt at a power weapon done like the grey knights ones. I like it but will probably draw the white further up the blade next time I try it on a model.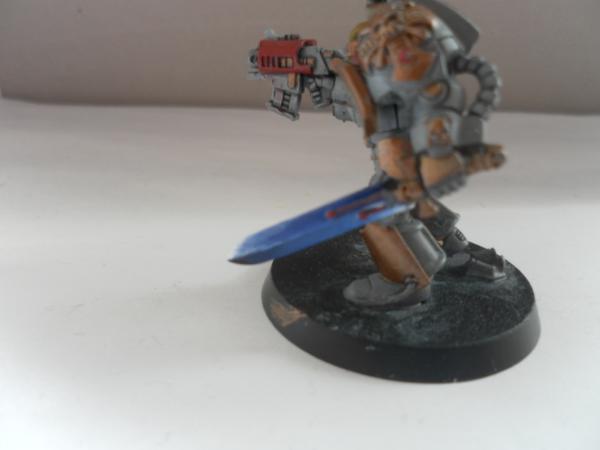 Fianlly a shot of the bascially finished termie next to the DV vet sarge.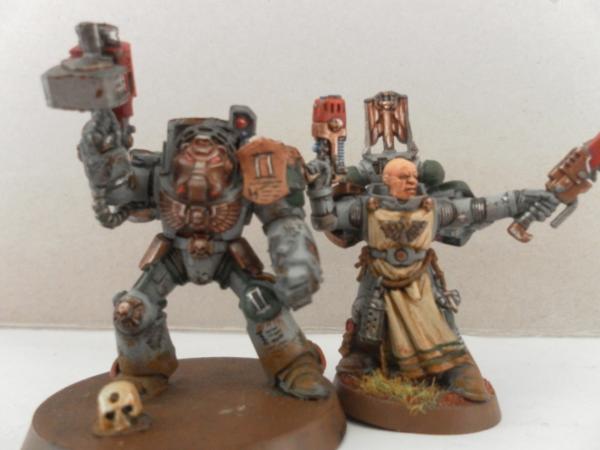 Well thats all for now. I have two of the termiantors left to get done currently on the table then will probably commence work on another tactical squad (the final one in my 1500pt list).
Comments and Critiscms appreciated and I hope you enjoy looking at these and apologise for any that are a little blurry.

'Truth and Honour endure'
Edited by JamesG89, 08 October 2012 - 12:56 AM.