I've been wanting to do some Lamenters for a while, so this weekend I got the itch to finally have a go at them. I'm making a small force of them as allies for my Sisters of Battle, with a group of 1st Co. TDA as the center piece. I'm still not sure what codex I'm going to use, but that's important for modeling yet. This weekend I decided to put together a Rifleman Dreadnought and try out painting some metal Terminators I had on hand as practice for when I put together my new plastic kit later.

Here's the Rifleman Dread: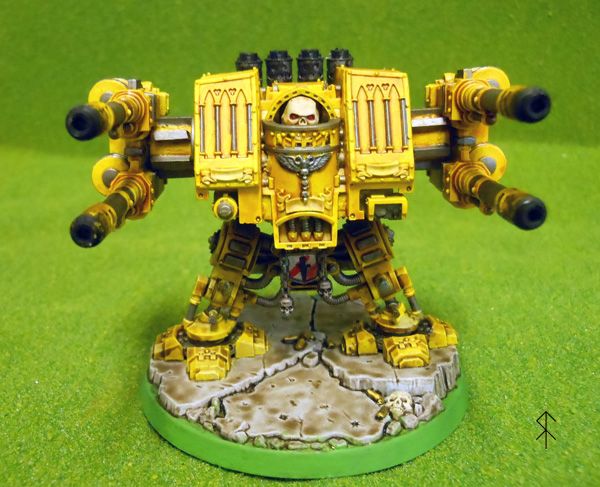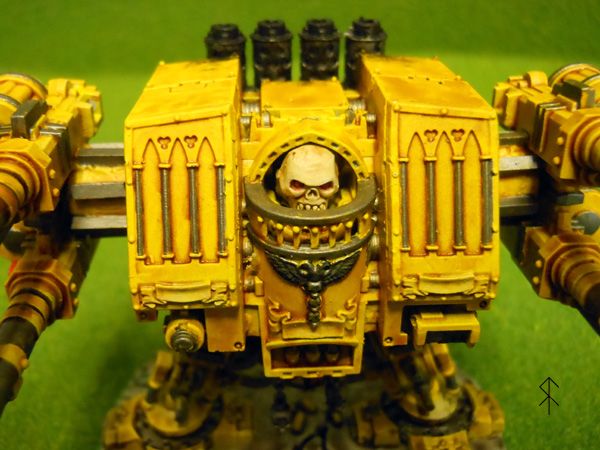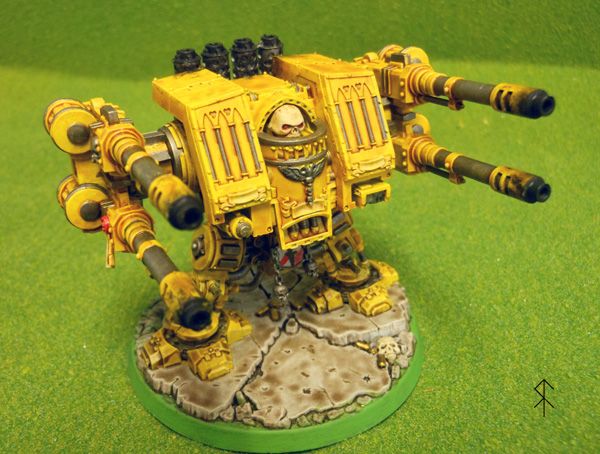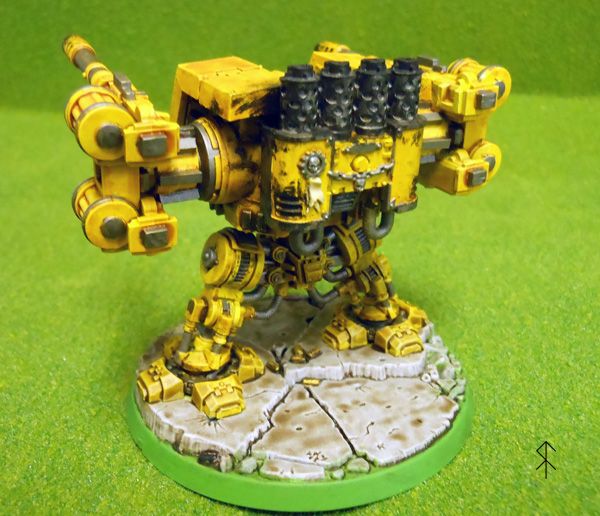 The green background for taking pictures of a mostly yellow model wasn't a good idea. I'm going to go back to photographing on a white background.

I'm thinking of making the top part of the sarcophagus front boltgun grey like the horizontal accent pieces, because the bleached bone of the head is washed out by the yellow of the dreadnought body, I think. Maybe. I'm going to stare at it for a few days before I decide that.

I wasn't sure about what to do with the gothic arch things on the front, but I'm OK with what I did, I guess.

I may have gone overboard on the soot and grease effects on the rear, but I think it worked out on the ends of the autocannons. I also need to go back at fiddle with the silver eagle thing on the front of the sarcophagus and also put a heavier wash on the rear armour plate over the engine.

Not sure if I need to lighten up the yellow on top of the dreadnought.

Also not sure if I need to colour in the scrollwork in silver, since it seems to be suffering the same problem contrasting with the yellow as the helmet.

The shin guards are missing because I scavenged them for other models a long time ago. Need to bits order some...

Critques and comments welcome (and desired.) I'll post the experimental Terminators tomorrow.
Edited by Warsmith Aznable, 21 January 2015 - 02:54 AM.