Greatings Brothers,
Ok... I played two games last friday. I've already posted my battle vs the Tau. I had used MSPaint to diagram it, but with some suggestions from you guys I've upgraded to Vassel. It's a little more laborious, but it looks nice. I didn't add a key to the actual pics, because it should be pretty self explanatory. I did however ad a turn counter in the upper right hand side.
Ok..
This was my third game I've played, so it wasn't perfect. In fact out of the two games I played this one wasn't as dynamic as the Tau battle, but with the idea of using vassal I thought I'd toss it on the forums anyway. Consider it a test run. My opponent was also very new to 6th edition and was a younger player. Bear with me. He also played Dark Angels, but in my over active imagination pictured him as some evil traitor astartes.
My List. (same as my game vs Tau)
Lvl 1 Lib: Eschiel - Term Armor, F. Staff
5x DW Knights
10x Tac Marines - Missiles Launcher, Plasma Gun
10x Tac Marines - Missile Launcher, Melta
Ven Dread (Brother-Dreadnought Nathanial) - Ass Cannon, Hvy Flamer
EDIT: Forgot to add these 2x Speeder Typhoons, Multi-Melta
His List
Master - P.Sword
5x Tac Marines
10xTac Marines - Plasma Cannon
Ven Dread - Ass Cannon, Drop Pod
5x Term Unit - Ass Cannon
5x Term Unit - Ass Cannon
As we started spreading out our Armies I noticed that he didn't seem to have that many troops. After checking his point values on my phone (BattleScribe rocks) I noticed that he was shy points. He thanked me and Ended up adding 5 more tac marines and a Plasma Cannon. He did his math wrong using pencil and paper.
We rolled for the mission with two objectives worth 3 points each (I don't have my book handy, so I forget what it's called.).
Deployment was Vanguard Strike.
Deployment
The X's are the objectives.
I held my DW Knights with my Librarian in Reserve.
He Held his two units of Terms and the Dread in a Pod in reserve.
Hopefully you can tell what is what with vassal. His Master was attached to his 5man tac unit.
We rolled and I got first turn.
DA Turn 1
My Speeders zoomed to the west and launched some missiles at the advancing Traitor Marines, killing one unlucky git.
Both Tac units and Brother-Dreadnought Nathanial moved forward.
After my game with the space Wolves I've been semi-paranoid about deep striking/Drop pod units. I know the capabilities of two Term units and a dread so I chose to be over cautious and DS'd my Knights in my own deployment.
Traitor Marines Turn 1
On his turn his tac marines moved up toward his objective. His plasma cannon shot at Nathanial, but missed.
Pretty basic.
DA Turn 2
Without the assault of the enemy terminators the round was more of the same.
All my army moved up. One of my Tac squads too possession of my objective.
The Raven Wing Speeders shot at and killed a few marines.
Traitor Marines Turn 2
The Traitor Plasma Cannon shot hitting Brother Nathainal, but he spin as the miniature star struck, causing it to fail to penetrate.
Behind my lines both terminator units materialized. The first shot into one of the tac units, killing several of the loyal Angels.
the Second Terminator unit shot at the DW Knights. With stormshield locked together the bolts found no purchase.
DA Turn 3
With gritted teeth the Dark Angels responded to the vile traitors.
Both tac units, Borther Nathanial and both speeders launched a devastating barrage into one of the Term units killing 2.
Librarian Eschiel led his Deathwing Knights into combat with the 2nd terminator units. With charged maces they killed 4, while only losing 1 of their number in return. Despite the carnage the traitors held fast.
Traitor Turn 3
The Enemies Plasma Cannon fired again, but this time, with Brother Nathanial back turned he took a glancing hit.
The still unengaged Enemy Terminator unit charged my tac unit. Overwatch fire shot forth, killing one of the charging behemoths. (I was amazed too)
In close combat the Tac marines killed another Terminator, but lost two in return. With the Lion's name on their lips they stood their ground.
Combat between the other Terminators and Brother-Librarian Escheil's unit ended as expected. The smoking corpse of the vile traitor terminator slumped slowly to the ground at his feet. Winning me first blood.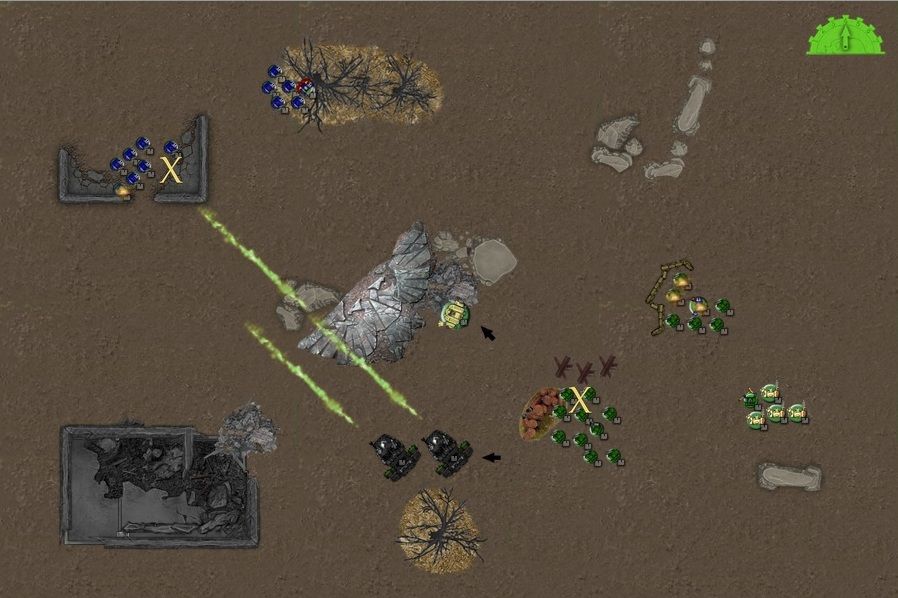 DA Turn 4
With my deployment area almost secure my speeders focused on the enemy tac units again. Missile streaked through the air, killing one of the enemies.
Unable to charge due to positioning the Knights watch as the last traitor Term was swarmed and killed by the Dark Angels Tac unit.
Traitor Turn 4
It struck the ground like a meteor, barely missing the tac unit holding my objective. Out of the Pod the husk of a traitor Dreadnought emerged. Raking fire onto my tac marines, 2 fell to the blighted bolts.
The plasma cannon reached out again hitting brother Nathanial, but failing to pen.
DA Turn 5
Advancing forward Nathanial finally unleashed his wrath on the tac unit that had repeatedly fired at him, but was unable to kill only of the cowering marines.
The enemy Dreadnought was met with a devastating torrent of fire from both tac units and the speeders. It exploded in a giant fireball. (My plasma Marine killed himself while firing
)
Traitor Turn 5
Again the enemies plasma cannon bellowed out, but again Brother Nathanial resisted it's molten touch.
With that the game was over. Hand shaken.
DA 4
Traitors 3
All and all it was a long game. Both of us re-checking rules. It was a fun game, but not as fulfilling as a game against a non-DA player.
Anyway That was my Vassal Batrep.
What do you think? was it clear enough? How was vassal? Better than MSPaint?
****** Mission Log ******
The blinding aura from Eschiel's hand dimmed as the traitor Terminator slumped to the ground, smoke still coming from the massive hole in the side of his head. The once loyalist marine inside the thick ceramite was now a burn corpse. Sent on his way to the new Gods that he had turned to.
The Fire Skulls they were called now. Wretched and twisted, the once loyalist Imperial Astartes had somehow changed overnight. A dozen worlds had fallen to them in as many weeks. Each was left a chard wreck. That rampage was ending now.
Light and pressure struck, the taciturn Librarian from behind. He didn't need to turn to see what had happened. His warpsight allowing him to sense the ripples of the dead marine in the enemy Dreadnought as it was ripped into the warp.
"Brother Librarian The objective is secure", Came a Sergeant's report on the comm channel.
Several meters away the rage in Brother-Dreadnough Nathainial's Assault Cannon was unleashed at the distant enemies.
Turning, Eschiel could see the lumbering juggernaught pressing forward toward the second objective. With the comms channel open he whispered one word, "Advance".
******* End Log *********
p.s.
I didn't proof read this. (you can tell)
EDIT: Fixed list mistake.
Edited by [TA]Typher, 26 March 2013 - 06:10 PM.