Brothers,
It's that time again. I know I haven't had a batrep for a couple of weeks, but really I've been disappointed in the April FAQ and I haven't had any games worth noting. Getting cleared from the board by turn 3 makes for a horrid batrep. I do have another game to mock up and post VS Orks... it was a real nail biter and the ending was very good. But... all in due time.
This game was 1750 vs Vanilla Marines. I imagined that they were some perverse chapter from Guilliman that had fallen to the dark powers.
This was the first time I played this opponent and I had seen him play other people and I was pretty sure I could tell how this would end.... ugly.
His List
Librarian Sevrin Loth (sp?) Forgeworld character lvl 3 psyker that knows all the C:SM powers, Fearless and a power that gives him a 2+ Invul save. ... ugh... I hate Forgeworld
5x Terminators: Power Fists/Storm Bolter + Ass cannon
5x Terminator: 5x Thunder hammers/Storm Shields
5x marines: Sgt with combi-melta, plasma gun 3x marines (combat squad)
5x marines: Lascannon, 4x marines (combat squad)
5x marines: Sgt with combi-melta, plasma gun 3x marines (combat squad)
5x marines: Lascannon, 4x marines (combat squad)
Rhino
5x marines: Sgt with combi-melta, plasma gun 3x marines (combat squad)
5x marines: Lascannon, 4x marines (combat squad)
Rhino
Land Speeder: Typhoon missile launchers, Hvy Bolter
Tech Marine w/ Thunderfire cannon
Tech Marine w/ Thunderfire cannon
Dreadnought with a multimelta in a drop pod
My List
Belial w/Thunder Hammer and Storm Shield
Librarian w/Term Armor and Force Staff ( I took the primus power in divination, prescience (sp?))
5x Deathwing Knights
Command Squad w/ Banner of Fortitude, 4x Thunder Hammers and Storm Shields, Heavy Flamer
5x Terminators Sgt with Powersword, 2x Thunderhammers, CML, 2 Storm Bolters/powerfists
5x Terminators Sgt with Powersword, 2x Thunderhammers, CML, 2 Storm Bolters/powerfists
Land Raider Crusader w/ Multimelta
Raven Wing Bike Squad 3x bikes + 1 Attack bike with a Multimelta
I normally don't use a mixed wing list, in fact I'm not happy with it, but our 6th edition codex really gives us little choice.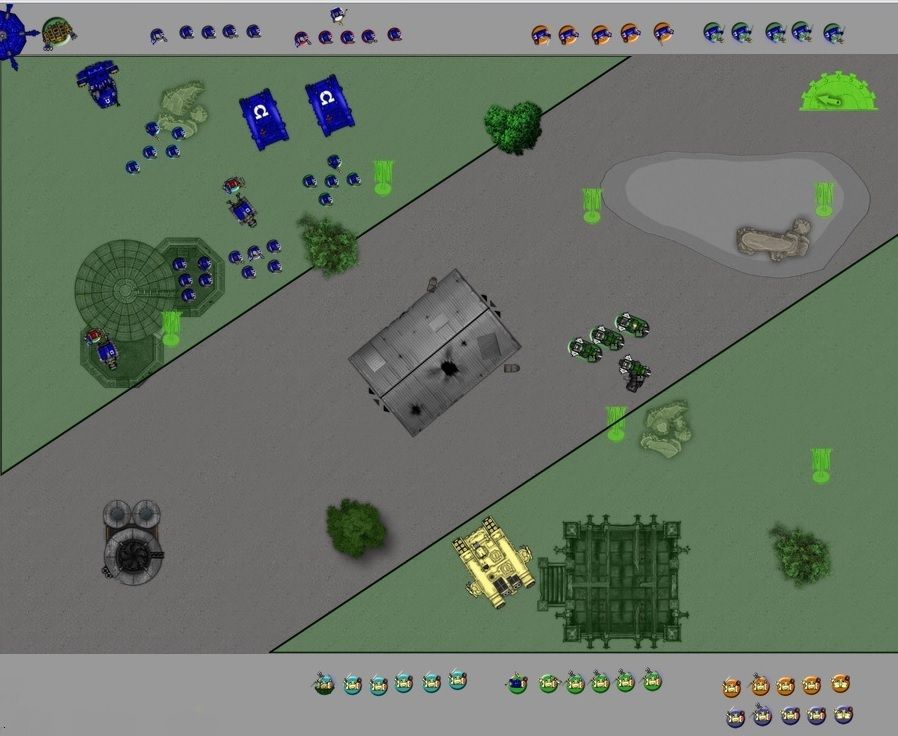 The Table and Deployment
We rolled Vangaurd strike for deployment and the Scouring for mission type.
I rolled higher but allowed him to go first. I really wanted to see how he deployed. He had a lot of firepower there and I needed to minimize my exposure to it.
For His Reserves
He had the drop pod Dread
and he held back the two term units.
He placed is Warlord (the Librarian) with a combat squad (one of the SGT/Plasma ones) and placed them in a Rhino (the Right one)
In the other Rhino he placed another Sgt lead combat squad.
For My Reserves
I placed both troop choices (Normal Terms) into reserve along with the Deathwing command squad
Belial and the Deathwing Knights embarked in the Landraider.
I tried to deploy in a way that limited fire, but still left room to run forward with my landraider.
For my scout move I tried to take cover behind the middle building, but didn't do a great job. It was my first time using the bikers and really only wanted them for the additional Teleport homers.
I made a secret note on my phone to DWA on turn 2.
Ultra's Turn 1
His drop pod rocketed to the ground, only to come to a halt as it's retro thrusters exploded to life. Like a birthed giant the Dreadnought exited the fallen star, it's multi-melta already powering up! it fired but only rolled a only a glance!
His thunderfire cannon to the left fired it's tremor rounds at the landraider, hitting it. Even though he couldn't turn it , his goal here was to make it roll a dangerous terrain test if it moved.
On the right side of the board a barrage of fire killed three of my bikers. I didn't position them that great, and I gave him a few more shots then he was probably allowed to make. No point arguing in a friendly game. The attack bike rolled and passed his morale check.
Edit: This actually gave him First Blood. Stupid attack bikes rules
DA Turn 1
On my turn I moved the attack bike behind the large building in the center of the board. I tried to move my landraider forward but rolled a 1 on my terrain test!!!! NOOOOO immobilized! Craptastic!
With no option left Belial ordered his unit out.
In the shooting phase the attack bike shot the dread in the back with it's multi-melta. I rolled a 4 on the pen table and added the +2 for the melta. The ancient warrior boiled inside his metal husk before exploding in a shower of ceramite and dark fluids.
Belial pointed and his unit of Deathwing Knights charged the drop pod. The maces hammering the immobile vehicle until it lay in a wrecked mess. (glanced it to death)
Ultra's Turn 2
With a loud pop and crackling arch's of blue lightning his unit of terminators materialized near Belial's group. The misguided marines cycled weapons and fired on the Master of the Deathwing!
With little useful cover Belial's squad came unit intense fire from pretty much his whole army, killing 3 of the veteran Knights.
Belial gritted his teeth and vowed revenge!
DA Turn 2
DEATHWING ASSAULT!!!!
With the Assault Bikes Teleport homer sparking to life they came. Like three grand explosions of light and energy each of the terminator units spawned to life on the battle field. I used the building limit exposure to enemy fire.
The command squad shot it's hvy flamer at the enemy terminators, killing 1. The Landraider followed suit killing 1 also.
The two other term units shot at the rhino with his warlord, but only managed 2 hull points of damage.
Belial charged the enemy terminators, determined to bring ruin on them. Overwatch killed another knight, but Belial and the last Knight reached the enemy. With an activated mace the Knight swung. In combat Belial and the remaining Knight crushed the three, killing them to the man. They consolidated toward one of the thunderfire cannons.
Belial whispered to the arcane machine "death is coming for you"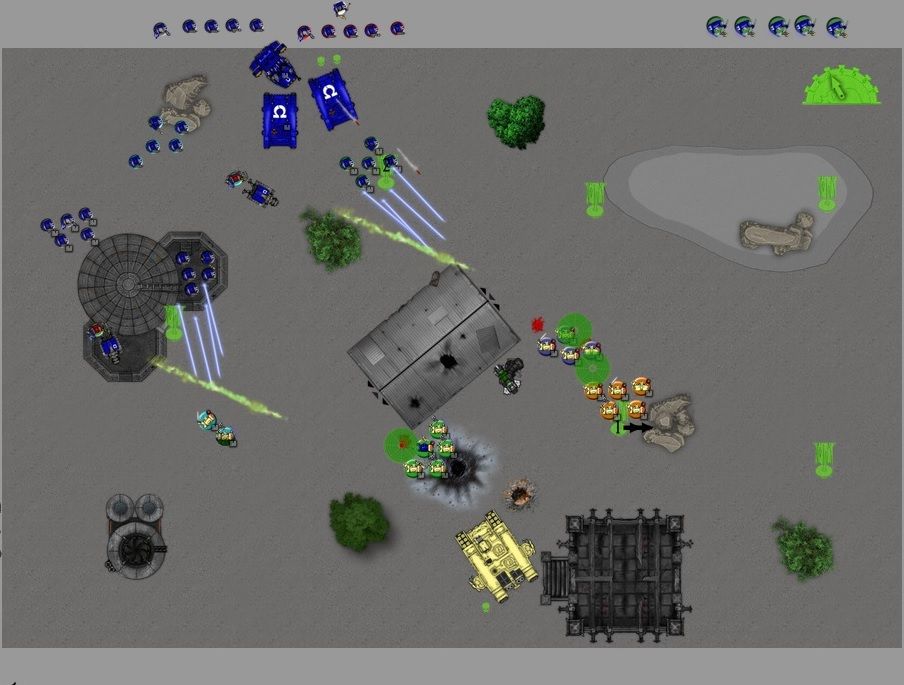 Ultra's Turn 3
Turn three brought more of the same from the traitor marines.
One of his combat squads ran around the back of his occupied building, hoping to get a shot off on Belial's group next turn. The landspeeder flew to the right, adding his fire to the already high volume shots that the marines were pouring into one of the term units. I made all my saved except three, but the Banner of Fortitude saved two of those!!
On the other side of the building the command squad took fire, losing one terminator.
Beliial's squad took fire from a lascannon, but the shields held.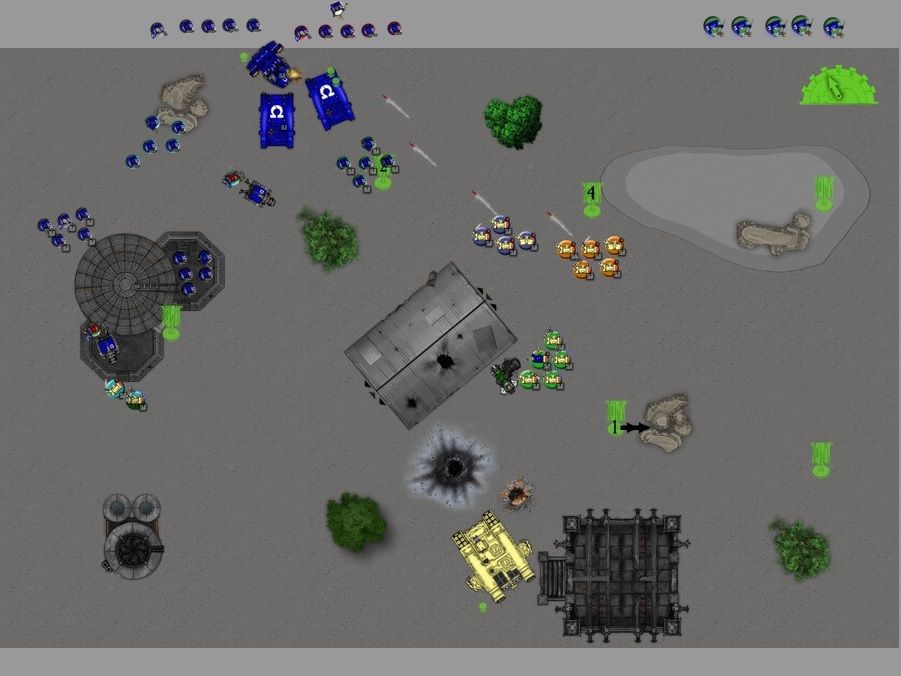 DA Turn 3
Belial and the remaining knight rushed forward trying to shelter in the base of the building.
All my terms shifted to the right. They all shot at the Speeder causing it to be stunned. Dang! that should have been an easy VP! (I rolled horrible)
Ultra's Turn 4
His last unit of Terms arrived, porting in near my combined units on the right. Their thunder hammers smashed against their shields. His warlord and his boyguard exited the rhino and attempted to cast vortex of doom (str 10 AP 1) on my terms, but he rolled double 6s! The blast struck his unit instead killing 2. (I forgot to show the two guys dead.. .sorry)
The unit that had made the long journey behind his building reached a good firing point and shot at Belial's group. Plasma and a combi-melta fired, killing the last Knight. Belial's fury was near explosive!
The rest of his army shot at one of the term units, causing several wounds. I made a couple of feel no pain rolls and only one term died!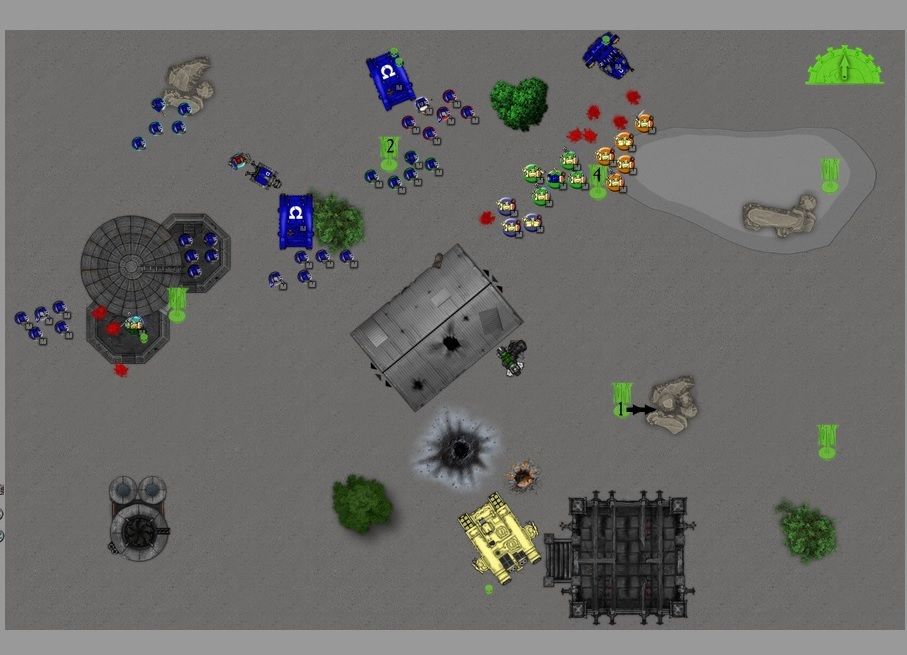 DA Turn 4
I split fired my CML's at the speeder, but horrible rolls denied me any glances or pens. The Command squad and one of the Term troops charged the thunderhammer Terms that just arrived. In combat the two units killed the enemy terms to the man, while losing no one in return! The amount of hits my terms pumped out was immense! The Librarian's psyker power was very helpful! both units consolidated back toward the 4 point objective.
Belial scaled the building and charged the Techmarine that had been responsible for so many wounds on the knights. Overwatch caused a wound on the Master of the Deathwing, but he carried on! The poor traitor marine was turned to pulp under his vengeful strikes. I consolidated into the corner to help protect my warlord from return fire.
My three man term unit tried to charge one of the closest combat squad, but failed the charge. Overwatch failed to harm them.
Ultra's Turn 5
In the movement phase his speeder turbo boosted toward one of the objectives, which turned out to be worth 3 points. This could not go unanswered.
Massed fire shot at the three man term unit, killing two.
The combat squad tried to kill Belial, but his shield turned back the worst of it.
His warlord cast his ability to have an invul 2+ save, Null zone (all enemies within 24 inches rerolls successful invul saves) and force dome and votrex of doom on my Librarian's unit!
We rolled for Deny the Witch. He rolled a 2 and I rolled a 6! The power fizzled and died. Woohoo!
DA Turn 5
Seeing how this was turn 5 I tried to shore up as many points as possible, just in case the game ended.
My ravenwing attack bike, which had been hiding up to this point turbo boosted to contest the 3point objective.
Belial moved through the building and charged the combat squad in the building, killing three. They failed their morale check on purpose and fell back, Belial consolidated on the closest object.
The 1 man term unit moved to hold the 4 point objective. I split fired and both CML's fired at, and failed to kill the speeder.
The Deathwing command squad and the other term unit both charged the enemy librarian. The combat was brutal. His librarian challenged but I refused. (I hate refusing, but I needed to kill him). My librarian didn't get to attack this round. His librarian had a force axe. in the issuing battle I lost two terminators from the command squad, but he lost his remaining tact troops. Hammered into the ground his librarian had to try to save 17 2+ invuln saves..... he failed. * Squish * Slay the warlord was mine.
The term unit consolidated back toward the 4 point objective and the command unit when forward toward the 2 point objective that he still held.
He rolled and the game continued.
Ultra's Turn 6
the combat squad that had been shooting at belial moved, but couldn't get a good angle to shoot him again.
One of his rhinos charged the 1 point objected and the combat squad inside exited. They, coupled with the speeder shot at the attack bike causing only 1 wound! He cursed.
A majority of his forced shot at the imcomming DW command squad, and I made several armor saves and 2 feel no pains. I had placed the librarian closer on purpose and he took a wound, saving the Banner.
DA Turn 6
My DW command squad moved up and contested the 2 point objective. I tried to charge but rolled double 1s.
I moved my full Term unit in a half-circle protecting the 4 point objective from a counter charge just in case we went to turn 7.
The CMLs and the attack bike blew up the speeder contesting the 3 point objective. My immobile landraider killed three of the marines holding the 1 point objective but they held firm.
I rolled and the game continued.
My opponent told me that he didn't think he could win and conceded the game at this point.
Final score
Vanilla (Traitor marines): 1 point object + 1 first blood + 1 killpoint for fast attack = 3 VP
DeathWing: 3 point object + 4 point object +1 slay the warlord + 1 Linebreaker + 1 killpoint for fast attack = 10 VP
Crushing Victory.
We shook hands and talked abit about each others strengths and weakness.
I told him that he should have focused one unit down at a time. Seeing how I only have so many units and even fewer scoring units. Immobilizing my landraider on my first turn was devastating and it cost me all my DW knights. He only rolled 1 miscast for his psyker, who cast his armor spell every round and multiple spells in the last few turns.
The thunderfire cannons caused multiple wounds, causing a majority of the wounds I took. The three lascannons he took failed to do any real damage. Storm shields and misses negated their usefulness. They did however kill one of the bikers in the beginning of the game, which I positioned poorly. I also only moved them 6 inches instead of the 12 inches scout should have allowed them. It would have saved them from getting hammered the first turn. Oh well, live and learn.
I negated his terms by using overwhelming force against them. The first to drop down (the ones near belial) got shot up by everyone, and with empowered mace and Belials thunder hammer I easily won.
The second unit of terms had to face two units of terms AND a Librarian unit that made his squad reroll hits. Overwhelming force FTW.
All in all it was a fun game. Not facing Tau was a refreshing change of pace.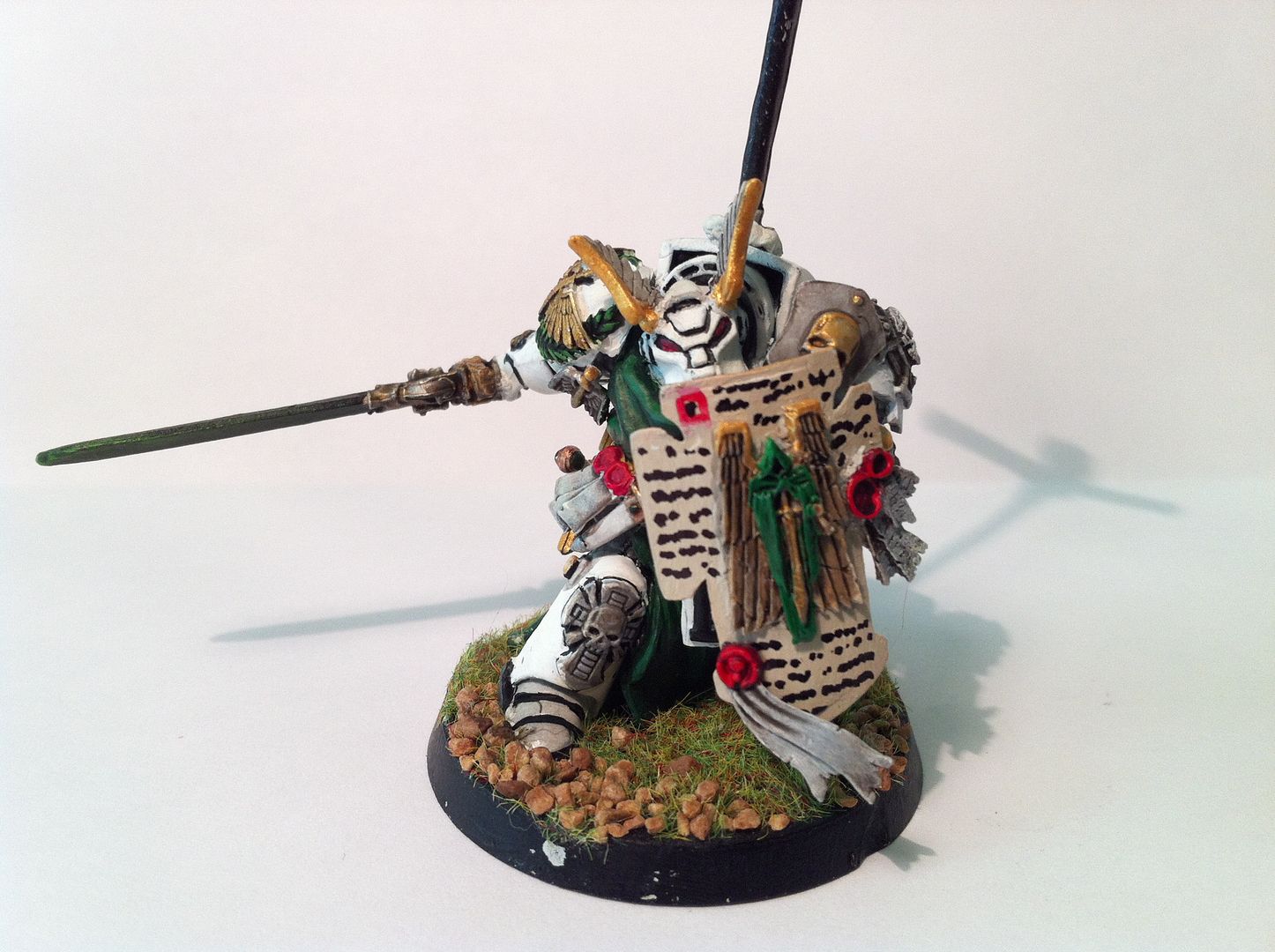 My MVP, Belial. Crushing a Term unit, thunderfire cannon, and a tac unit (that included a lascannon) and Denying a object made for a good time!
Librarian Esciel was a good runner up. His reroll hit ability really helped his unit crush the Thundernators and helped in the assault on the enemy warlord His psykic hood saved his unit from a ability that would have surely killed terms!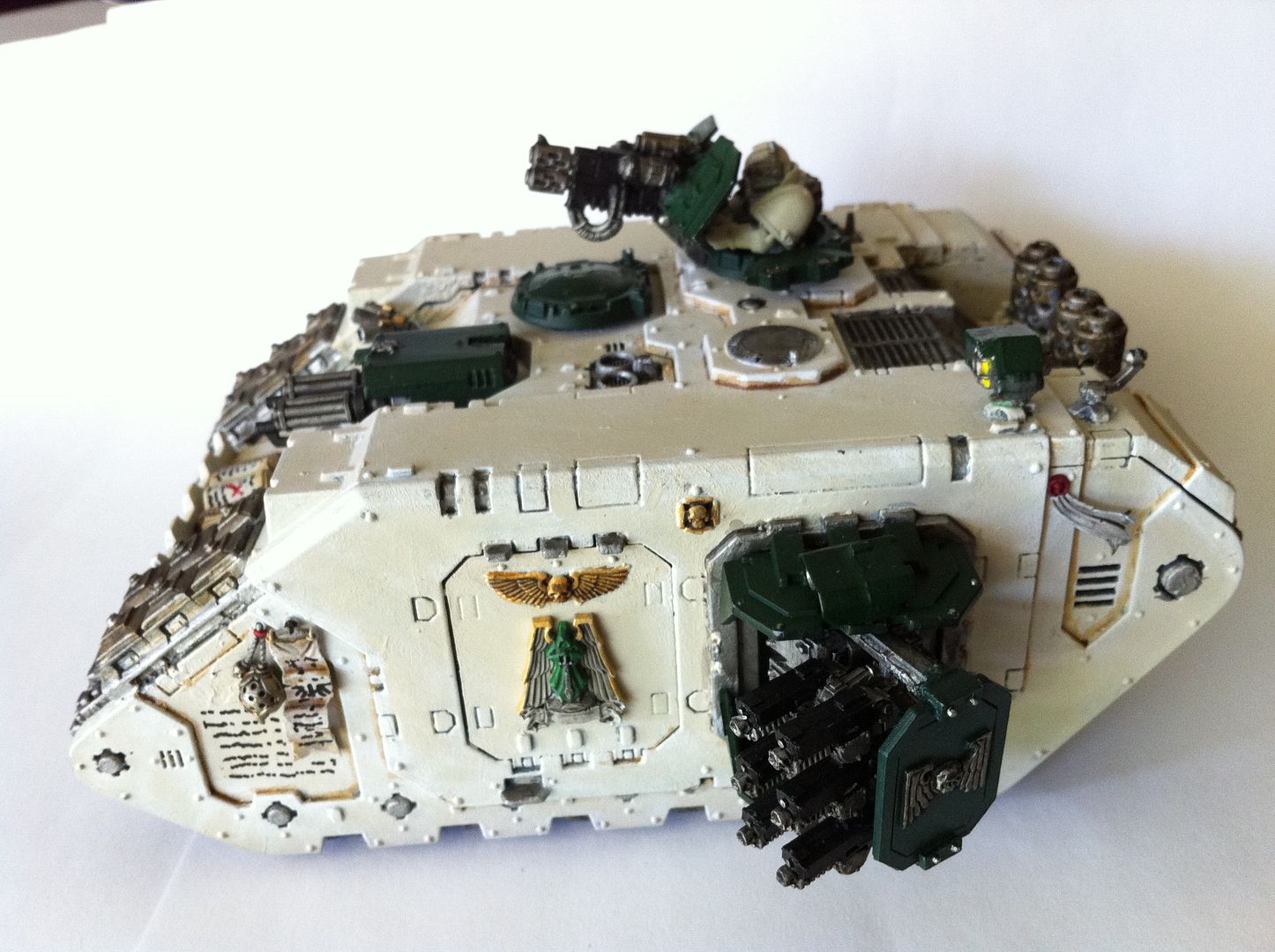 LVP (least Valuable player): Sure he killed some marines, a term and basically held his area of the board but being immobilized on turn doomed the Knights to a footslogging death.
Holding the middle like I did and protecting my units from as much fire as I could helped out a lot. He had a good chance to win, with his Librarian's powers. If he could have held the 2 point objective, killed my attackbike and taken the 3 point objective and killed Belial. Thankfully he didn't
++++++++++++++++++++++++++++++++++++++++++++++++++++++++++++++++++++++++++++++++++++++
++++Astartes Clearance code: Omega Vengence
++++Location: Trydal III
Belial scanned the battle field. Dark blue astartes armor littered the ground. Here and there the large white husk of a fallen Terminator lay. The battle had been a clear victory for the Angels. Guilliman's rogue stock had been culled. He cursed himself, his losses had been too many. although light compared to the carnage wrought on the traitor marines, each death was felt heavily by the finite Deathwing.
In the distance random fire split the silence as kill squads finished off any surviving traitors that happened to live through their initial assault. He could see the bright pops of light erupt at distance moments before the dislocated sound reached him.
The support crews were now arriving and to his right he could see an Apothicary leading a horde of chapter serfs through the fallen. Each green-clad worker moving at the practiced direction of the Astartes medic. some could be saved, but not all.
Belial made a mental vow to remember all the fallen here.
On the other side of the battle field Librarian Eschiel looked down at the fallen Enemy Librarian. The Dark blue of his armor was splattered crimson around the rending tears in his armor. Whatever was left of the Astartes head was lost amidst the crumpled helm that looked impossibly to small now. Around the dead marines neck a amulet sparkled.
Eschiel looked at it for a moment as it seemed to beckon to him. It was hard to hear at first, but after a few moments it became clear. It was a voice. Not bitter and harsh as one would expect such a trapping to be, but instead it was soft and sweet. It reminded him of a patient teacher or a caring father. It told him to reach for it. it flashed a vision of him, leading the Angels. Strong and brilliant he would answer the call of the universe, correct those wrongs done to his chapter. He could lead them, show them the path. He would learn so much and all he had to do was reach his hand out.
It transfixed him. It took several moments before he realized someone else was talking to him. It as Brother Nariel. Pulled from his trance he looked at the confused Terminator. The stark white armor the terminator wore seemed to fit the oversized flamer attached to his right arm.
"Sir? what do you want us to do with the Enemy witch?"
Without a second thought he answered and turned to walk away.
"Burn him.. and all his belongings."
++++++++++++++++++++++++++++++++++++++End Log+++++++++++++++++++++++++++++++++++++++++++++
Edited by [TA]Typher, 06 May 2013 - 07:31 PM.