++E TENEBRAE LUX II++
+Ultramarines Strategium+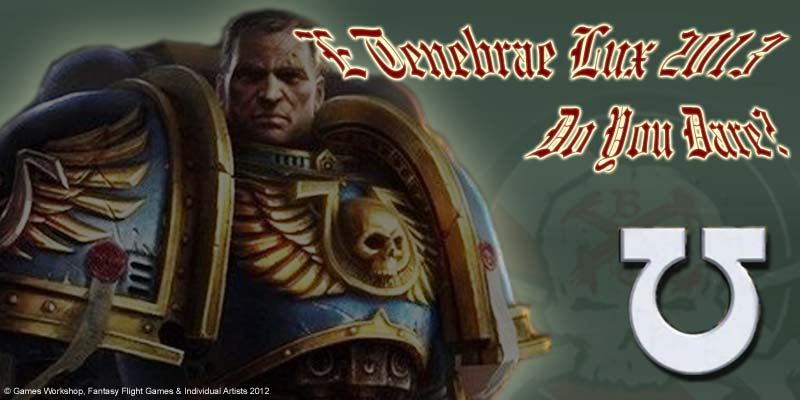 Noble Ultramarines,

It's time to show the Galaxy what it is to be the ultimate defenders of mankind, the epitome of purity and propose. You carry the highest traditions of XIII Legion forward, enlightening the Imperium in this darkest of times. Now it's time to make a stand once more. Now all must hail you as Primus Inter Pares!

Last year the "Codex" faction managed 18.6k points of which 5.2k was completed by you – the Ultramarines! Unfortunately, this was only enough to give the Codex chapters the 6th position… Which begs the question: Can you beat your personal best, and drive your faction to even greater heights? Can you mobilize your resources to achieve the moment of greatness and become Primus Inter Pares?

COURAGE AND HONOUR!
+++++++++++++++++++++++++++++++++++++++++++++++++++++
Well, this is the return of the ETL. There is some streamlining of the rules compared to last year so please read them carefully, veterans and new entrants alike. The rules can be found here:

This thread is the "Chapter House" for this event. All vows of this sub-forum should be posted in this very thread in order to be valid. This is also the place to declare vow completions and/or vow renewals. Finally posting your WIP thread links in your "completion" post will be tremendously helpful! This is a big event guys, so making life easier for me, will help avoid confusion and backs 'n forths…

You can also use this thread to gauge the progress of your forum (last year's veterans know I'll update often) and compare it with other forums in their respective threads. It will also be a good place to talk to each other as how to go about it, and organize your forum effort.

If you want to refresh your memory of what happened last year, see the ETL I - Final report

I'll be glad to answer any questions as we go along and I will keep track of all forums' efforts. So I'm the person you need to talk to for anything regarding the procedures of this competition but your forum Moderators still have full control of the Meltas and they will gladly use all of them given half a chance... So be aware of that!
ALL WHO MAKE A VOW AND ARE LISTED BELOW HAVE EARNED THE RIGHT TO WEAR THE OATH OF MOMENT :

ULTRAMARINES VOWS
Anaziel | Vow 1 [275]
Aquilanus | Vow 1 [445] COMPLETE | Vow 2 [465] COMPLETE | Vow 3 [890]
BackSplash | Vow 1 [530]
Bigger-than-Jesus | Vow 1 [650]
bjoluemblem | Vow 1 [380] COMPLETE | Vow 2 [547] COMPLETE
Diceman87 | Vow 1 [230] COMPLETE
emperors immortals | Vow 1 [2,245]
greatcrusade08 | Vow 1 [690]
karden00 | Vow 1 [875]
Player not found | Vow 1 [405]
Ramell | Vow 1 [130]
Sir Samuel Buca | Vow 1 [595]
Toxichobbit | Vow 1 [405]
TSgt Hivemind | Vow 1 [800]
Ultrarich | Vow 1 [300]
Zeuspro | Vow 1 [680] COMPLETE | Vow 2 [730]
Edited by Captain Semper, 09 July 2013 - 05:45 AM.