++E TENEBRAE LUX II++
+Sisters of Battle Strategium+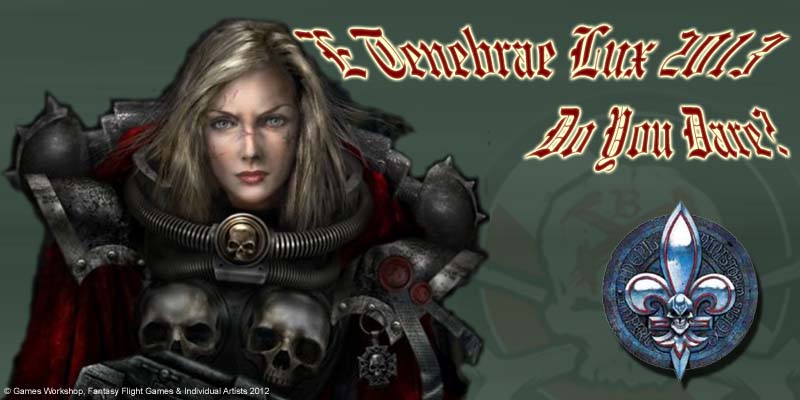 Sisters of Battle!

You fought a holy war last year and, along with the Grey Knights, you made a heroic stand that made a strong impression accross the Galaxy! But your numbers were few... Now, apart from your long lasting allies, further reinforcements have arrived. The countless numbers of the Imperial Guard and the full might of the Mechanicum will stand beside you. Now mankind will surely triumph!

Last year the Ordos (GK and SoBs) made an amazing effort. With an 82% completion rate you gathered a respectable 5.7k pts! However the lack of numbers showed and in the end you could not threaten the more numerous rivals. But fear not! This year the Mechanicum and the Imperial Guard will join forces with you and substantially improve the odds to become all of you jointly Primus Inter Pares!

HERETICS CRAVE FOR THE CLEANSING FIRE OF ABSOLUTION. THEY NEED NOT FEAR, FOR WE SHALL DELIVER.
+++++++++++++++++++++++++++++++++++++++++++++++++++++

Well, this is the return of the ETL. There is some streamlining of the rules compared to last year so please read them carefully, veterans and new entrants alike. The rules can be found here:
This thread is the "Chapter House" for this event. All vows of this sub-forum should be posted in this very thread in order to be valid. This is also the place to declare vow completions and/or vow renewals. Finally posting your WIP thread links in your "completion" post will be tremendously helpful! This is a big event guys, so making life easier for me, will help avoid confusion and backs 'n forths…

You can also use this thread to gauge the progress of your forum (last year's veterans know I'll update often) and compare it with other forums in their respective threads. It will also be a good place to talk to each other as how to go about it, and organize your forum effort.

If you want to refresh your memory of what happened last year, see the ETL I - Final report

I'll be glad to answer any questions as we go along and I will keep track of all forums' efforts. So I'm the person you need to talk to for anything regarding the procedures of this competition but your forum Moderators still have full control of the Meltas and they will gladly use all of them given half a chance... So be aware of that!
ALL WHO MAKE A VOW AND ARE LISTED BELOW HAVE EARNED THE RIGHT TO WEAR THE OATH OF MOMENT :

SISTERS OF BATTLE VOWS

CommissarHarris | Vow 1 [85]
Enhrjr | Vow 1 [325]
Furyou Miko | Vow 1 [1,036]
Hanska | Vow 1 [90]
Master Omega | Vow 1 [1,033]
Midnight Angel | Vow 1 [778]
Namine | Vow 1 [1,142]
Nikolai180393 | Vow 1 [125] COMPLETE (pics pending)
War Father | Vow 1 [1,400]
Edited by Captain Semper, 12 July 2013 - 07:43 AM.