So after playing Space Marine on my PS3 I decided I needed to start my first army.
Well I did a lot of research onto which space marine chapter I wanted to do, I was pretty set on dark angels until I came across this: http://warhammer40k....i/Black_Dragons
for those who don't care to read the wiki article here's the important bit:
certain Astartes of the Chapter to develop blade-like outgrowths of bone on the head and forearms. Some Black Dragons afflicted in this way sharpened these bone growths and sheathed them in adamantium for use in close melee combat.
sold!
If the Night Lords are Batman, then the Black Dragons are Wolverine.
these are what I've done so far, the pictures are terrible, apparently the iPhone camera sucks for this. I sharpened them a bit in Photoshop, but they are still pretty bad, they look much better in person.
I plan on 3D printing shoulder pads and other dodads soon enough, so these are shoulder-less for now.

WIP Dragon Claw (assault marines) with a little GS chest detail

WIP Dragon Claw
this one is a newer member and does not have his modified dragonclaw armour yet and had to improvise. (though I'm starting to regret that weird shoulderpad, the bare arm looked too bare.)
Then I bought some terminators.
I did that semi-tru-scale thing to them, where you add a spacer in the waist and lower the arms.
some show horns/blades others do not.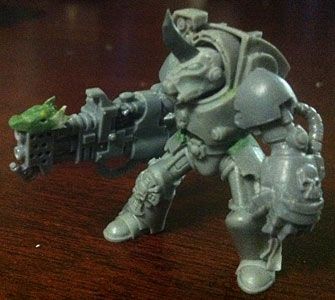 All flamers will have dragon heads on them

The other terminators dont have arm blades, just this guy, and now his armour for that arm no longer fits, so instead of defacing the priceless heirloom armour, he just doesn't wear it.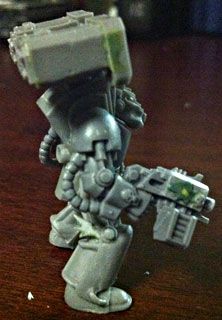 as a general theme I remove all bird wings and replace them with dragon wings.
also most units have wings on the sides of their knees.
I came up with a backstory for them but i should probably read that book they came out with and see if that's already established.
Now I wait for that dread to arrive from ebay.
Edited by gloc, 04 September 2015 - 06:35 PM.