Greetings Gents,
It's time for another Vassal Batrep. This time I was challenged by two friends that wanted to double team someone. One was a Imperial Guard player and the other a Raven Guard player asked if I wanted to play a 2k battle. They would each have 1k and I would have 2k. While I don't really like awkward battles like this I thought I'd try it, as I haven't faced IG in 6th ed yet and wanted to give them a go. I also hadn't played either of these people before and thought it would be a good ice-breaker. I like going to my local store and knowing as many people as I can. Finding a game is always much easier that way.
My List.
Strike Force
Decending Misericordia
HQ:
Belial -TH/SS
Lib -Term armor, Force Staff
Elite:
Deathwing Knights
Dreadnought -MM, Drop pod w/ Locator Beacon
Troops:
10x Deathwing Termnators -x2 TH/SS, x2 Heavy Flamers, 1x Chainfist
5x Deathwing Termnators -1x TH/SS, CML
5x Deathwing Termnators -1x TH/SS, CML
Heavy:
Land Raider Crusader -MM, Dzr Blade, DW-Vehicle
Whirlwind
I've never really tried a Drop pod Dread. I've seen them used and they really seem hit or miss. For the cost I could have changed my list around and take a banner instead, but this was a fun game and I needed more experience with things that I don't use as much. I knew I was playing IG and that they would probably have some armor that would have to die early so I thought I'd give it a try. I just hoped that he was better in practice than on paper. *Crosses fingers*
I also took a WW. I know a lot of people will say that it's not a pure DW list, but I'd have to disagree. a WW is long range artillery. I find it hard to believe that a DW commander couldn't allocate a fire mission from a distant WW. For 65 pts it almost always pays for itself.
I tried to fill out my scoring units as much as I could. 20 terminators is hard to kill for any army.
My Librarian rolled on divination getting the unit ignores cover. Playing against marines, which have better armor than most cover and having a lack of AP3 weapons I ended up taking prescience instead.
Their Lists
I usually pretend that any imperial guard has turned traitor (I'm that much of a nerd), but in this case the RavenGuard player actually told me that he was. LOL! Even better!
Renegades:
Fire Skulls
(formerly successor chapter of the Raven Guard, Eagle Talons)
HQ:
Lib -lvl 2, force staff
Elite:
Techmarine -Power Axe
Troops:
10x Tac Marines -Vet Sgt w/ two plasma pistols and melta bombs, Plasma Gun, plasma Cannon
10x Tac Marines -Vet Sgt w/ two plasma pistols and melta bombs, Plasma Gun, plasma Cannon
Fast:
5x Assault Marines -2x Plasma pistols, Vet Sgt w/ two plasma pistols and melta bombs
2x Land Speeders Tornadoes -One with a MM and the other a Hvy Bolter
Hvy:
Predator -Lascannon Sponsons -Lascannon turrent
The House guard of the Eagle Talons, now called
The burning ones
HQ:
Command squad -Master of ordinance
Elite:
5xStorm Troopers
Troops:
10 Vets -3x Melta
10 Vets -3x Flamers
Hvy:
Ordinance Battery (Baskilisk) -Camo netting -closed compartment
Ordinance Battery (Baskilisk) -Camo netting -closed compartment
Others:
1 Hvy Weapons teams -3x Autocannons
5 man Command Squad
Aegis Defense Line
The C:SM player had a typical anti-marine loadout with his only anti-vehicle weapon the predator, besides melta bombs(which he didn't tell me about). I really wasn't concerned with his shooting in the first turn, but knew that the pred would need to die soon if my Landraider was to remain safe. For powers his Lib rolled Puppet Master and Hallucination. Ugh, both really good powers. his Lib took the mantle of Warlord for their team. A nerd fluff explosion happened in my head and I dubbed him Graxxis the Immolated.
I'm not a pro at the IG codex and he had a few units that I didn't know where they fit in. checking battle scribe I can see that the Hvy Weapons teams should be troops, but shouldn't they have a command squad and one other unit with them? ... I should really read that codex.. anyway. He had carapace armor on all his units so my storm bolters wouldn't be as effective. I wasn't overly concerned with the ordinance, but knew that if they lived through the whole game their large blast template would wear my units down. They had to die.
For mission we rolled Big Guns Never Tire. Awesome! I now had 5 scoring units. We rolled 5 objectives. ugh.. I was hoping for less just in case I lost a unit or two, but that was still ok. We rolled dawn of war deployment and night fight. I placed most of the objectives on their side and they placed theirs on my side.
With almost no chance of them hurting me on turn 1, I let them have first turn.
And Now...
The Battle of Skrix Hive.
"Come war, come strife, come death. We are the Angels of Death and our will is absolute"
-Battle chant from the book of shrouds.
Deployment.
The Fire Skulls took the middle of the Board. One Tac Unit occupied the large ruins in the middle of his deployment and the other one milled around the front of it with Graxxis joining them (the White Base). Next to Graxxis Tac unit the 5 man assault squad primed their packs. To the far left the las-predator rumbled it's engines to a low idle. The enemy Speeders stayed in reserve, flying some distant mission .
The Renegade's House Guard flanked both sides of the traitors. On the right the Company Command Squad (Dark Green Bases), Storm Troopers (Light Green) and a unit of melta Vets took positions behind the Aegis. Behind them one of the ordinance guns prepared their giant weapon.
On the Left, the other Ordinance gun hid behind the minor command squad (light green base). In front of them the flamer vets cringed behind the other half of the Aegis line, praying to whatever new powers they claimed. To the far left the autocannon weapons teams dug in. They knew that the Angels where coming.
I didn't think you could separate the Aegis line like that, but didn't have the rule handy so I let it go. I didn't think it would make a difference.
For my deployment I placed the WW behind a line of sight blocking ruin. My Landraider, the Indomitable Absolution, roared up into position. I placed the DWK and the Lib inside it and held back everything else in reserve.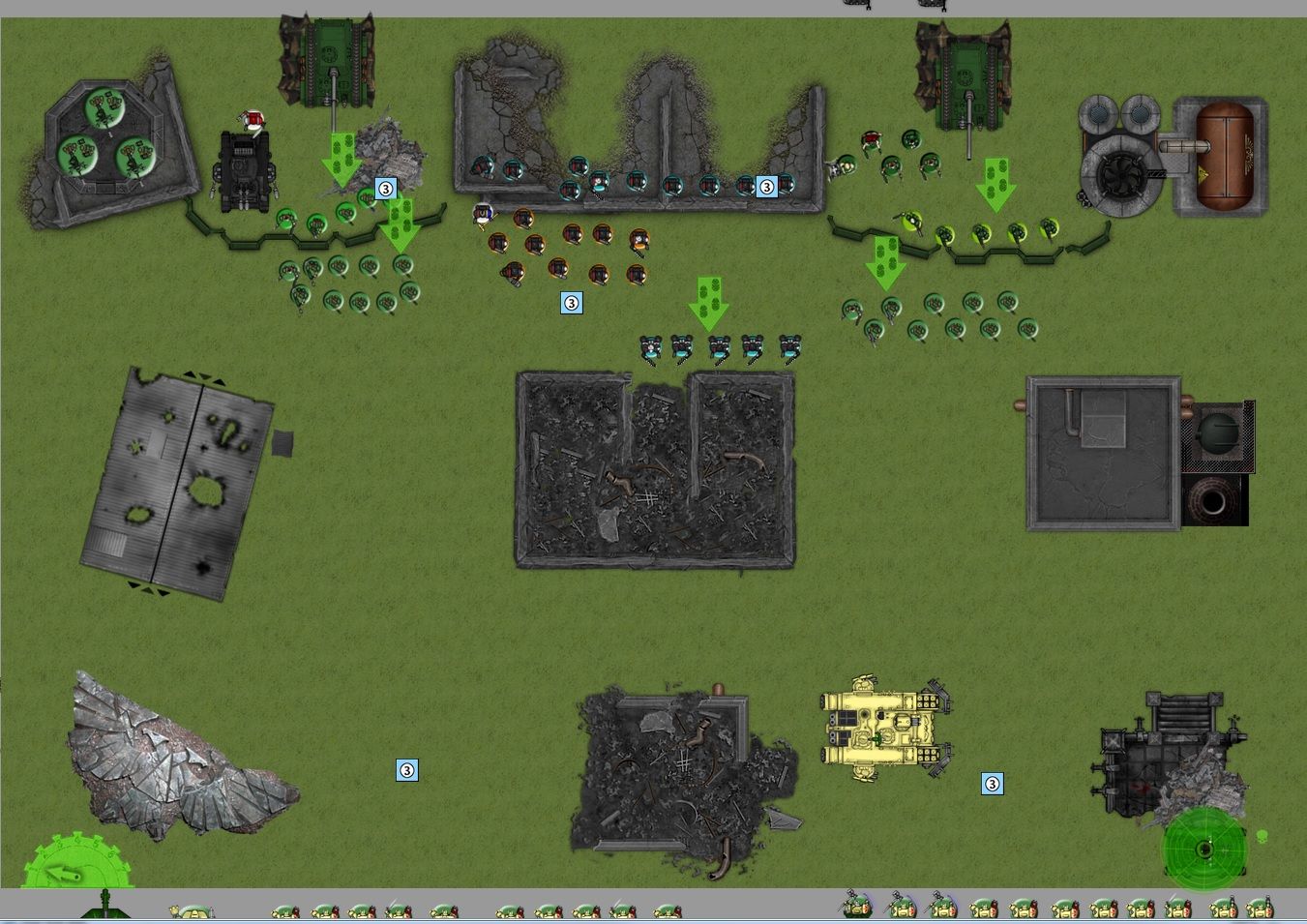 Renegade Turn 1
"Burn bright and scorch those that would diminish your fire!"
-Graxxis the Immolated as he purged the Imperial world of Therria
The Assault Marines jetted up, scouting the approach of the Deathwing. Ordered forward, both units of vets reluctantly climbed over the Aegis wall and moved forward. The minor command squad and Storm Troops took the the Displaced Vets positions behind the wall. Both Ordinance fired at the WW, causing 1 pen, which shook the vehicle. No shooting next turn
It was my belief that you couldn't shoot over 36 in night fight, but they disagreed Stating that barrage doesn't need line of sight, so you still can. I didn't want to hold up the game to check. This is the wording in the book states, "The shooting unit cannot pick a target more than 36" away - such units are completely hidden in the darkness.". It really didn't make a huge difference, but the wording seems clear. I'll let you make the call.
Deathwing Turn 1
"Now is the time for War."
-Belial on the eve of battle.
Brother Mikal's drop pod rocketed earthward, like an Angel storming from the heavens it came. Only minutes ago it had been secure in the hold of the orbiting battle barge, with tech-marines spashing holy oil and chanting blessings to the machine-god. It's retro thrusters burstto life, straining to slow the speeding bullet before it cratered. With a deafening thud it hit, shaking the ground. The thundering of dozens of exploding bolts signaled the pods blossoming doors. Exiting the steaming vehicle the ancient warrior once again took the field. "Repent for now you die!" Came the deafening voxed voice. Haze lit the end of his multi-melta and with a sharp hissing sound he scored a pen on the Las-pred.
I had a 50% chance to kill it and I rolled a ........2. &;#$@#. Weapon destroyed. The pod's shots were also ineffective.
On the other side of the board the WW moved into the ruins to ensure a cover save and was immobilized.. &%#! So much for taking the nearby objective at the end of the battle.
The Indomitable Absolution rumbled up 12". With the power of the machine spirit I scored a hit and pen on the Ordnance battery, but he rolled a 6 and passed his 5+ cover save. the rest of the snap fire shots failed to kill any of the melta vets, despite several hits. This was looking bad.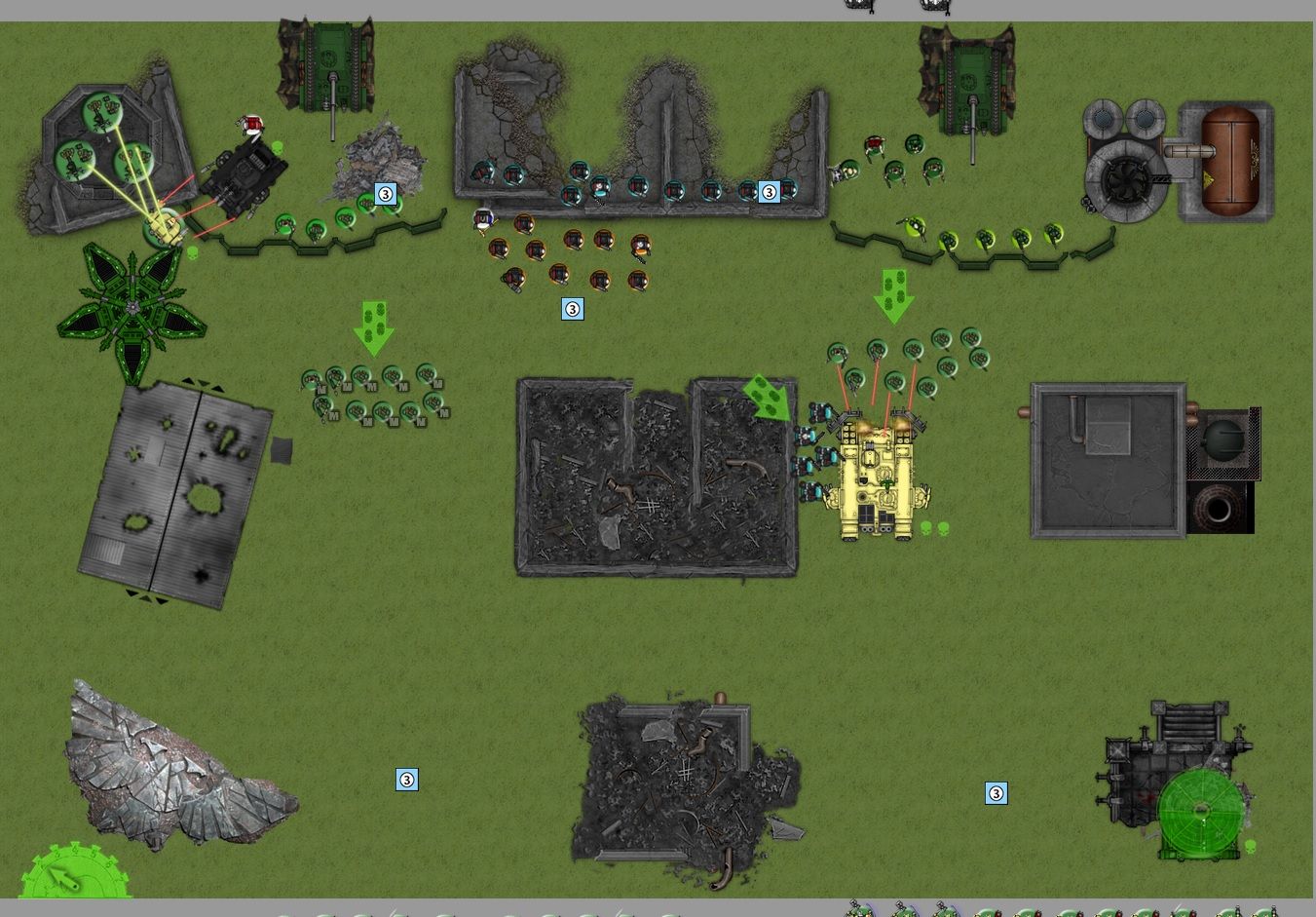 Renegade Turn 2
"Burn with fire, burn with melta, burn with plasma, burn burn BURN!"
-Kranga, Scorch Captain of the Fire Skulls
His Speeders failed to come in.
With first blood so close at hand the Fire Skulls pounced. The Las-pred and Autocannon squad shot my dreadnought but only managed to inflict 1 hullpoint of damage and destroy his multi-melta. With his systems still functioning Brother Mikal clenched his giant fist and vowed vengeance.
On the other side of the board the Melta-vets fired point blank at the LRC but only managed 2 glances! It was good to see that he had bad luck too. His Assault Squad charged and he announced that they now had melta-bombs.. golly gee? He failed to mention they had those. He rolled a 1 and missed. HA! Karma!
He puppet mastered my LRC and fired it and both his Ordnance Batteries fired at my WW, but I made my cover saves.
I don't think it does, but does a Lib inside help the DNW? (too lazy to look it up right now)
With his turn over I breathed a sign of relief.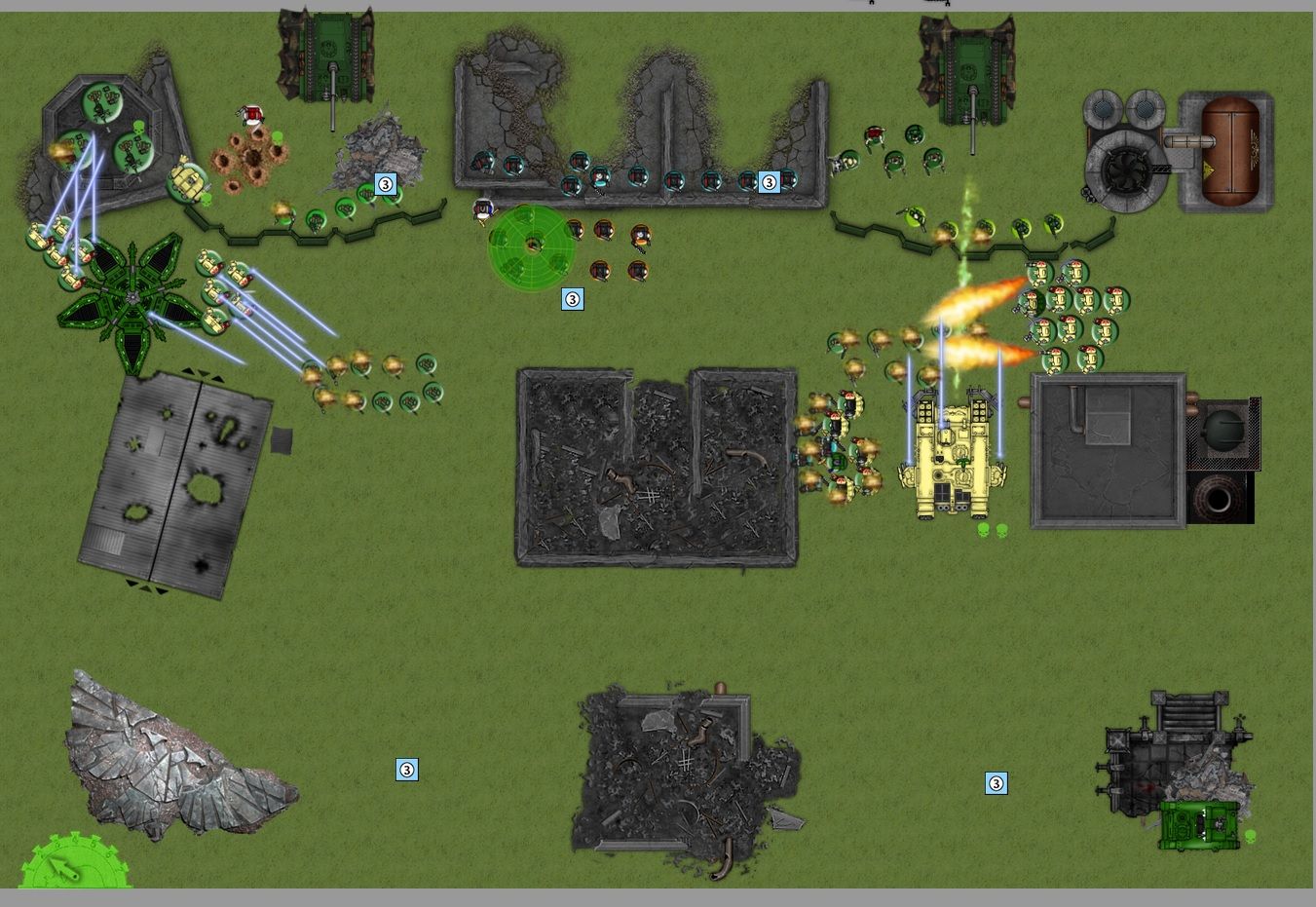 Deathwing turn 2
"When those that would turn from his light strike at our throat we will endure and in our faith bring death onto them."
-Interrogator-Chaplain Isafil
DWA! With a blinding flash and crackling archs of bluish lightning the Deathwing had arrived!
Belials Unit stuck between the Melta vets and the stormtroopers. With hvy flammers primed Both units should have been smote down to ash, but I rolled an 11 on split fire and groaned. Instead the melta vets experienced a level of overkill that only Horus himself had experienced. Their painful deaths gave me first Blood. Nothing of them would ever be found.
The LRC fired at the Ord battery again scoring a pen, and again he rolled a 6 on his cover save (camo netting). UGH! the rest of the guns killed two storm troopers. The DWK charged the assault squad. One fell to overwatch because of my horrible rolling. In the combat I rolled abysmal again and lost 2, but killed the renegades to the man. The consolidated toward the nearest enemy marines. Hopefully they would draw threat away from the scoring units.
On the far left of the board, both CML units DS on the locator beacon in the pod. One unit lit up the autocannon unit, killing one and wounding another. The Pod and the other DWT unit fired on the flamer vets, but luck were in his dice and he saved many. The WW fired on a block of Tac marines, but he continued to roll well and none of the black hearted Astartes fell.
Brother Mikal fulfilling his vow charged the pred and ripped the vehicle apart, shreds of burning metal igniting the fuel tank. In the explosion that followed one of the nearby command troops was killed by a piece of flying debris.
Renegade Turn 3
"And he calls himself our Master. He who's fire has been extinguished. No I say.. no.."
-Graxxis the Immolated While ascending to power over the Eagle Talons.
In all DW lists the turn AFTER DWA is usually very pivotal. If you can survive the enemies rebuttal you'll probably have a much better chance to win. Being crippled here usually means defeat.
His Speeders failed to come in again.
On the left the autocannons shot one of he DWT units, but the 1st companies armor held. The Flamer vets, minor command squad and one of the ord batteries managed 6 wounds on the other DWT unit. I rolled six dice and....4 ones......... Six 2+ saves = 4 dead. Deep inside I died a little as I removed the models.
With the DWK's closing to assault, the Enemy warlord cowardly (or smartly) joined the other Tac squad. The unit he left fired at the DWKS. They only inflicted two wounds and I figured I could tank both of them with my Lib instead of taking them one at a time. what are the chances of my rolling more 1s? I rolled 2 ones..... golly gee?!?! 8 wounds so far and 6 1s... ugh!
Belial's unit fared better and between him tanking Plasma shots I only lost 2 terms and 1 wound from Belial. The Enemy Psyker cast Hallucination on Belials group. He rolled well and got the power off. Next round Belials unit couldn't shoot or charge. I mistakenly thought they also couldn't move, which hurt next round. This was my fault.
That was a brutal round. My dice had to improve or this game was over.
Deathwing Turn 3
"I will harden my mind against the witch."
-Dark Angel Battle Chant first learned in the 10 company.
With Belial's unit a sitting duck (Because of my misreading of the power) I moved the Indomitable Absolution to block LOS against the enemy fire. If fired it's MM at the ordinance but only scored a hullpoint of damage and a stunned result. GAH! I would flay my techmarines! the rest of the guns fired, taking out the remaining Storm troops.
The DWK's moved up, but failed their 4 inch charge. Lol. You have to laugh at that.
The Far DWT unit split fire, killing all but 1 of the flamer vets. They charged the autocannons and easily crushed the life from the terrified guardsman. they consolidated toward the enemy ord battery. Brother Mikal charged forward, multicharging the ord bat and the techmarine. My goal here was to tie up the marine while killing the vehicle, which could drive off and fire next turn if I didn't. My Dread only scored 1 pen, which only immobilized the ord. The Techmarine scored two pens, killing Brother Mikal. LOL... I suppose this was my fault for risking it, instead of squashing the Techmarine first.
The lone DWT shot and then charged forward, killing all but one of he minor command squad. The survivor ran as fast as his legs would let him.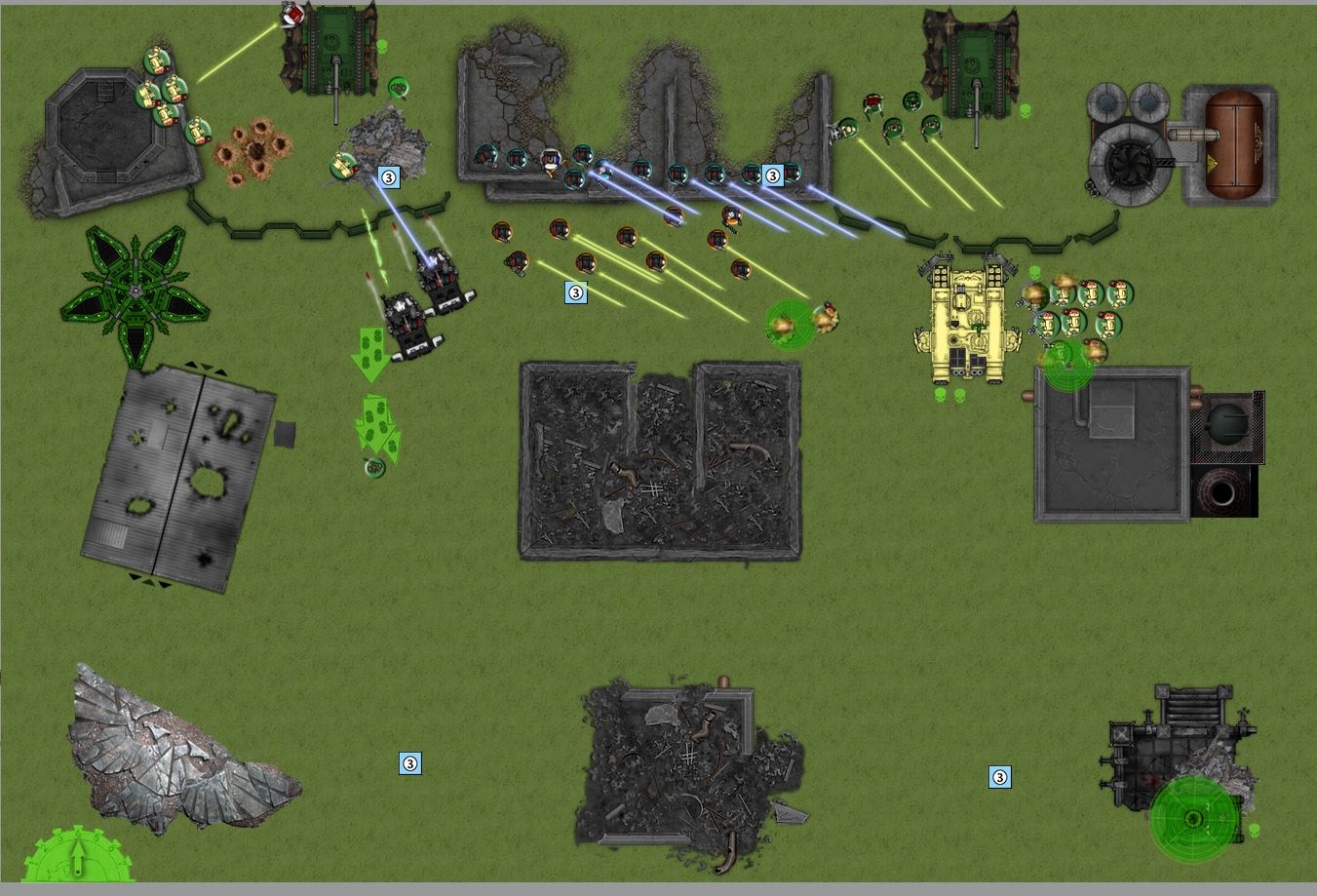 Renegade Turn 4
"....Fir...Burn them...Death to the Fal.*Bzzzzt*....."
-Intercepted Command Transmission from the Traitors.
This Speeders auto arrived and he deepstruck them near the lone DWT. They fired and between the ruin cover save and the righteous armor of the Deathwing he lived! My luck was turning comical.
The enemy Tech-marines fired his plasma cutter and flamer, but failed to kill anyone.
The Tac Marines in the center shot at the Knights. I rolled bad again and they both died. Belial's group took massed fire again. Like I said this was my fault, but It wouldn't happen again. Despite my Landraider in the way he argued that almost his whole unit could see Belial's unit. Instead of arguing LOS for 20 minutes I allowed it. In the ensuing fire Several terms fell, including Belial. Only 6 remained. He recast hallucination again, and again he rolled the same result. No shooting or charging for this unit next turn. I would be moving them this time.
Deathwing turn 4
"Dawn comes but only after the night."
-Captain Gabriel Typheran of the Dark Angel's 7th Chapter
I moved the remaining terminators in Belial's unit into the landraider. They couldn't shoot or charge this round, but a least they would be safe. The same opponent that argued that he could see all of them in his shooting phase told me that the 6 terms couldn't fit inside. I showed him the stats on the LRC and we continued. The LRC and the WW finished off the IG Company Command Unit. While the Machine Spirited MM finally killed the Ord Battery! Score 1 VP!
On the far side the Lone DWT charged the remaining IG command trooper, killing him and consolidating to take the near objective. The other DWT unit split fired, killing one of the speeders (not shown
) and then charged the Ord battery and the Tech-marine. Finishing the job Brother Mikal started they slayed both of them. Another VP! They consolidated toward the nearby objective.
The Pod shot down the flamer vet that had been running for the far objective. Muhaahah take that!
Renegade turn 5
"Suppress them with flame and scorch their souls. Bring Honor and Skulls to those that have shown the way "
-Graxxis the immolated at the scouring of Rellian IV
I knew that removing Belial's unit would only bring more fire onto the other Terms, but with the ruins blocking a lot of the fire I hoped they would hold out better. This time I did argue when the C:SM player tried to shoot through walls in the end the lone Term weathered the storm and came out unhurt. Between bad rolls and giving up on arguing his shooting killed 4 of the 5 terms in the other unit. Ugh... Never going to play this guy again.
His lone speeder moved toward the Indomitable Absolution and needing 6s to hurt it managed 1 glance! LOL.. If bad luck was money... I could afford more models
At this point I held 1 objective and they held 2. If something dramatic didn't happen in my turn I would lose if the game ended.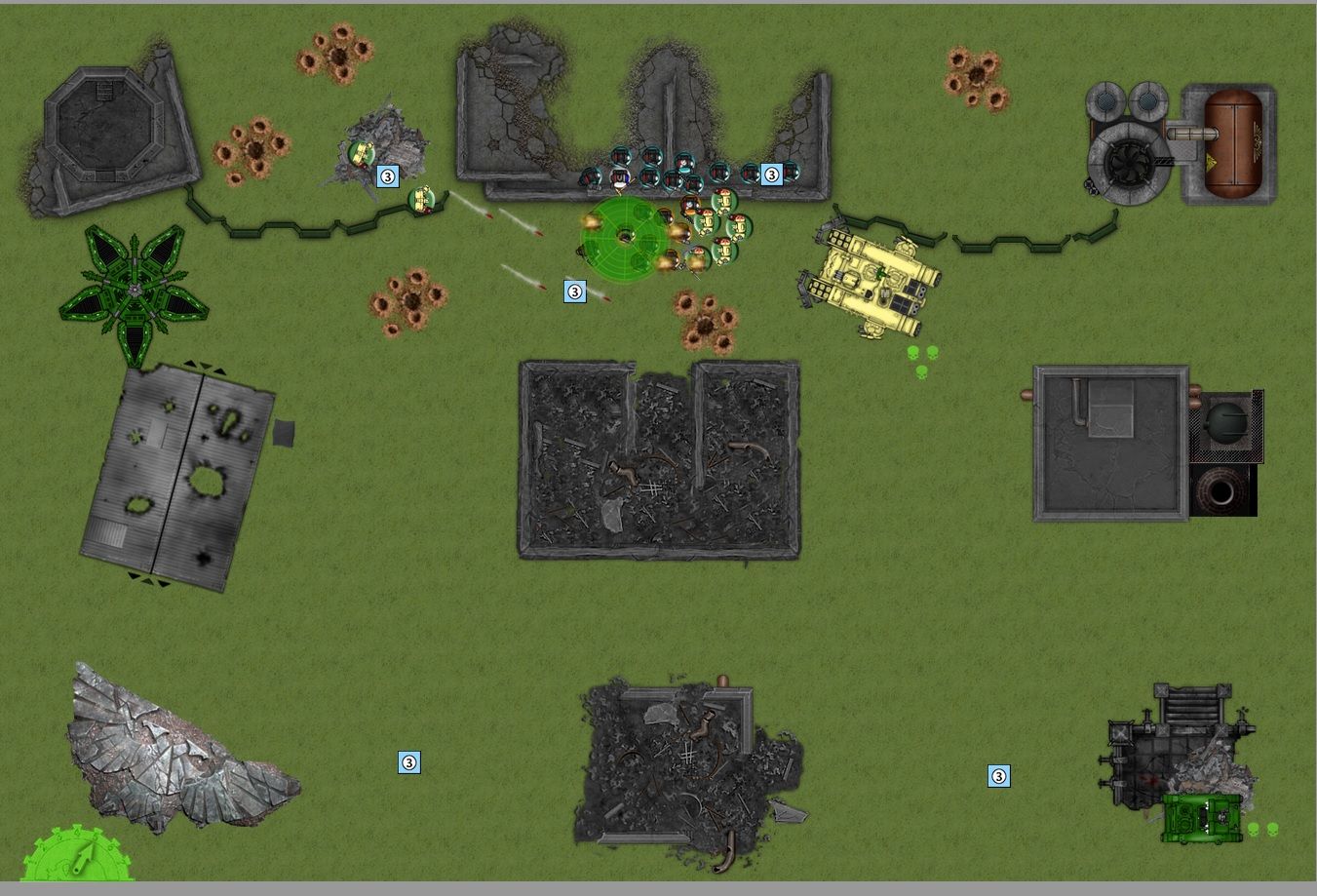 Deathwing Turn 5
"Vengeance is sometimes slow to burn, but even so it can grow to overwhelm those enemies that bring it"
-Unknown Dark Angel Chaplain
I couldn't see me winning this turn if the game ended. So I decides to hedge my bets and hope for turn 6. One of the lone DWT took the left side object, and the other one moved forward and hopefully would be able to take the middle one (or at least contest it) next round. They both fired on the remaining Speeder, sending it's broken, burning husk to earth. I didn't shoot the LRC because I didn't want to lengthen Belials units' charge distance. I did shoot the WW and kill one marine. I only did this because you remove the casualties from the closest spot to the center. (does anyone else think this is a stupid rule? I mean you can almost snipe special weapons with it. With two hits icons on the dice you have a 33% chance to hit, this percentage actually improves because of BS modifiers for scatters that can keep you on target. With higher strengths from artillery this can lead to a better chance to snipe than even Belial's SB. Lame-sauce).
Belial's unit charged both enemy units, losing 1 to overwatch. The C:SM player reminded me over and over that I lose the extra attack for charging, as he didn't want me to tie up both units. I knew this (because of the disorganized charge rule) but didn't care. My goal wasn't to necessarily win combat, but to survive it. You'll see why. In the ensuing combat I lost no one and he lost 2. Neither unit broke, but consolidated closer.
At this point my WW would have moved up and taken the near objective, but that immobilized result I rolled had hurt.
We rolled and the game continued.
Renegade Turn 6
"Break them, Burn th...*BUZZZT*...Strike now befo..the burned ones....."
-Intercepted Enemy Astartes Command Vox
With little to do but close combat this went quick. I lost two Terms (ugh) and in return he lost 2 marines.
Nothing spectacular, BUT.. his marines did have to consolidate closer and in doing so surrendered both objectives. (the one in the run was on the second floor).
My plan had worked.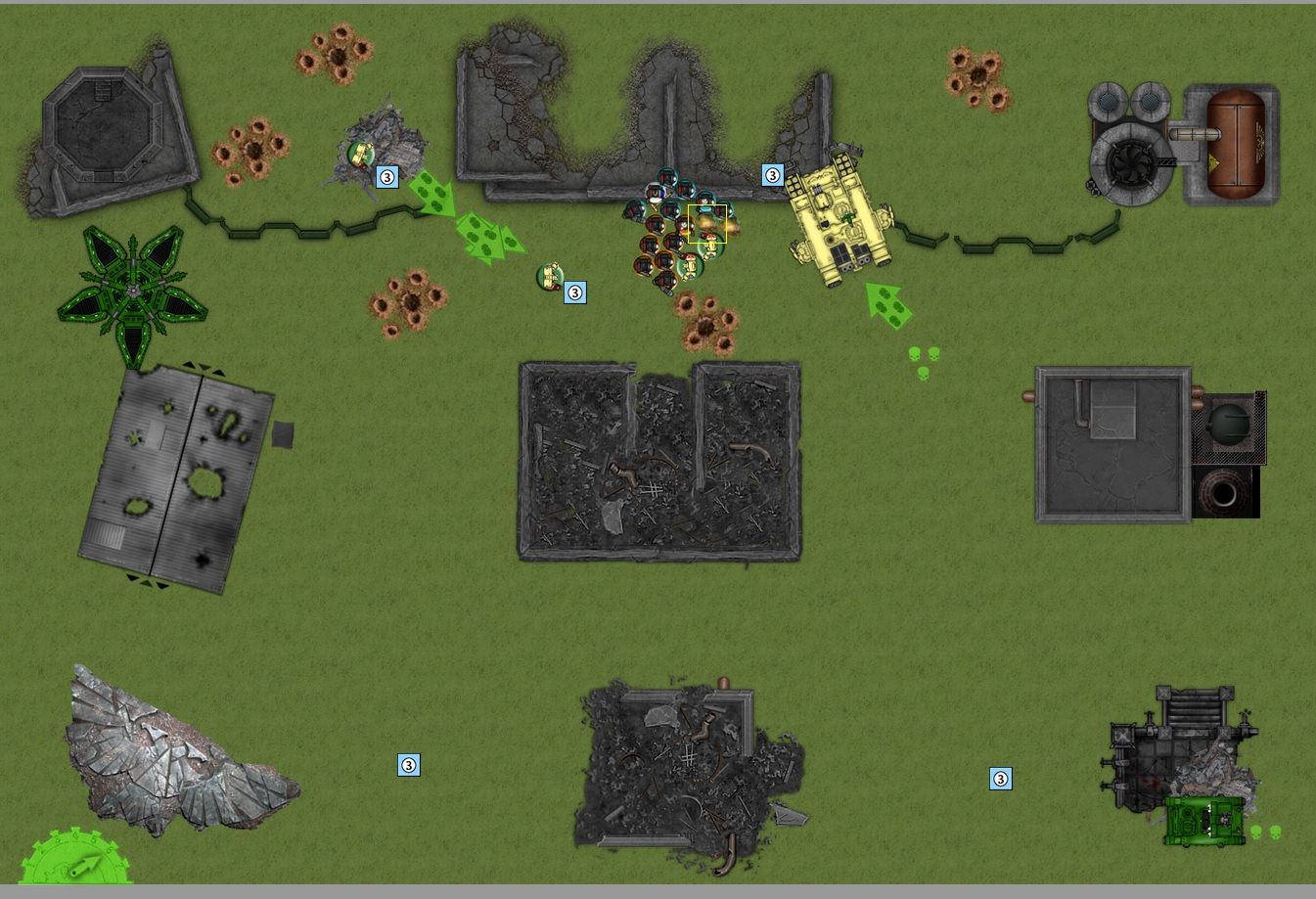 Deathwing Turn 6
"Hard is our Armor and deep is our wrath. Let nothing stand before us and live."
-Deathwing battle chant of the Seventh Circle.
The Indomitable Absolution ground forward, crashing into the ruins and taking the objective within. One of the Lone DWT ran forward and took the recently abandoned objective in the middle.
In the brutal combat, two of the traitors fell to the righteous fists of the unforgiven. They held despite watching their comrades being smashed into pulp.
We rolled and the game continued. (I really thing that the game should have a lower chance to continue as it goes, instead of the exact same)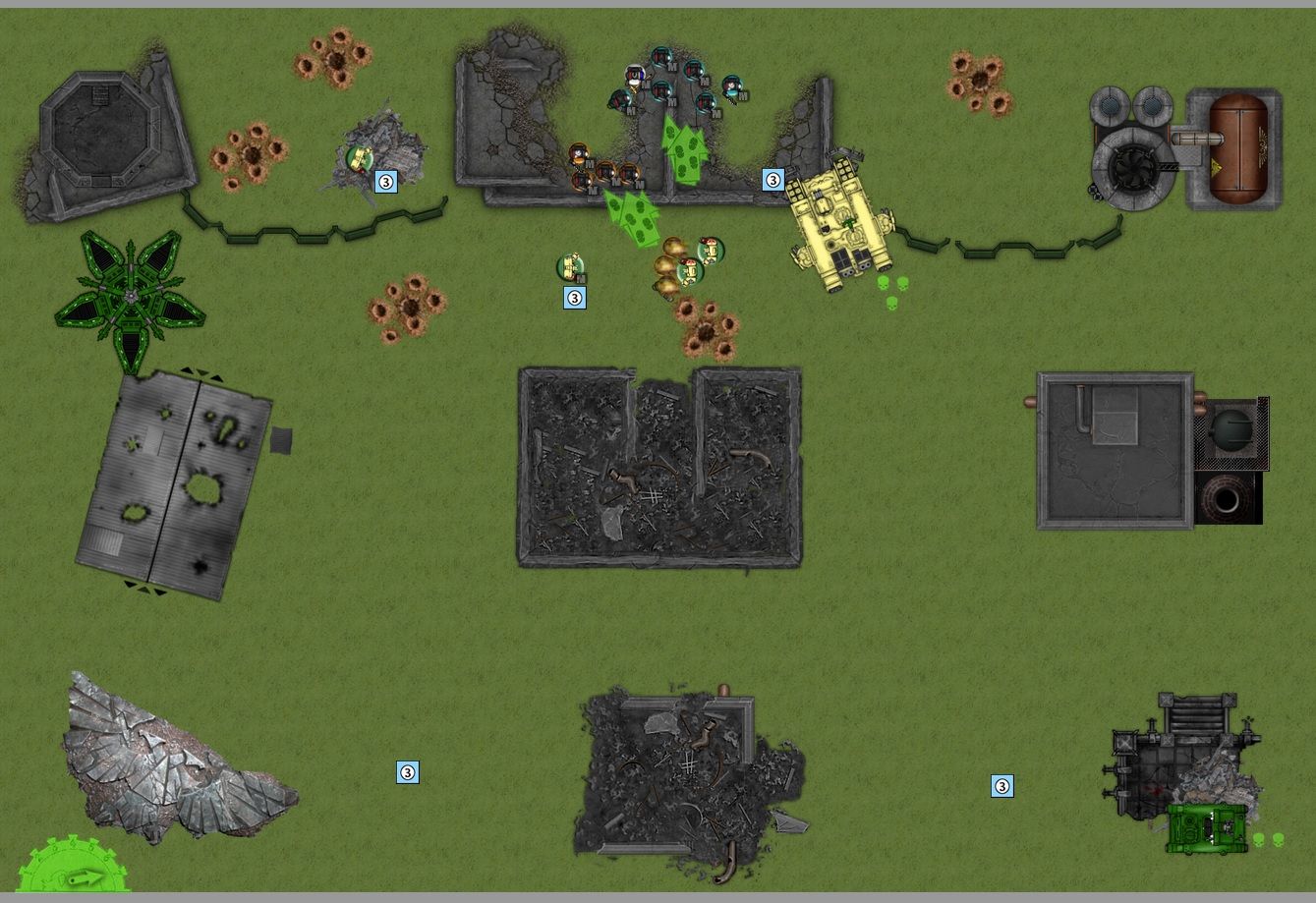 Renegade Turn 7
"...Nooo...*Bzzzzt*.. Haldor move!... *Bzzzt*..*CLANK*... *BOOOOM*...it is too late. Run, fall back!...FALL BACK!."
-Intercepted Enemy Astartes Command Vox
In the swirling melee three more traitors fell. This time their true colors shown through and both units fled from the wrathful Terminators.
With my turn about to start and no chance of winning my opponents resigned.
Final Score
C:SM/IG: 1VP slay the warlord
DW: 3x Objectives 9VP, FirstBlood 1VP, Line Breaker 1VP, 3x Hvy unit Kills 3VP
Crushing Victory for the DeathWing!
After Report.
Over all I made several mistakes. I probably should have focused the marines in the beginning, but originally thought that I could crush most of the Guardsmen on my DWA. Between bad luck and the dice It didn't completely happen. But, with that said I think I did fairly well crippling them. I just didn't want a horde of scoring guardsmen running all about.
Risking my LR to the Melta-vets wasn't a great idea. Sure I could have still charged out of it if it died, as it is a assault vehicle, but it wasn't a good idea. Luckily it worked.
Missing that I could have gotten into the LRC with Belial's unit a turn earlier really hurt. I don't think Belial could have gotten into the LRC with them, but even then he'd be easier to hide then a whole unit. From now on I'll remember how that power works.
Horrible dice rolls almost ended me. Losing 4 terms on six 2+ saves was heart stopping.
Sacrificing my Lib because I figured I couldn't roll as bad as I just did after losing 4 terms.... was dumb. I should have rolled the wounds one at a time.
Sportsmanship is a big deal for me. I'd much rather lose a game than argue for half the match. I like reminding my opponent of a beneficial rule that he misses here and there and enjoy a game that I win because of tactics and luck rather than omitting unfavorable rules. If you forget to move a unit or pivot just perfectly I don't mind if you correct it later, as long as your intent was clear. However I have a hard time with people who will bend the rules when it suits them and enforce then to a T when you want to the do the same.
I'm not saying that the rules should be discounted, but like in this battle I let the IG player move a unit that he forgot to in his shooting phase. It was clear that his intent was to do so, but he just forgot. I helped the C:SM player by giving advice when he asked that let him kill more of my troops. Later the C:SM argued everything he could until I had to either show him the rule of let it slide for sake of holding up the game. These are the worst games to play in my opinion. Don't get me wrong I can play that way too if my opponent wants too, but to me the spirit of the game is to have fun, not foster hard feelings or be a buzzkill.
Anyway I'll get off my soapbox.
Hopefully you guys enjoyed this Batrep as much as I enjoyed playing it.
My Local Gaming Store,
Great escape Games
. Awesome place! If you are ever in Sacramento I'd highly recommend it.
You can see our table in the middle of the pic. It's the one with the drop pod and water bottle on it.
Remember you can make batreps like this too. If you haven't seen my tutorial you should check it out. It's fairly easy to do and fun to make.
Here is the Link
http://www.bolterand...vassal-batreps/

+++++++++++++++++++++IMPERIUM CODED MESSAGE+++++++++++++++++++++
+++++++++++++++++++++++CODE: SIGNUS PRIMUS++++++++++++++++++++++
++++++++++++++++++++++CLASSIFICATION: ASTARTES++++++++++++++++++++

Belial slowly stood to a low hunch. The blast that had torn into his side ached, but he refused the pain. Burn marks could be seen on the blackend the edges of his flesh as the newly arrived Apothecary attempted to tend to him. Small robotic arms extended from the over sized gauntlet of the Astartes medic, driving deep into the broken terminator armor of the Master of the Deathwing. If they added to the discomfort of the grievous wound Belial didn't show it. No mark or sign of pain crossed of his face. The blast had been massive. It should have killed him, but he willed himself to not die.

Looking up he scanned the field. Ahead the broken bodies of the former guardsmen and the Astartes Chapter, The Eagle Talons littered the ground. Broken, burning husks of vehicles clogged the sky with their thick noxious black clouds. They choked out the planets two suns. Leaving a shadow of dusk accross the field. Overhead the dark Swoop-birds circled menacingly, waiting to pick at the dead. His eyes finally found their intended purchase. There among the traitors lay some of his fallen. The white clad giants. The battle had been long and brutal. Many of the Unforgiven had fallen here. Some could be saved, but not all. It was a high cost.

Belial finally winced as he stood fully upright, to the dismay of the Apothecary. The city-hive was secure and with it the billions of lives within it would live this day because of the actions of the Angels. The Eagle Talons.. now self dubbed "Fire Skulls" had been stopped. A dozen worlds burned in the heavens above Belial, but here today that would end. The Renegades would answer for their heresy and in doing they would forfeit their lives.

What had caused them to fall was of no consequence to him. It was not his duty to know. His mission was clear. Almost perfect. He would crush the life from them. He would win.

Belial waved away the Apothecary, who barely had time to retract his utensils from the flesh they were imbedded in. The medic was still voicing his objection as the 1st Captain limped away.

There was work to be done.




Today the Dawn had come.

Today the Angels had arrived.




Edited by [TA]Typher, 26 October 2013 - 04:58 PM.