Well, I finally got my ass into gear and finished painting some models that I'd like to share with you.
When I went to build my space marines, I always wanted to do that from a story perspective: a full battle company drop-podding and deep striking, the true angels of death descending to the battlefield. Back then I thought it would be fun to have them come to the aid of some beleagered guardsmen, having just read a story about Malvolion.
I've always felt that the once the Lamenters had their chapter banner so lovingly repaired by the adepta sororitas though, that they and our beloved sisters had some kind of connection. And so, when it finally dawned on me that I could just repaint those beautiful models that were wandering about in boxes in storage, that they'd be the perfect allies for my Lamenters to assist. Because man, did I ever so love the Sister's models!
And so it came to be that I now have 10 models painted, some seraphim waiting to be paint stripped, a newly bought (ok, few months ago. I'm slow) Celestine having some slight amendments made, and a whole extra squad of sisters including special weapons.
So, without further ado,
Yes, I am aware that's 2 heavy bolters in one squad. Bear with me, these are all the models I could find digging through my old stuff (though there's a grenade throwing one hiding somewhere).
I went for natural and varied hair and skin colors all around the squad, attempted to paint tattoos of fleurs de lys on faces, did some more free-hands on bolter cases, and even added an elderly sister and a freckled face. Because I could. I also have only unhelmeted sisters. Back when I bought these models the helmeted versions hadn't been made yet, and I actually quite like the contrast with the marines: they come from space, are removed from humanity, and, if not wearing a helmet, at the very least carrying one. The sisters are landbound, but more importantly, still human, and an inspiration to those around them. That inspiration seems to me to be much easier to do if the scared guardsmen and civilians actually see your face. Hence, my love for helmetless sisters.
Plus, painting tattoos on cheeks is a nice challenge.
There's one thing I'm not made my mind up about yet. Allow me to illustrate: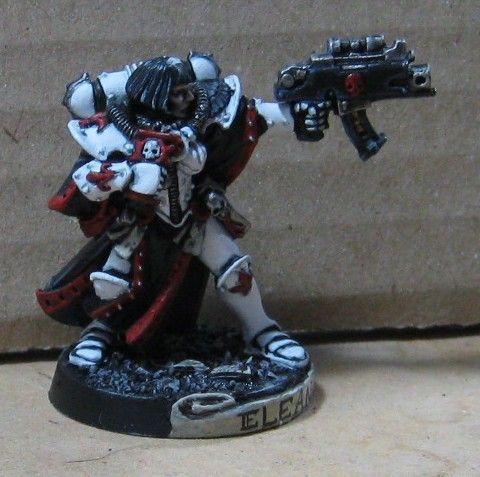 This Sister Superior has a sword at her hip, and most people miss it the first time they look at the model. I would really like the scabbard to pop out a bit more, but preferably without breaking the color consistency that the army has built up so far. Any suggestions?
Anyway, hope you like 'm.