TLDR: Bolts need to be thicker and longer.
So there's a disconnect between the scale of Space Marines, boltguns, and bolter rounds. Obviously we all know this is the dastardly work of the hero scale, but because we've all grown accustomed to the imagery of the Space Marine and his holy bolter, trying to fit in your mind what a "realistic" scale would look like only makes things look super weird. Can you imagine the goofy POG below handing his rifle to the Marine and trying to pretend it doesn't look ridiculous? So, we must tryto figure out how to make the scale issues work. Take the following basic stats into consideration:
Space Marine: 7-7.5' tall
Boltgun rounds: .75 caliber
(some early fluff/sources also listed it as .998 caliber, but we'll get to that later).
For this demonstration, we'll be using our generous demonstrator fr the Iron Falcons chapter (first diagram I found on Google images), and the 7-foot scale I made for him.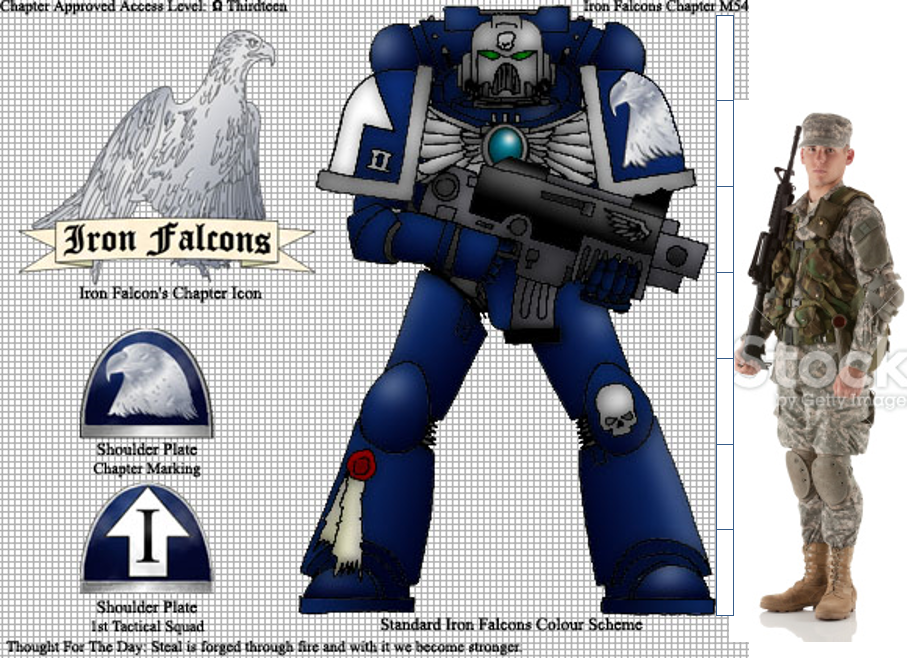 Usually, when we think about bolter rounds, we conjure the images of the trusty 40mm HE grenade. It's a big ol'round, sort of squat and fat and with "purpose" written all over it. Hefting the thing from hand to hand really gives you a sense of the power, explosive destruction, and weight that you think of when you think "bolter round." it's the inspiration for all the official-ish fluff you see on bolter rounds. I even used it when I designed my own ammunition for my Tormentors chapter.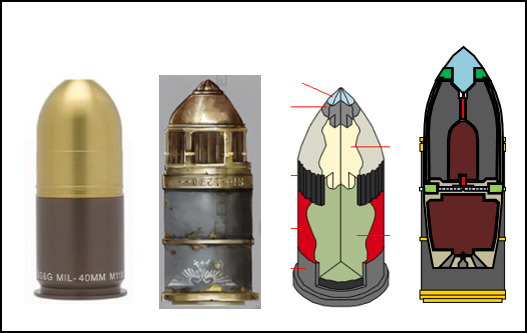 The problem is that we latch onto the aesthetic of the 40mm grenade, but then we willingly ignore the fact that we've also generally accepted that bolter rounds are .75 caliber… or 19.x mm. So it's roughly half the diameter. Remember that the caliber of a round is the diameter of the actual projectile. So if we take the accepted size and shape of the bolter round, the true comparison really looks like this: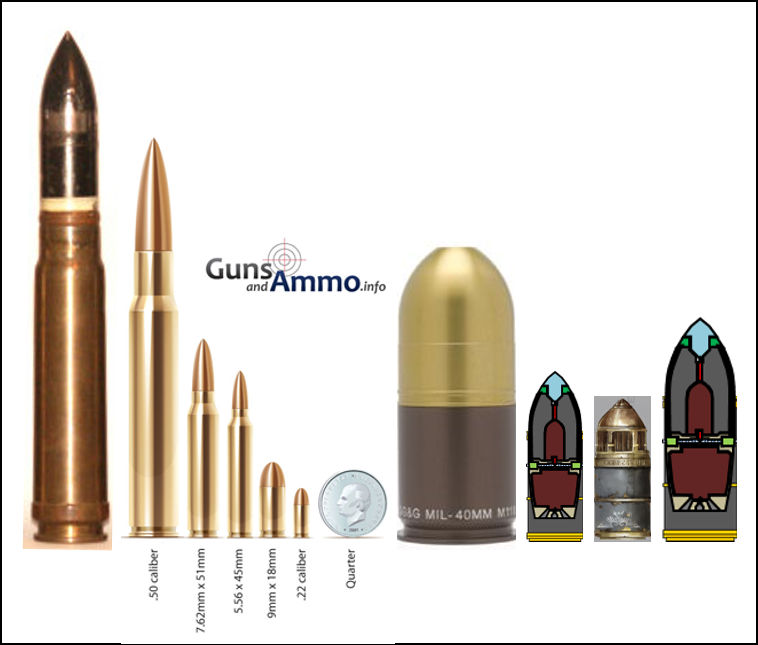 So looking at the comparison here, we see that the .75 cal bolter round is by no means TINY, but it certainly has lost a little bit of the visual impact we all imagine. We also conjure up images of 20mm cannon rounds (far left), yet note that the round diameters are equal, yet the large size discrepancy. For future's sake, I also upsized my bolter round to ~.998cal on the right. We haven't even compared it to the gun yet…
Boom. The mighty Godwyn-pattern bolter. (Side-note, it's seriously silly to differentiate patterns based solely on interchangeable magazines, but that's another battle).
Yes, I created a line drawing version in Power Point. I'm a nerd and it helps me to visual/design 2D images, because I don't have the inclination to create 3D models. Point is, based on the size of the gun/barrel, I sized the round to fit as best as possible with the barrel, the magazine, and the ejection port. While this is certainly unrealistic to do when we knowingly work in the heroic scale, the fact remains that altering the scale of the boltgun fundamentally changes the concept of the boltgun that we're working with. Remember, we want Astartes weaponry – huge weapons and huge bullets. Leave the "human" sized stuff to human sized Soldiers.
Assuming those rounds are very aggressively packed, it's conceivable that you could fit 18-20 rounds in a magazine. Maybe. But here's the glaring problem with this scale: the bolts are .75 inches in diameter, and the whole cartridge depicted is 2.25inches long. The bolter, comparatively, is roughly 6.6 cartridges long, translating to roughly 14.85 inches in length.
Guys, that's tiny. The wee little Hk MP5K measures in at 14.5 inches with the stock folded.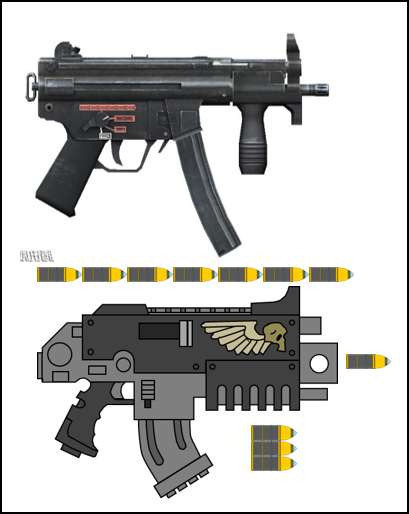 Okay, for the nth time, we've identified the scale issues between bolter and bolt. Let's go to scaling with Marines.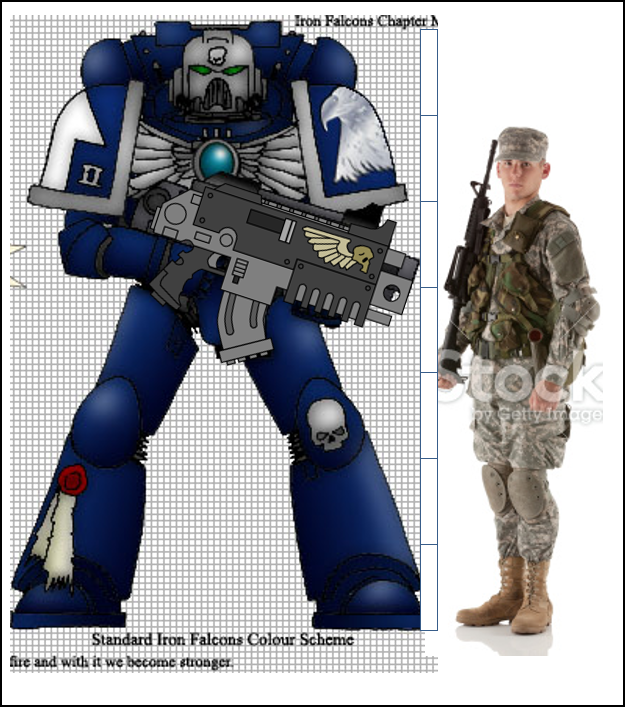 We're paying our friend the Iron Falcon another visit, along with our garrison gate guard who mistakenly found himself sucked into a vortex and hurtled tens of millennia through the future to a time when life sucks 1000 times more. This time I went ahead and swapped out the Falcon's bolter with my own line drawing version. It looks a little more Space Marine-y than what he has, and matches up with bolter mag size, grip size, etc, and the size is more in line with the models. We will use my own bolter for the sake of consistency.
First thing to note is that the bolter is downright humongous if you handed it to the mortal. It's actually a little bit longer than the guys fully extended M4 (which has a 14.5" barrel if you follow that kind of thing). It's too big to use comfortably, but that doesn't mean it's unrealistic – look at the size of that Marine's hand compared to the mortal's! Plus, it's something that normal people COULD manipulate in an emergency, albeit with some real difficulty.
I then created a 7-foot scale. The Marine is 7ft in armor to the top of his helmet, and the mortal is slightly smaller than 6 foot. (I arrive at his height because his M4 is fully extended at 33", or 2.75 ft, and adjusted from there).
Boom, so we have the bolter's real life scale, now it's a simple matter of measuring. We arrive at a bolter length from end to end of 3ft, 1.5 inches, or 37.5." Not horribly crazy. Until…..
We look at how big the .75cal bolter round is at this scale. If we accept that the bolter is about 3 ft long (large, no-doubt, but largeness is a fact supported by fluff), and a bolt's diameter is 75% of one inch, that leaves us with…. a cartridge so small that you could fit four bolts at the same time through the hole you drill in the side of your barrel! By comparison, the "ideal" size I scaled earlier would have to be close to 2.00 caliber! Now the size looks like: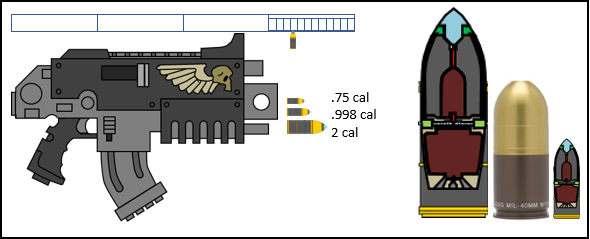 Granted, now the bolter looks certifiably awesome, but other factors come into play. Namely, ammo carrying capacity and the fact that the rounds would have to be terribly heavy (though that won't matter much to Astartes) While I said earlier that you could ostensibly fit 18-20 of the "ideal" sized bolters in the bolter, when you consider the space a spring takes up, it's probably closer to 12-15. May be enough for you, but my guys like at least 24 so they can use 4-round bursts without reloading every 3 seconds.
For my purposes, I took the middle ground and went with a 1 cal (well, .998) round. It's larger than the .75, but you can actually fill a magazine with them. This diagram shows 15 rounds (so 30 when they are double stacked) laid out for 2.0 cal rounds, .998's, and .75's. For my purposes I'm going with 25 round mags, which should fit nicely.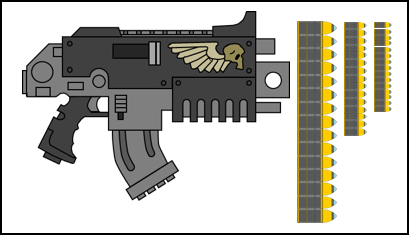 However, that leaves our last problem – the bolt cartridges are too stubby. Of course, that's not an issue if you are going with 2 cal rounds for your bolters, but I'm saving those for my heavy bolter teams.
Lengthwise, the standard 2 cal rounds perfectly fits the bolter's magazine, but the .998 is sadly too short. This is the easiest to fix, however, because, while we are mostly attached to the proportions between our massive Space Marines and their big massive guns, I think that there is room to play around with what bolts actually look like. Most people tend not to think about them until they're curious one day and decided to look it up on Google.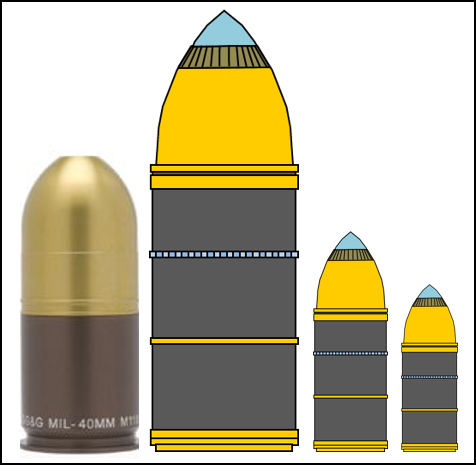 Looking at the diagram again, we see the 2 cal bolt next to the .998 next to the lowly .75, with the 40mm grenade thrown in for good measure. By lengthening the .998 cartridge to the length of the 2 cal, I basically solve all my problems, and they will now load fine into my magazines.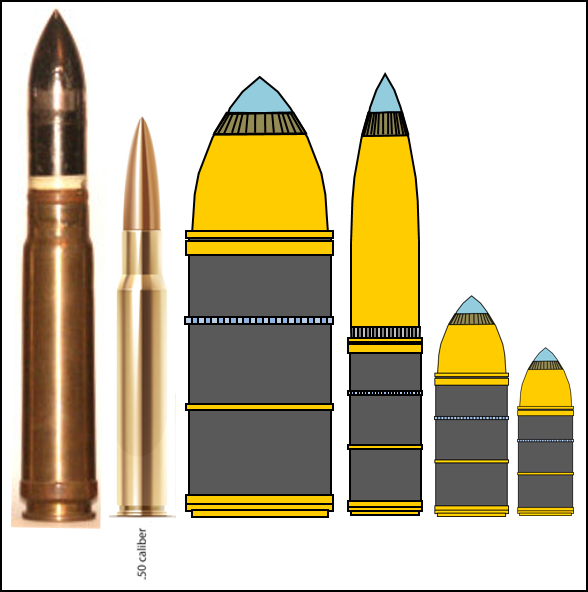 So this is the bolt family that I came up with. Check out how the lengthened .998 matches up favorably with the .50 and 20mm round. (Note that those rounds have more space for propellent, but the hold projectiles hold the additional rocket boost, so ostensibly come out on top there, too)
My theory goes like this:
2 cal = heavy bolter (may possibly be lengthened, too);
.998 long = Astartes bolt gun;
.998 standard = Astartes bolt pistol;
.75 standard = mortal bolt weapons.
Your thoughts? Also no idea why I spent so much time obsessing over this.
Edited by Dosjetka, 01 March 2015 - 03:17 PM.
Cheeky bit about Sororitas removed.