+++ Tournament Report +++
++ Date :: 08417M03 || Location :: Games Workshop Amsterdam South ++
Hey guys, as promised, a report about today's tournament! I went in hoping to have three fun games, and I wasn't sure my army was all that competitive. I wrote the list last night at 2AM, after coming home from an evening of beers with mates I hadn't seen in quite a while. I had never played with it, nor it's like, before. Turns out, my list was pretty good, because....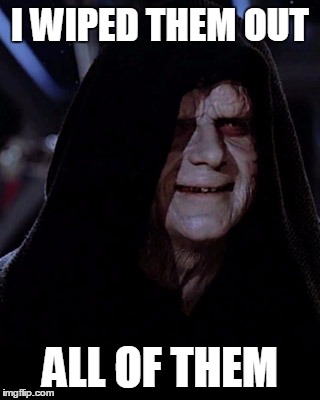 Well, not quite. Actually I didn't wipe out anyone. In fact all three of my games were close, intense, hard-fought battles, with lots of gambling, thought-through tactics, and some lucky dice rolls. But in the end, I came out as the only one with three wins and the first place in the tournament! Hurray!

There were ten players (1x SM, 1x Necrons, 2x Tyranid, 2x Orks, 1x Eldar, 1x Harlequins, 1x Space Wolves, and 1x Mechanicum. We all played three games. A WIN scored 3 points, a draw scored 1 points, and a loss 0. Those with the most total points went up against their peers in consecutive round.
My list was as follows:
Demi Company (Gives ObSec to all units, plus one Tactical Doctrine)
Captain (Bike, Power Fist)
Dreadnought (Multimelta, Dreadnought CC Weapon) in Drop Pod
Bike Squad (Biker Sergeant, 4x Bikers, 2 Grav Guns)
Devastator Squad (Sergeant with Signum, 9 Marines, 2 Missile Launchers, 2 Lascannons) - I combat Squatted this squad, with the sergeant in the lascannon squad)
Tactical Squad (Sergeant, 4 Marines, Grav Cannon with Grav Amp) in Razorback
Tactical Squad (Sergeant with Combi-melta, 4 marines, Meltagun) in Drop Pod
Tactical Squad (Sergeant with Combi-melta, 3 marines, Meltagun, Imperial Space Marine) in Drop Pod
The three games I played went as follows:
First Game
Maelstrom Mission 3, Tactical Escalation, with the restriction/addition that objectives were placed after choosing table sides, and one of those objectives had to be put in your own deployment zone - which would be worth 4 VPs at the end of the game to the opposing player.
Dawn of War deployment on a 4'x4' table.
Opponents were determined through lottery, and for the third tournament in a row, I drew my namesake Michiel, who always plays an Eldar Scatbike list:
CAD
Farseer on Jetbike
Jetbike squad (3 jetbikes, scatterlasers)
Jetbike squad (3 jetbikes, scatterlasers)
Jetbike squad (3 jetbikes, scatterlasers)
Jetbike squad (3 jetbikes, scatterlasers)
Jetbike squad (3 jetbikes, scatterlasers)
D-cannon artillery
D-cannon artillery
FW Hornet
Aspect Host Formation (giving +1 BS to the whole formation)
Dark Reapers (Dark Reaper exarch with Barrage 3, Blast, S4 AP3 weapon, 2 Dark Reapers)
Warp Spiders (6 Warp Spiders)
Warp Spiders (6 Warp Spiders)
Jetbike squad (3 jetbikes, scatterlasers)As you see, this list was SCARY. Holy crap. Luckily, I had first turn, and managed to alpha strike the living crap out of his units. He lost two Scatterbike units - mostly due to horrendous saving throws on his part) to the two drop podded tactical units (one of which landed dead on the important objective) and my devastators shot up his hornet. I was also lucky to get Master of Ambush for my warlord trait, which allowed me to infiltrate the remaining tactical squad, which shot up 2 more scatterbikes, leaving a single one. He then badly shot up two tactical squads in his deployment zone, but miraculously couldn't kill all of them. He also destroyed most of my bikes, who didn't do anything all game except dying. Other highlights:
I killed his warlord with the Imperial Space Marine
Both deepstriking tacticals were badly shot up, and both ended assaulting his artilley with one guy remaining, killing both units in two assault rounds
his warpspiders were horrible, shooting my deepstruck dreadnought and a drop pod
both his warpspiders units shot at my drop pod in the last turn, and stripped two hull points, but it wasn´t enough to kill it, landing me the prized objective.
by the end of the game, I had one devastator squad, my razorback, one tactical marine, and a drop pod on one hullpoint left, while he had one scatterbike and two full squads of 6 warp spiders left. I was lucky the game ended when it did.
My deployment zone: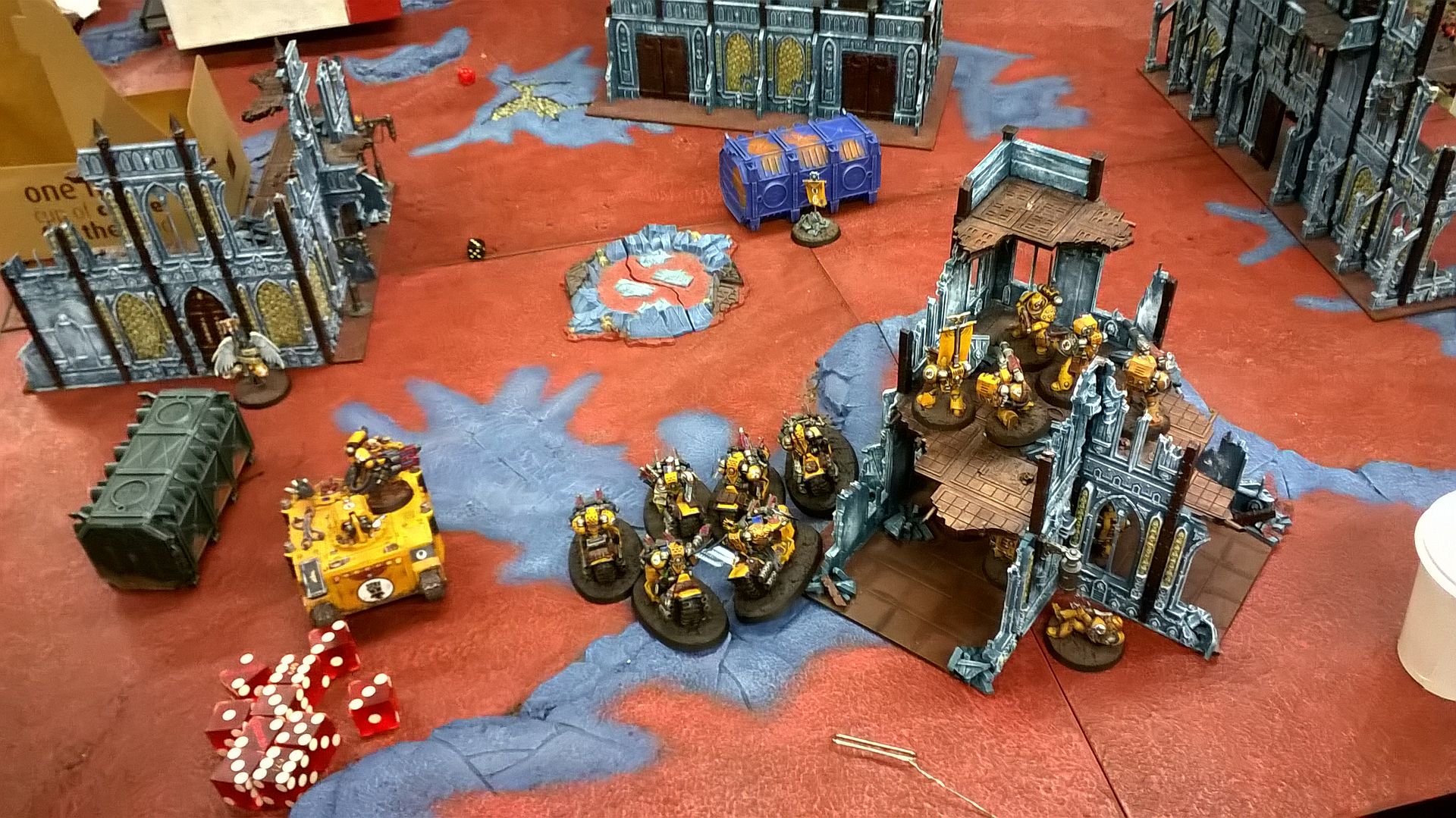 His deployment zone: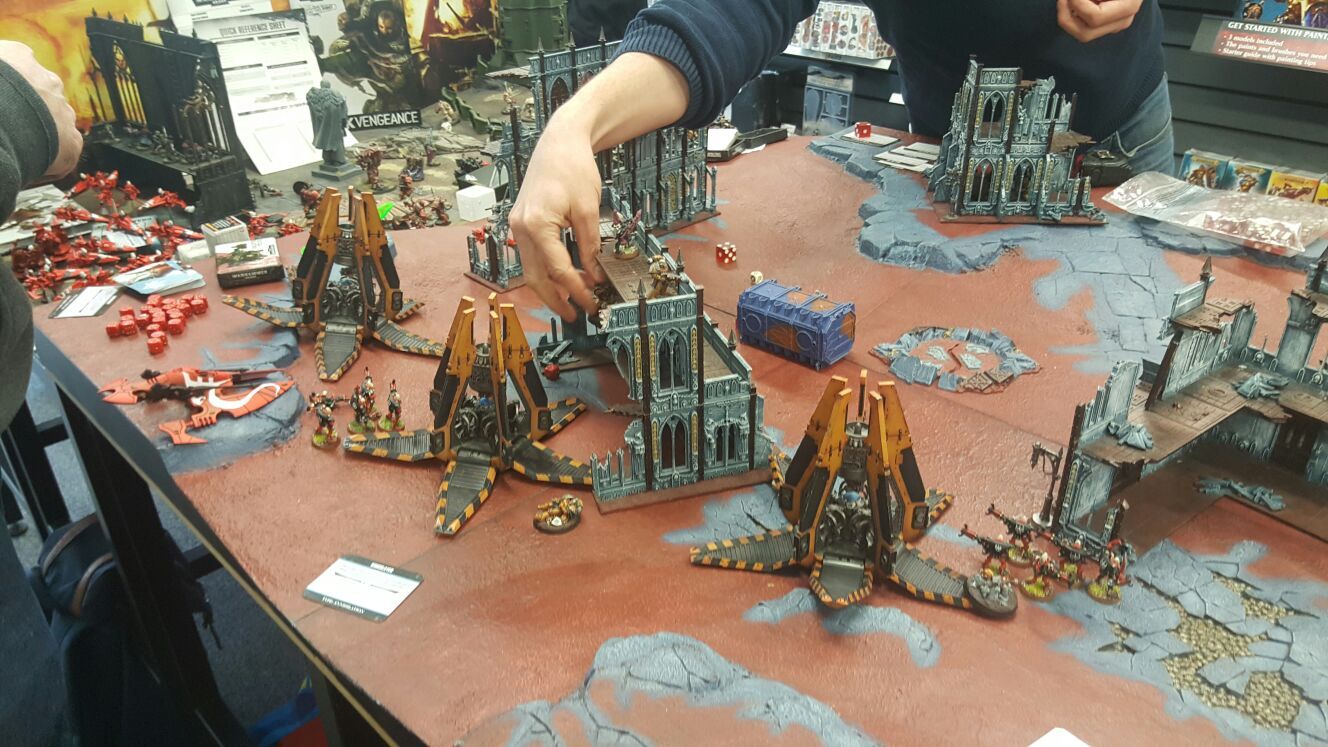 End result: 16-2 WIN
SECOND GAME
Maelstrom Mission 5, Cloak and Shadows, with the addition of a Relic in the deadcentre of the board, worth 4 VPs to anyone holding/controlling it by the end of the game.
Vanguard Strike Deployment on a 4'x4' table
My opponent was Erik, a Tyranid player with a nasty Flyrant list:
CAD
Flying Hive Tyrant, Mastery level 3, 2x twin-linked Brainleech Devourers
Flying Hive Tyrant, Mastery level 2, 2x twin-linked Brainleech Devourers
Zoanthrope
Mucolid Spore
Mucolid Spore
Carnifex
Carnifex
Exocrine
I was incredibly lucky to get first turn, and managed to kill a Carnifex, his Exocrine, to put his second Carnifex down to two wounds, and one of the Spores to one. He then wiped out my bike squad with the remaining Carnifex and the Hive Tyrants (my god, the amount of shots those two terrible thing can churn out). He also charged with his spores, but I killed one with overwacth fire and the remainging one could kill only one tactical due to smart model placement on my part. My deepstruck tactical squads then killed off the zoanthrope and remaining carnifex, but I had absolutely no answer to those two flying Hive Tyrants, who in one turn of psychic powers and shooting managed to kill the grav tacticals, my two devastator squads, and the razorback! Poor maneuvering on his part forced him to put one (hs warlord) in ongoing reserves, while the remainging one landed - why he did that, I had no idea.... But I shot at it with everythign I had left, and then charged it with my warlord, who managed to strip him down to 0 wounds in two rounds. His warlord had come back by that point, but to no avail, The game was over in 40 minutes - after which I had three drop pods and four marines in two squads remaining. and he only one Flyrant.
The game was played outside in the garden at the back of the store. Note that the droppod on the left, with the dreadnough, had not been deployed when I took this picture. As you see, the terrain was very sparse, with almost no line-of sight blockers - which ultimately didn't really favour either of us, except me in the first turn.
End result: 14-4 WIN
THIRD AND FINAL GAME
Maelstrom mission 6, Deadlock, with the addition of the kill points system.
Dawn of War Deployment, 4'x4' table.
My tongue-in-cheek nemesis, Dean was my third and final opponent. We were the only two players with two wins in our pocket, so this was the battle of the titans. I hate Dean, because he always allies with Inquisitor Coteaz, who is the ultimate anti-drop pod character. Dean and I played a massive 3000 point KDK vs Mechanicum battle in my home a couple weeks back, which I narrowly lost, and for which I wanted revenge! So it was on!
His list:
I'm not sure what kind of detachments he brought, but his units were as follows:
Cult mechanicus
Tech Priest Dominus
Kataphron Destroyers with Grav Cannons and Phosphor Blasters
Kataphron Destroyers with Grav Cannons and Phosphor Blasters
Inquisition
Inquisitor Coteaz.
Skitarii
Vanguards (5 vanguards)
Vanguards (5 vanguards)
Sicarian Infiltrators (Princpesen, 5 Infiltrators)
Ironstrider formation
Dragoon
Dragoon
Ironstrider (twin-linked outocannon)
He fricking seized the initiative on me, outflanking his Ironstriders right in my deployment zone and killing four of my five bikers. Luckily, there was a huge line-of sight blocking building in the middle of the table, which prevented him from totally shooting up my army. My devastators were deployed in a bunker on the edge of my deployment zone, while one each of his Vanguards and Kataphron Destroyer squads was deployed in a ruin on the edge of his. Neither could really shoot at each other. I then deepstruck my tacticals on the edge of Coteaz' 12" interceptor bubble, preventing their demise and capturing the two objectives I had to get, which of course were in his deployment zone. The fact that even my drop pods were objective secured helped a lot! The remaining biker and my Captain then proceeded to charge an Dragoon each, while my entire army shot at the infiltrated Sicarians, which threatened to overrun my deployment. I managed to kill all but one, while they shot up all but one of my lower-deployed devastators. Meanwhile my biker was killed by the Dragoon, so now my lascannon devastators had to decide who to shoot up - the Dragoon, or the remaining Sicarian Infiltrator. Both hit equally hard, but the Sicarian was easier to kill in combat. So the lascannons destroyed the Dragoon, was then charged and a bit beat up by the Sicarian, but managed to kill it. It was a very tense game, which somehow felt more like a game of chess than actual 40K. In the end, Dean made the mistake of casting Invisibility on his Destroyers and not on the Ironstrider with which it had been fighting. This allowed my Captain to kill the Ironstrider, claim an objective, and ultimately to secure another objective in his deployment zone, and thus also the point for Linebreaker.
Aerial view of the game from my deployment zone. My captain (lower middle, was actually in the ruin on the top right)
A massively enjoyable, tactically intense, and also good-natured game by the two old gits. Ironically, Dean threw his back out during the game, which coupled with my lingering slipped disc injury, caused many old-men jokes and Schadenfreude laughs. Grmbl grmbl.
Final result: 17-16 WIN
FINAL PLACES
Which landed me the crown! A squad of Scout Bikers was my prize, which I will happily paint in the yellow of my Imperial Fists! I still cannot believe I won, because I honestly went in thinking my list wasn't top tier, and just aimed to have a couple of fun, if competitive games.
There were four other players with two wins and one loss, namely all my former opponents Michiel, Eric, and Dean, as well as my hobby buddy Ruben, who played a terrifying Harlequin assault/psychic list. Their placings were determined by the total amount of points they garnered throughout the tournament, which led to the following listing:
1 Michiel (I)
2 Dean (Dino)
3 Ruben
4 Michiel
5 Eric
Hope you like! Let me know if you enjoy these kinds of battle/event reports.
Replies!
@ Viarocanum: Thanks buddy! It worked
@ lionofjudah: Thanks to you too! Both of your best wishes certainly helped!
@ hushrong: Crap! I hadn't noticed that. I'll fix it tomorrow, when I have better lighting;. I'll be sure to post a couple pics of the conversion, with an explanation.
@ SalvationOfReason: Cheers!
Edited by Augustus b'Raass, 26 March 2017 - 08:10 AM.