Alright, pictures of the finished Bloothirster conversion. A big thank you to everyone who participated in the development of this conversion, especially to (in no particular order) BCK, KrautScientist, hushrong, Vairocanum, malcharion, mechanist, Atia, Olis, Sagentus, ElDuderino, Ferrus Mannus, Pearson73, Teetengee, Jarka, rednekkboss, Race Bannon, and The Traitor, for their invaluable feedback and advice. I owe you guys - and to commemorate this collaborative action, I've included pieces of the most prolific contributors' names in his name (except for Kraut, who is already immortalized in my other metal Bloodthristers name. I didn't forget him, though, and the astute reader of my latest posts will know how he's in there..).

Well, I guess I'll let these pictures speak for themselves:
Ha'mund Ka-ge'rong Mec'tus-Raass
"the Mournbringer"
Bloodthirster of Insensate Rage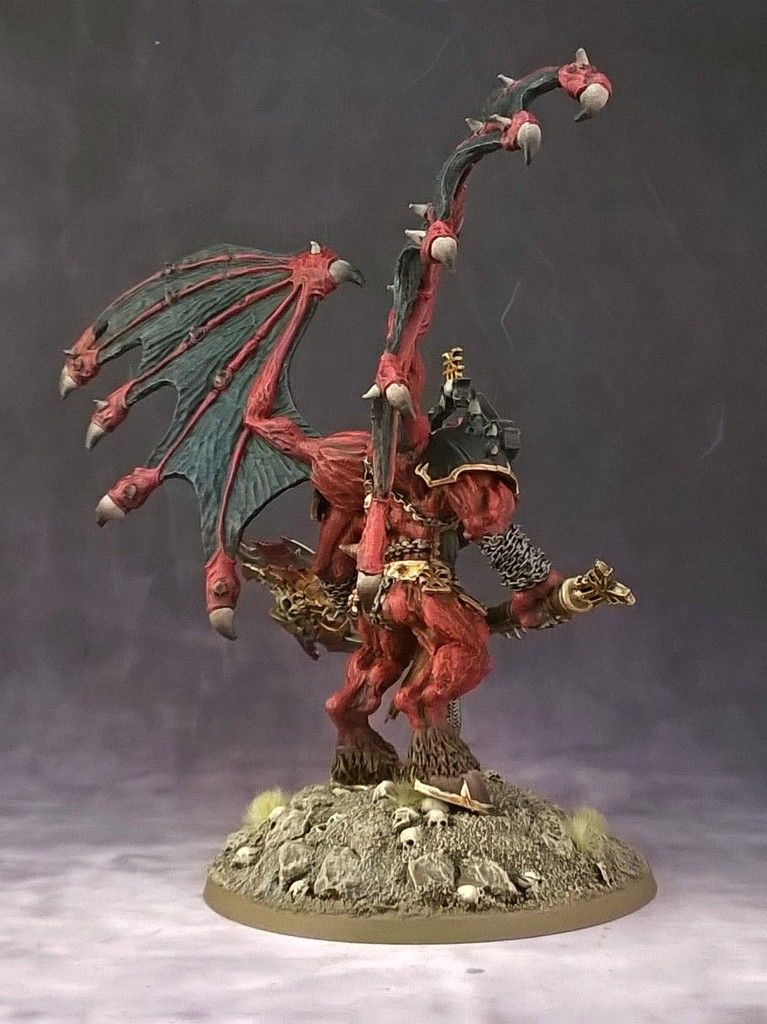 I hope you like him as much as I do. I REALLY enjoyed constructing and painting this guy. The whole process made me far more confident in my sculpting abilities, and also more comfortable with basically destroying OOP metal miniatures. As I write this, I realize that the whole metal-librarian-phase I went through last month, combined with the experience the first metal Bloothrister I did before that, was a precursor to this project. I think I've proved by now that many of the old GW miniatures still have merit, and I am looking forward to including them in actual games.

Thanks again to all involved, and have a great day!
Cheers,
Augs

Replies:

@ Sagentus: Good question. Milliput by itself is difficult to work with, as it becomes muddy and sticky-wet when you handle it with wet hands/tools. It is very soft and can be sculpted wonderfully, though. Also, when dry, it has a very hard, stone-like consistency. You can then drill and sand it perfectly, but it is harder to cut. Greenstuff is the opposite: it is very clean to work with, but can be difficult to sculpt. It dries like hard rubber, which is difficult to drill into or sand, but is easy to cut. When you mix the two, you retain all the good qualities of both, but loose all the bad qualities. I cannot recommend it enough for a beginning sculptor. The better you get at sculpting, the less milliput is needed, I feel.
@ GreyRavenC: 1: JUST AS PLANNED. 2: Alright, beer basket it is. 3: You mean you've never had it??? Dude. You should make the appointment. Those friars are awesome. I once planned a whole vacation around visiting all major Trappiste (and other) breweries in Belgium by racebike. I made an appointment about 10 months in advance. Totally worth it.
Edited by Augustus b'Raass, 27 June 2017 - 05:13 PM.