Sons of the Lion! It is time to remember the forgotten sons of the Lion's pride. The data banks of the Tower of Angels have lost some of their much valued information and all effort is being directed to retrieving them We must record the history of our lost brothers and honour their name!
So arm yourselves with your quills and your cogitators!
Activate your savants and servitors!
Gather your thoughts and let loose the Brotherhood of Angels!
INTRODUCTION:
The Brotherhood of Angels (BHoA) is a Dark Angels Forum Event aimed at participants creating unique DIY Unforgiven chapter histories. In other words you enter the event by submitting a written description of an unforgiven chapter that you have created.
HOW TO ENTER:
There are two ways to enter, both requiring you to submit a completed Index Astartes article about your chosen chapter.
1. Write a completely new Index Astartes Article, based on the structure below, on the Chapter you have created and submit it for the event.
2. Take a chapter you may have created in the past for previous contests including the BHoA 2012 and update it and upgrade it to the BHoA 2014 level and then re-submit it. We encourage all those who had previously submitted such an article to review it and upgrade it and then resubmit it.
3. Make an oath in this thread in the following manner
I, , chapter master of the >, in the name of the Lion, make this oath of moment to submit a complete history of my chapter and it's honoured brothers.
ENTRY CRITERIA:
1. The article should have minimum 2000 words
2. It should include the livery of your chapter using the Space Marine Painter with at least one image each of Power Armour, Terminator Armour, Scout Armour and Captain.
All B&C painters
3. The chapter should be of your own creation.
STRUCTURE OF THE ARTICLE:
The article should include the following sections, most of which are self explanatory.
Summary:
GENE-SEED (PREDECESSOR):-
FOUNDING:- 3RD [M.32]
CHAPTER MASTER:-
CHAPTER WORLD:- T
FORTRESS MONASTERY:-
MAIN COLOURS:-
SPECIALITY:-
BATTLE CRY:-
CURRENT STRENGTH:-
KNOWN DESCENDANTS:-
Chapter Name:
Origins: Include Founding if it is known; What made that Chapter come into being; Are they a Successor of a Successor?
Chapter Home World: Description of the home world along with an image if possible.
Present Activities: Narrative about the Chapter at the dawn of the 41st Millennium
Battle Honours: Short descriptions of famous battles and outcomes in chapter history
Chapter Organization: The way the chapter is made up, where they differ from Codex Astartes; Deathwing, Ravenwing, battlecompany? Inner Circle?
Fleet Assets: Description of the chapters fleet strength, vessel names and any significant fleet action based conflicts.
Recruitment: How neophytes are recruited.
Chapter Colours: Livery/colour schemes (Include Space Marine Painter images)
Battle Standards or Chapter Banners (Optional):
Battle Honours/relics/decorations/awards: Description of specific awards, honorariums and honours.
Combat Doctrine: How they fight. Deathwing & Ravenwing in use?; Armor Heavy?; Specializations?; Intolerances?
Battle Cry: "Poke 'em in the eye!" or "Repent! For tomorrow you die!"
Home World or Home Fleet (if Fleet based)
Local rituals: Any rituals in their home world/base.
Beliefs: Unique beliefs and practices.
Gene-Seed: Description of origin and current status. Dark Angels, Obviously!
Champions of the Chapter: Special characters ( As many as you wish)
REWARDS:
Once you make your oath you may wear the following banner in your signature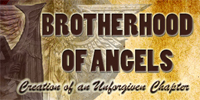 Once you complete your submission you will be given a chapter badge that you may wear next to your BHoA participation banner as follows:

The two may be combined to create a single 300 x 100 banner: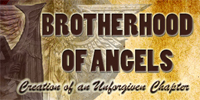 or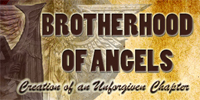 If as part of your submission you also created a unique DIY chapter banner you may use this banner instead: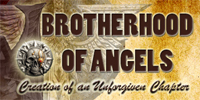 THE BIGGEST REWARD
Once your submission has been accepted not only will you be given unique chapter badge to wear proudly but your submission will be converted in to a fully fledged PDF booklet and be placed on the Fortress of the Unforgiven website for posterity. You may download, print and if you so wish bind it in to a real booklet.
Below is an example using the most comprehensive chapter history submitted during the BHoA 2012, the Angels Penitant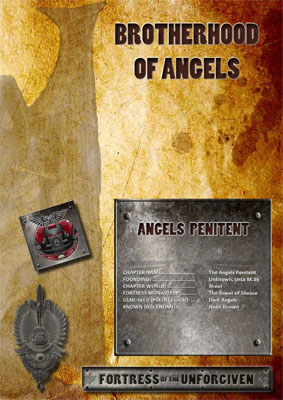 + + + PRAISE BE THE LION + + +
Edited by Grand Master Belial, 18 March 2014 - 01:48 AM.