Hello B&C,

I've been a bit of a lurker here, but finally decided that posting some of my stuff on the boards might actually help me get some hobbying done.

I'm a terrible magpie for projects, and generally have a few on the go at any one time. Unfortuantely this means that most of my armies are half built/painted. Not good. However, I've been inspired recently by the wonderful work of 1000heathens, Flint, Lorenzen, Pyromancer and all the other wonderful blogs to start getting a bit more of the grey plastic painted.

I'm planning to hopefully cover some loyalist space marines (Dark Angels/Badab), pre-heresy Blood Angels, and some post-heresy Deathguard.

To kick off though I'll quickly show some of my completed Imperial Fists. They were created to get back into the hobby quickly - with the idea of speed painting a small elite army. My first look was at Grey Knights, but to be honest, a quick flick through the newest codex put me right off. I'm a bit of a fluff fiend and they have some of the most silly background/characters going. That, coupled with the seemingly BoLS -sponsered Grey Knights power-gaming around about the time these were started meant that didn't exactly seem a good fit to get back into the hobby.

Deathwing on the other hand...Small army size, terminators, and cool rules.

Never one to do things easily tho, I quite fancied trying a little more difficult painting than bleached bone plus a brown wash. So, I stumped for yellow (a colour i've NEVER managed to paint) as an alternative. From there it's not a massive leap to the Imperial Fists and their 1st Company!

As a final aside, i'm very VERY fond of the almost sloppy/gritty work of John Blanche. As long as i've been in the hobby i've been inspired by the almost abstract way he does things. So many of my models will be a bit gritty, and while i'll be trying my best with all details etc, it's tabletop forces i'm looking for, and one that will hopeful reflect the grimness of the 41st millenium.

Without further ado, some examples of the completed Fists in action
General examples of my IF army, and the standard to which the "standard" Terminators are completed to:
Close up of a "tactical" Terminator. Bolters are now drilled out obviously.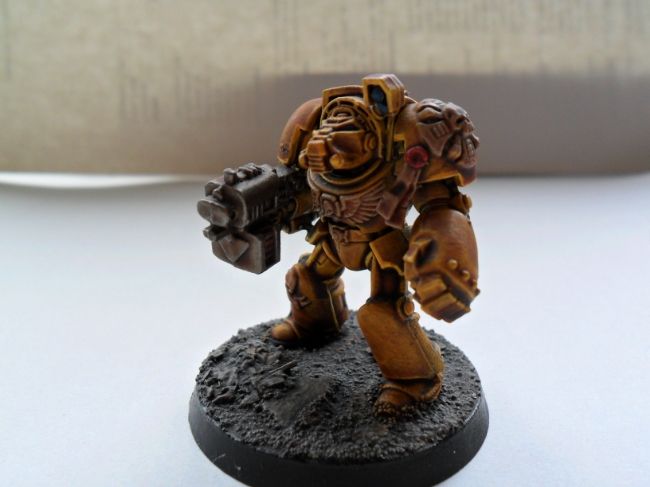 More terminators:
I've got more WIP shots obviously, but they are largely as above - if there's any particular interest in seeing more pics of the termies then i'll of course pop some up.
Otherwise, i'll be keeping this plog for more recent modelling and painting.
Hope to hear some C&C!
As an aside, i'm games-mastering for my wargaming group, and we are currently in the process of a big-ish campaign. The fluff is detailed in my signature, and any C&C regarding that would be very helpful too!
Edited by November, 14 November 2014 - 11:14 PM.
Removed Xenos images