new chapter that is basically loyalist alpha legion chapter (although not descended from them). the lack of clarity is intended to make people form their own opinions about the chapter loyalty and origins.
++++Inquisitorial Index Astartes++++
+++++Classified File+++++
++++Ellipsis++++
++Status: Incomplete++
+++++Clearance: Alpha-Omega-Epsilon+++++
++++Accepted++++
Ellipsis Chapter
Founding: *Classified/Redacted*
Progenitor: *Classified/Redacted*
Homeworld: Unknown
Primary Sector of Operation: Ghoul Stars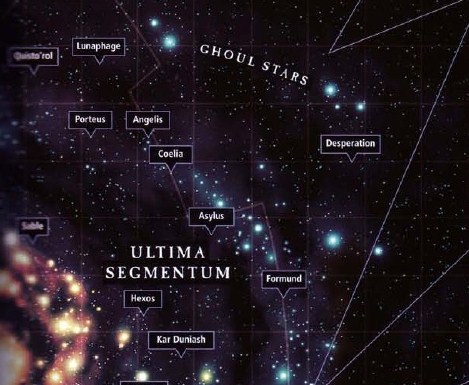 History
The Ellipsis Chapter Astartes were created primarily to investigate the Ghoul Stars and keep the alien threats at bay or destroy them completely. This requires them to work closely with the Death Spectres Chapter and the Ordo Xenos, including the Deathwatch. Both chapters are commended for there vigilance and their contributions to our understanding of the xenos of the Ghoul Stars. Their secondary purpose is to execute missions of infiltration on suspected renegade Imperial forces and chaos cults. Few are aware of this secondary mission, and none but the Inquisition and Highest Authorities in the Imperium have clearance to know anything more. Any individual who comes to investigate or suspect their secondary purpose and does not have clearance is arrested by the Inquisition. All data on their origins has been wiped from records. Investigations suggest they are of very early founding, possibly even 2nd founding. They operate in the shadows, their lives are secrets and each understands that secret will one day take their life. But that is the price they pay, so that the Imperium might live.
Combat Doctrine
The Marines are experts in stealth operations. They operate as a single operative, a small team or several squads at most. Their armor is nearly identical and devoid of ornamentation. They make use of bolter suppressors, gas grenades, ancient distortion devices to operate covertly. They prefer to use bolters, combat knives and power swords as they are easier to conceal and quieter to use. Additionally, their starships are painted in a dark almost black blue and are suspected of being equipped with stealth technology. They are known to utilized non-Astartes agents through their operations as well. They also make use of more apothecaries than most chapters as they are needed to study the xenos of the Ghoul Stars. They operate secret projects, infiltrate hostile groups and covertly eliminate hazards. They have secret cells, agents and research projects throughout known space, many of which are operated on behalf of the Inquisition Ordos. They infiltrated chaos cults, alien worlds, enemy projects even imperials organizations. Each battle-brother is trained to handle anything, every aspect of Astartes warfare. Hence there are no dedicated assault, devastator, biker marines etc.
Recruitment
It is unknown where specifically the Ellipsis Chapter recruits from, but it is known to be many worlds throughout the Imperium. They draw non-Astartes operatives from anywhere, human organizations, Adeptus Mechanicus, and non-Imperial worlds.
*to be edited properly later* "Remember, know your enemy better than he knows himself. You must break them before you engage them, only then will you ensure victory." - Astartes Source Unknown
Known Operations
Several operations by the Ellipsis Chapter have been executed on the orders of the Inquisition, but not all. The chapter's operations in the Ghoul Stars requires that they often operate autonomously so there operations that have not been documented.
Vertigo 75-G1 Installation - Classification: Sigma-Omega-Epsilon Clearance - Location: Asylus Belt, Ghoul Stars - Mission: Listening/Weapons Experimentation/Supply Depot/Intelligence Post - Personnel: Protected and operated by Ellipsis Chapter and AdMech
*needs work here. also thinking of putting in ops reports*
Marine Images
Color Scheme: Necron Abyss, Blue #1f415c, Charadon Granite, Astronomican Grey, Enchanted Blue
+++++Close File+++++
+++++++Firewalls Re-calibrating+++++++
Edited by The Lord Marshal, 27 April 2017 - 07:13 PM.