Looking for a quick way to make some cool looking bike bases? Check it out. I learned this technique from lots of internet research and the final product turns out really nice for the amount of time and energy you need to put into them. You can also take this technique to the next level to add your own flare for an even higher standard base! Personally I think a nice looking base really finishes off a model so to me its a really important step. If you already knew this technique or can add something of your own to it post it here. I also posted this in the White Scars section under one of my other threads so if you've seen it twice, sorry! Otherwise, enjoy!
First we start with a roll of thin cork board. I bought it on Amazon for around $9.
Then I primed all of the bike bases (no picture). After the primer was dry I tore off pieces of the cork board and matched them up on the bases in whatever I thought would look like cool rubble. Once i was happy with the rubble I use the hot glue gun to permanently affix the pieces to the bases.
As you can see below my workstation looks like this...
After the rubble is done I begin to paint on glue for the sand, which will later become the grass. The sand isn't bought, it was collected from a local kids park.. I do this step and the next one at a time for each base so the glue doesn't dry out.
Then I dip the freshly white glued base into the sand. If there are parts that didnt get sand on them I just pick some sand up with my fingers and sprinkle it on.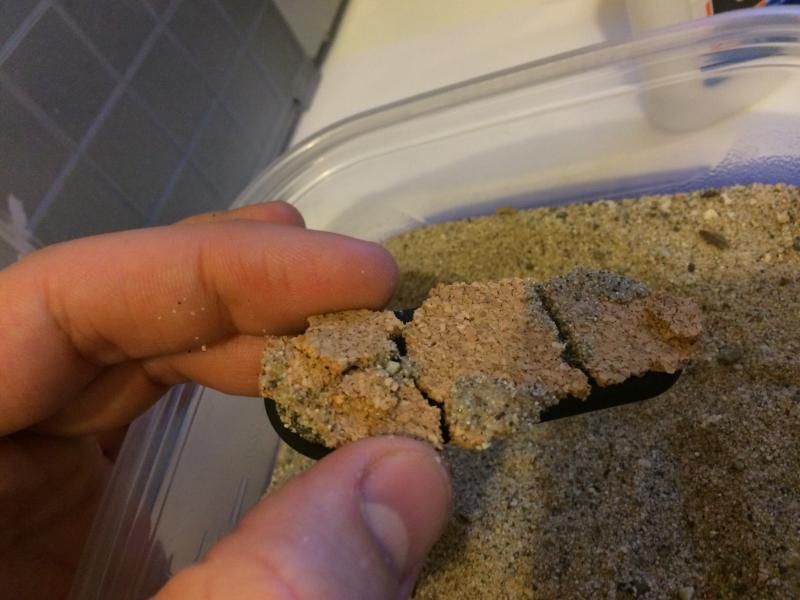 Then I get out the airbrush. I use Valejo Model Air black for the basecoat..
After the paint has fully dried then its time to bring out the dry brush. I dry brush all of the edges of the rubble using Valejo Game Color Wolf Grey (not model air, just regular Valejo game paint) - don't worry about getting it on the sand as you will paint over it later.
Next step is to paint the green on the sand. I used Valejo Model Air Olive Grey with a brush. The reason I do this is I like the consistency of the paint as it goes on easier.
Then I do touching up where necessary and paint the rim on the base so it looks cleaned up. On these ones I used black. The original post shows where I painted some of them using the color Khaki. After the final step you can take this even further by dry brushing the grass, adding mud, adding body parts from your most hated army with blood all over them. The sky is the limit!