Hi
It all started with 2 friends and myself doing a 2015 tale of 3 gamers build with the aim of getting games with actual completed armies done. Just for fun and a way to motivate each other. Much dithering with lists, ideas, themes and now we are 6 weeks into 2015 with a PLAN!
The plan. Meetup and attend a tournament in January 2016. Have much fun and laughs and gain stories to tell around fires for many years to come. The event is 1650 a points level I have never played, which has made many a hair wrenching moment coming up with an armylist. But I do at leas have an IDEA!
Iron Warriors.
I love the paranoid angry guys. Ever since I read Storm of Iron many years ago. For my first ever tournament I built a chaos space marine Iron Warriors force and that was awesome.
This time I want to go Heresy. I love the aesthetic of the forgeworld kits, the images from the CCG game and the overall feel that the IVth Legion has. Only problem is the army must be a 40k codex.... No problem I'll just use Codex: Space Marines! Some of the units won't be strictly heresy era but I don't care. I want it, it goes in the army.
For models I will be mixing Forgeworld with GW and other aftermarket parts and I currently plan on scratchbuilding part of if not all of the vehicles. Basic infantry will be based on 32mm bases because they look awesome.
First up Tactical squad I WIP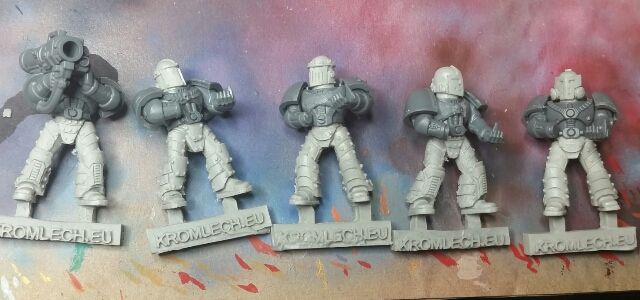 The legs are from Kromlech, heads from MaxMini and the torsos are standard tactical squad with any sign of a chest eagle taken off. I like the look so far reminds me very much of the artwork from collected visions.