I, Wulfgar76, of the 75th Karshaki Dragoons do hereby pledge to complete the models posted within by the 29th of March.
Karshaki Dragoons
The Karshaki Dragoons hail from the agri-world of Karshak located in the Ultima Segmentum near the border of the Ghoul Stars. Most within the Imperium consider this to be a frontier world and a stepping stone to explore deep space beyond the Imperium's established borders. Karshak breeds a hardy people and they have been providing tithes to fight for the Emperor since their world was rejoined with the Imperium over two centuries ago. Although relatively young in the eyes of Terra, the people of Karshak developed a strong martial system as they defended themselves from the numerous xenos factions that have attacked the world throughout its history. The Karshaki employ a combined arms force and this is evident from their structure from the brigade level down to company level. It is not uncommon for a company commander to have infantry, armor and artillery organic to his or her organization. In some instances even air assets are under the direct control of a company level ground force commander.
What follows are a few offerings from a single troop from the 75th Dragoon Regiment. Kilo Troop or "Killer" troop as they are more commonly known are a combined arms organization featuring mechanized infantry, dismounted infantry, artillery and air assets. They are currently led by Captain Jakob Longknife.
Captain (CPT) Jakob Longknife (Blood and Glory vow)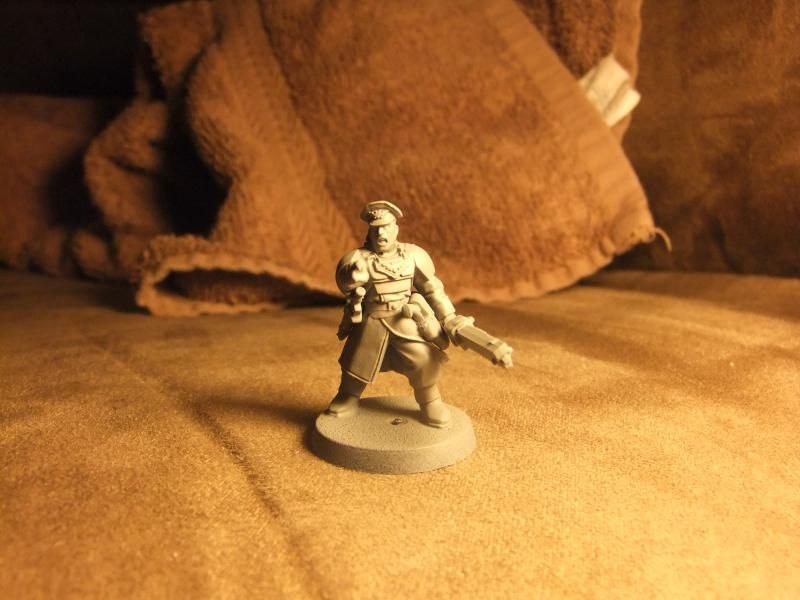 Captain Longknife is relatively new to troop command having previously served as the assistant tactical officer on the regimental commander's personal staff. The previous commander was killed during the Pietros V incident fighting against a Necron decurion. Longknife is a veteran soldier but untried in troop command. His superiors and soldiers are eager to see what he can do. (I replaced the original figure with one that I like much more.)
Veteran Sergeant (VSGT) Dane Lysell (One for All vow)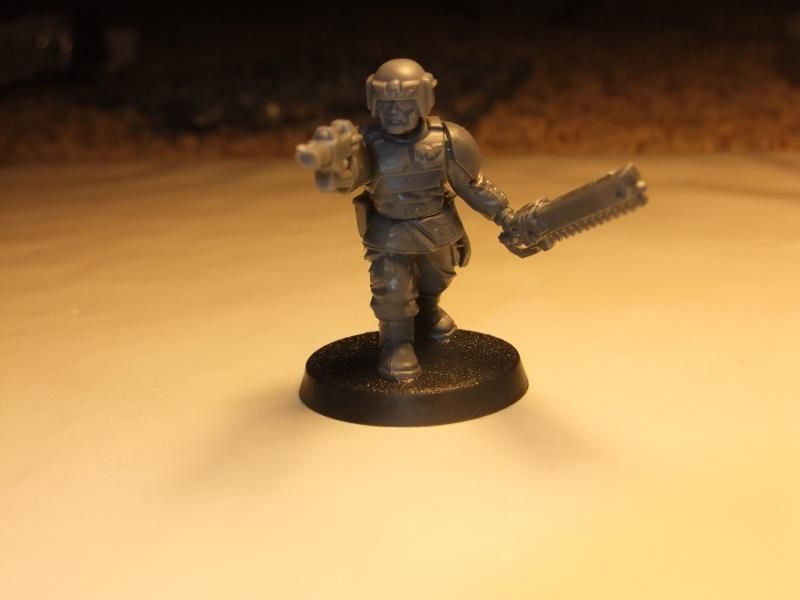 VSGT Lysell is a tough old bastard who has served on the frontier for more than 10 years. He has survived up to this point through a combination of street smarts, ruthlessness, stubborn tenacity and being just plain mean. He is a tough and demanding NCO but looks out for his boys the best he can. He can often be found in the thick of the fighting to inspire his squad by his personal example. He currently leads a veteran mechanized squad as the troop completes refit and prepares to rotate back into active combat rotation once again.
Edited by Wulfgar76, 28 February 2015 - 04:12 AM.