A while ago, I managed to get hold of a box of OOP plastic Squats. With my collecting head on, I managed to get a few more so I have enough of the helmet wearing heads for a couple of platoons... and a few more besides.
So... I thought I'd put together an Imperial Guard army that was made up of diminutive characters and here is the first little unit; an Engineseer with a couple of servitors:
They are shown with a possible transport but as much as I want hover vehicles (for their marshy planet), I am not sure whether that is the right vehicle for them... Here's a close up of the Engineseer:
After this little unit, I got on with making the first platoon. I wanted them all to have helmets and to have autonomous heavy weapons. I also felt the need to sculpt all of the arms and shorten the lasguns so that they were posed better... and then I added better beards to some... Here's the command squad and two infantry squads: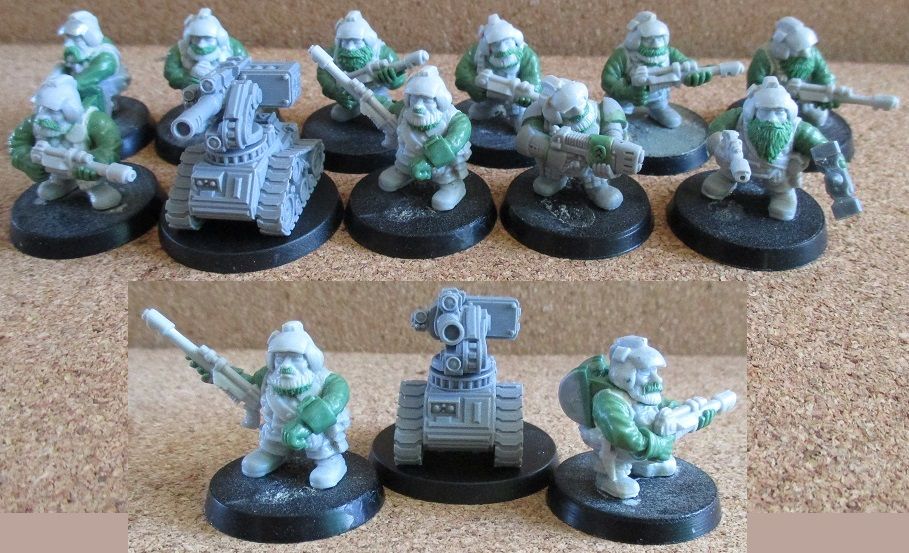 Finally, here is a random character that will eventually be added to a unit of some sort:
In addition to the troops I have also got a proxie Dreadnought and two proxie Sentinels... along with some Exo Armour that will likely 'count as' terminator armour (once I have converted it)... here's a review:
http://insosworld.bl...exo-armour.html
So there we have it. I have just clipped the next platoon off its sprue ready for cleaning up and am in the process of converting the first Exo Armoured trooper so things are ticking along nicely.
Any comments or questions are welcomed but please bear in mind that I am not a gamer, I just collect miniatures... so rules are really not too much of an issue with me
Edited by Inso, 30 April 2015 - 10:07 PM.