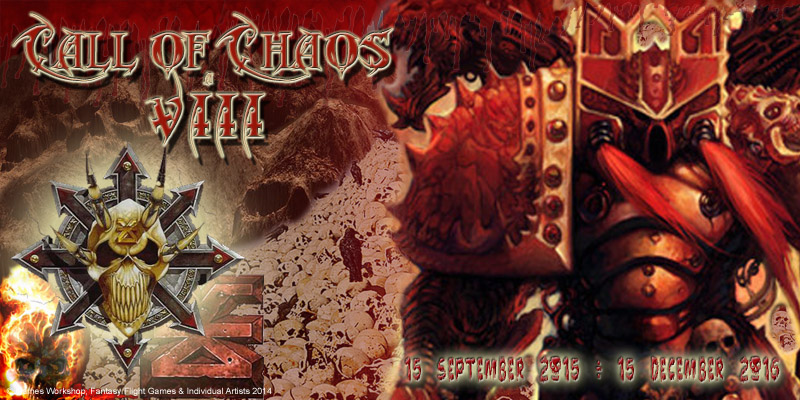 +++THE EIGHTH CALL OF CHAOS HAS OFFICIALLY ENDED!+++
The 8th Call of Chaos has reached its conclusion! This was the most successful yet in terms of participation with 71 participants and a completion rate of 45%. Interestingly more than 50% of the completions were Warmasters of Chaos – that means that there is a lot of competition for the top job in the Eye! On the opposite side, the amount of spawns that join the ranks of the damned this year increased to 40 – the Gods are laughing at their predicament!!!
As is the case every year, it was tremendous fun to see all the effort put in this event, and I thoroughly enjoyed seeing all the diverse Chaos minis painted with such a commitment among various skill levels. I feel especially proud that the Chaos community is endorsing this event to make it truly their own! The most important thing for the Call is to give the opportunity for the frater to interact, steal ideas, discuss techniques and of course admire each others work.
I for one am very impressed that after the phenomenal performance in two ETLs as well as last year's Call, the Chaos community is still finding inspiration to commit to such a high output. Now if recent rumors are anything to go by, we may see a new Codex coming out in early 2016, which will undoubtedly reinvigorate the appetite of veterans as well as attract new followers to the Chaos calling! Seems to me that 2016 will also be a year of Chaos!
The first page is updated to this point but please check that your entry is correctly depicted.
Now let's see how the participants of the Call performed this year.
WARMASTER OF CHAOS

Atia
Chaeron
Dragonlover
Dreadclaw
Fenrisulfur
Insane Phychopath
Killersquid
Kythnos
Leonite
Mard [EPIC scale]
Scourged
Sigma The Red
Thamier
Tremblant
Uveron
Warsnail2
LORD OF CHAOS

Apparition
thedarkprincesnun
CHAMPION OF CHAOS

Mactire
Mandaloriano
Midnight Runner
ASPIRING CHAMPION

Kierdale
lorgar17
Luther - the fallen
ShVagYeR
Tarvick
CHOSEN OF CHAOS

Scion of Ferrus
Vinc
SERVANT OF CHAOS

Lostrael
Paz
Warsmith Aznable
CHAOS SPAWN

1000 Sons
Aasfresser
Adra'Melek
Agraorth
Akylas
Anselneo
Augustus b'Raass
Bad Santa
Beachymike123
Biohazard
BlodVargarna
Brother Mayhem
Brother SP
Captain Sox
Carrack
ChaosRising
Dosjetka
Greg0985
Kobrakei
Kurama
Large and Moving Torb
Lokkorex
Lord Commander Eidolon
MindOfMetal
Nusphigor
oldschoolsoviet
Pariah Mk.231
Plains of War
Prot
RazakelXIII
Rhanald
Sartako
Sheesh Mode
Slave to Darkness
Surreal Cruelty
TerraZero20
The Psycho
Venomlust
warboss aidna0510
Wolf_Lord_Hardrada
So I hope you all enjoyed this, both the ones who completed all their vows and I look forward for next year's event the 9th Call of Chaos that will be dedicated to Tzeentch!
Until then farewell!
Captain Semper
​Member of the Inner Circle
Master of Recruits
Edited by Captain Semper, 17 December 2015 - 05:02 PM.