"The emperor came to us with arms in a embracing manner. He told us we would be safe... He told us we would be respected... He was wrong... We were wrong.

We never saw the hidden blades in his palms, the face of a liar in his eyes, the body nature of a false god. We believed him, believing he was the machine-god incarnate... Oh how we have fallen, our lenses blinded by desperate faith, our minds clouded by his lies.

I am Xander, the lord of cogs and master of the holy wrench. Follow me, help me erase this stain from our history. The mechanicum shall thrive once more! Death to the false god of mankind! Death to the emperor!"
-First traitorous words uttered by Xander Travier, forge lord of Xandria Prime
So this is the tread of my dark mechanicum forces in the heresy, brotherhood of the lost style
(The cognis hereticia were originally created for normal 30k)
+++++++++++++++++++++++++++++++++++++++++++++++++++++++++++++++++++++++++
So a bit of info on the Cognis:
Prime masters:
Xander Travier: Xander Travier started life on the mechanicum forgeworld of Xandria, he at some point, killed the rulling Magos and took over command. He possesed a prenatural skill towards the makings of weapons and more specifically: Neutron and radiation weaponry. He possesed many STC's found on Xandria including that of over 42 different variants of battle automata and weapons that had never been seen before.
This gave him a good step up into the mechanicum high council, and making his "Cognis Primus" part of the mechanicum a powerfull party in the council. It has been recorded that Xander and Mortera never really liked each other, their huge factions poloitically clashing with each other.
Xander quickly become friends with Kelbor-Hal, pledging his faction to him within 5 years of meeting the main-mechanicum master.
When Kelbor turned traitor, so did Xander. He never liked the emperor, seeing the golden man a liar and waste of time. His bonds with the Eagle warriors strengthend, while his other bonds with legions slowly faltered.
Xander is a very experienced brawler, relying more on brute strenght then real tactics, his dominus cadre is his master-mind work. They lead the Cognis for him, and they create the tactics and plans. Freeing time for Xander to work on more gear or use his brawling skills against some intergalactic horror.
The Dominus cadre:
Xander's greatets work, his right hand, 14 unique magos beings, all armed with a variety of exotic weapons, their minds all linked to that of Xander. They work as one, the body and mind all a extension of Xander's will. The only thing they can decide or design themselves is the rite of efficiency, making them the strongest planning part of the Cognis. They plan the battles, wars, calculate the outcome, calculate the costs of war. They are a master-mind, a truely lovely piece of archeatech mixed with living beings.
Rapitarus:
Rapitarus is xander's left hand, a being created of only cogs, pistons and armor plates. A machine with it's own mind, one of the very few artificial intelligence machines. Xander hid Rapitarus from the empror, even from his own faction. It's his biggest secret, and when this machine is unleashed, Xander always make sure nobody is left to have witnessed what this machine can wreak upon it's foes. Also ++redacted by high command, future information pending++
Militaric organisation and specializations:
The miltary of the Cognis is based upon the greek legions of ancient terra, their hierarchy and army build drastically the same
.
The Cognis is mostly compromised of automata, tanks and very elite units. They favor automata over all else, only using thralls and skitarii in very limited numbers. Their main focus of war is large sieges, ground wars and subterean or underwater fought wars.
The cognis exceed mostly in the combat of vacuum of space, their huge and elite ships making them a force to be reckonned with. Their automata being the ultimate breaching troops, they favor up-close and personnal wars, using their specially designed neutron weaponry to rip enemy ships apart with astonishing ease.
Although space wars and large sieges are the Cognis' main focal points, this is where their limitation and weaknesses come in. They barely own thralls and human foot soldiers, making it hard for the Cognis to both infiltrate and repel infiltrators. this is why they enjoy working with the legionnes astartes so much, using their troops as defenders and counter-attackers, filling the weak spots in the cognis lines, and making a wall of destruction any sane foe would run from.
Production:
The cognis are mostly foccused on creating Battle-automata, both new and old designs are excessivly produced. They have mastered the art of brain-implantations, creating efficient and well working robots.
Their forges are reknown across the galaxy, and many planetary governers await the day of their appointed Cognis battle automata maniple.
+++++++++++++++++++++++++++++++++++++++++++++++++++++++++++++++++++++
It's all still very rough, but I hope you enjoyed! And to finish this post of, here is a pic of my first Cognis hetericia model, a castellax-Skalu engine: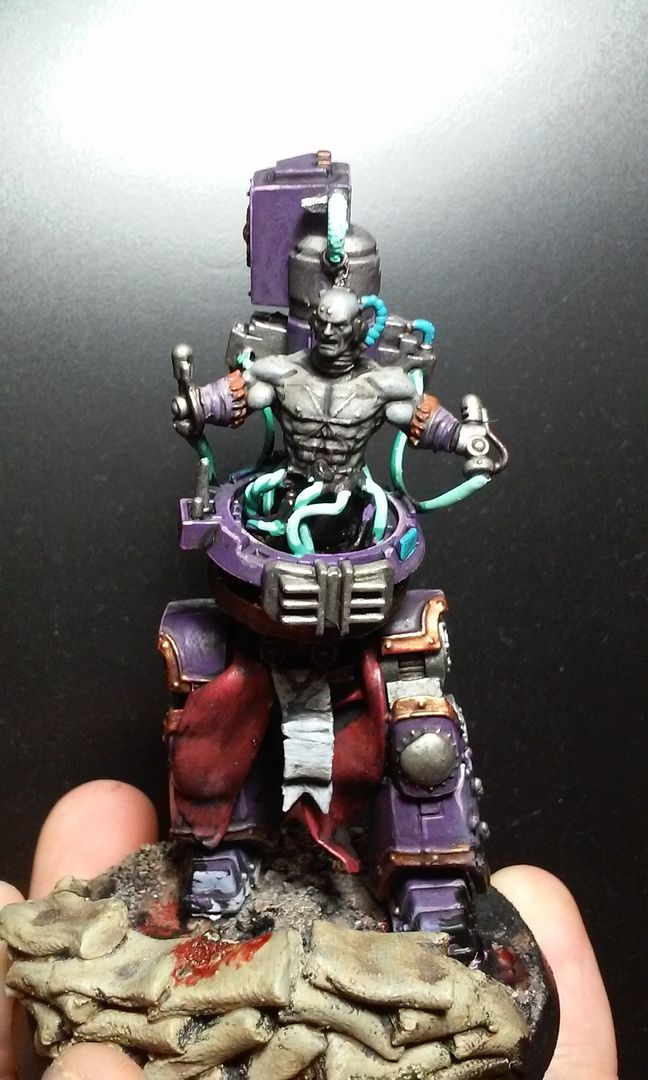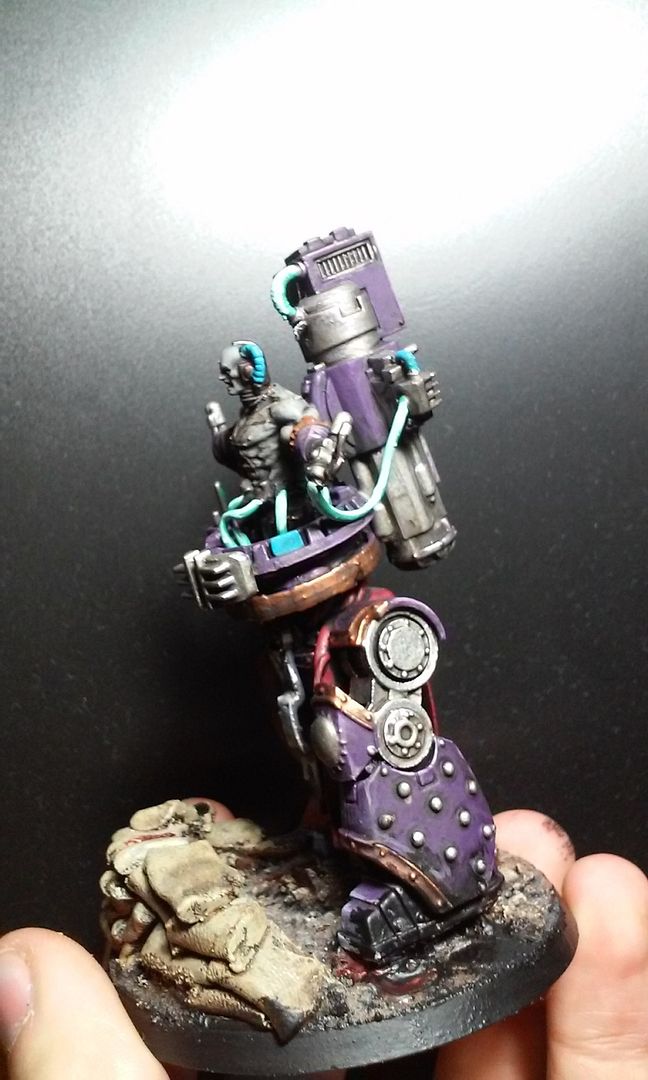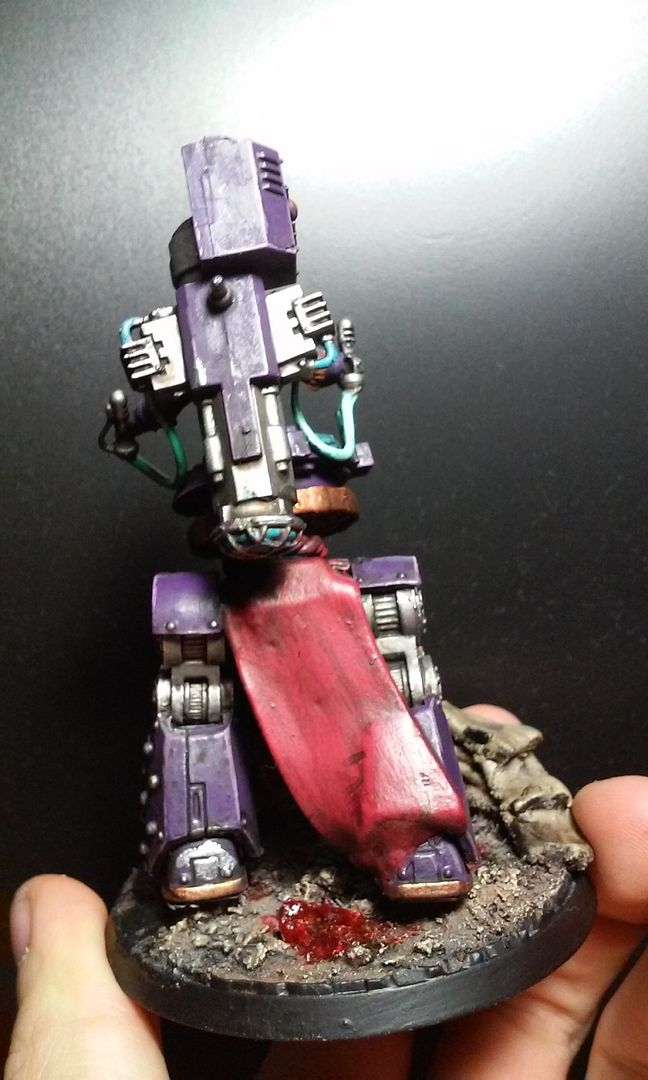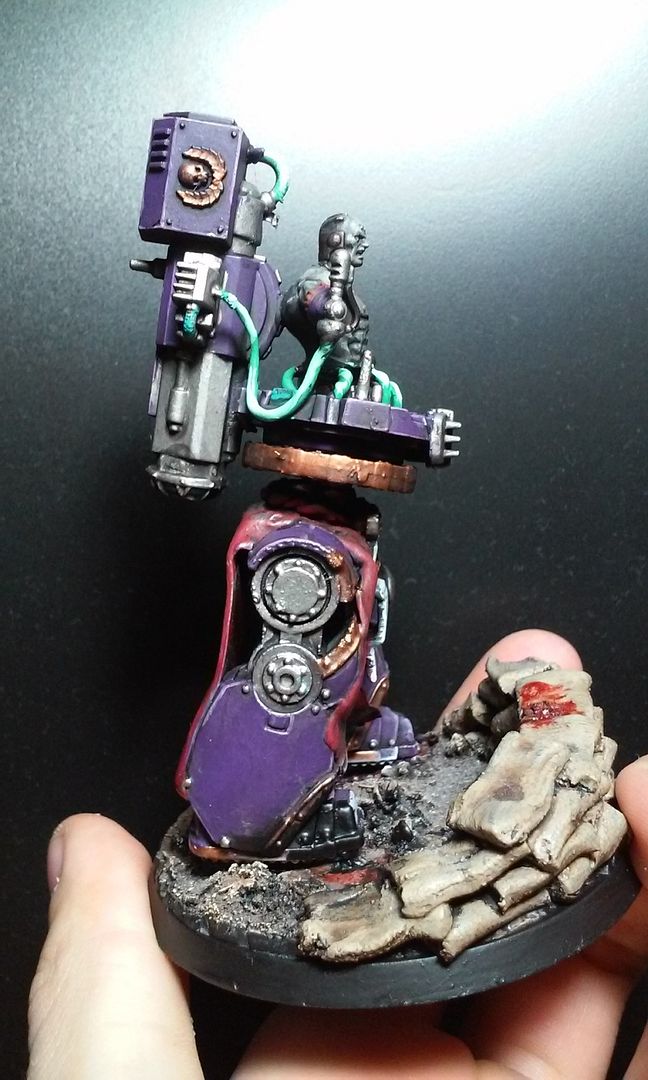 (yes, purple and silver are Cognis' main colors)
Edited by Kelborn, 22 February 2020 - 10:38 PM.