Hello! I've been playing around with Horus Heresy armies for a while now and I've finally decided its time to actually make a topic and stick to a legion.
The Legion I've gone for and decided to stick with is the Ultra's, plenty of fluff to write my own company into and just generally a legion I feel are more my style.... and because I have a decent excuse to have gold (i do have a like for the shiney shiney - when I'm in the mood to paint).
Background fluff will follow (I'm away from home at the moment so I don't have access to any of my fluff)
Quick basis of the fluff. The 168th Company
Was mauled heavily during a compliance operation shortly before the Calth Muster (by mauled roughly 12 men per 20 man squad are currently fresh from neophytes




Because of their mauled-ness they missed the Calth incident and are still effectively at full strength




Because they have a huge amount of neophytes the company has a unusual number of apothecaries seconded from other companies to oversee the process




Although led by a Captain, most operations are led by the company's Librarian, following Guilliman allowing the use of the Librarius again




Large number of consul's [simply because as I said before, I like the shiney shiney no fluffy reason as to why they have so many as of yet.... Open to suggestions =) ]




This is a tabletop army as well. I always struggle with customising my marines, I know I want them to have personal heraldry etc. but I can never decide on what I want. SO. all marines will gain awards and extra's depending on table top games played. eases my load on frying my brain cells working out what I want, and it will eventually give each marine his own personality which is unscripted, which I like the sound of.
Tabletop Format
My army is based as a doubles alongside my friends Imperial Armour list - I bring the men, he brings the guns
HQ
Librarian
Force Axe


Artificer Armour


Troops
20 man Tactical squad
Sergeant - Power Sword, Artificer Armour




Apothecary - Power Sword, Artificer Armour


20 man Tactical squad
Sergeant - Power Sword, Artificer Armour




Apothecary - Power Sword, Artificer Armour


Elites
Contemptor Dreadnought (Mortis)
7 man Invictarus Suzerian squad (Librarian Bodyguard unit)
Fast Attack
Extra Stuff which is not used tabletop
HQ
Multiple Chaplains (Courtesy of Betrayal at Calth)
Praetor
Power Axe


Artificer Armour


The Avenging Son, Lord of Ultramar, XIII Son of the Emperor - Roboute Guilliman
Very likely to have multiple others in near future
Troops
Another 30 Tactical Marines
5 man Seeker Squad (Currently the most decorated squad in the army with 3 Justaerin Kills and 3 wounds on Horus in a single round of shooting)
5 man Seeker Squad (Did nothing while their brother squad ruined the pride of a Sons of Horus army)
More set for the future-
Elites
25 Cataphractii Terminators (5 Power Swords/Volkite, 5 Thunder Hammers/Combi-Bolters, 10 Power Axes/Combi-Bolters, 5 Lightning Claws)
3 lone Invictarus which can't fit with the 7 already in the tabletop army
Contemptor Dreadnought (Mortis) - Assault Cannons
Contemptor Dreadnought (Courtesy of Betrayal at Calth)
Veteran Squad - Assortment of power weapons
Heavy Support
5 Man Devastator squad - Heavy Bolters
So! without further rambling... (okay maybe a little more) - some images of the army (that I have with me)
HQ
Captain Vel Asina - Commander of the 168th Company - Ultramarines
- He still needs to be based and I've just noticed he has a scroll on his right shoulder pad I seem to have missed, sorry for the poor photos, ill take some better ones when I get back home and replace them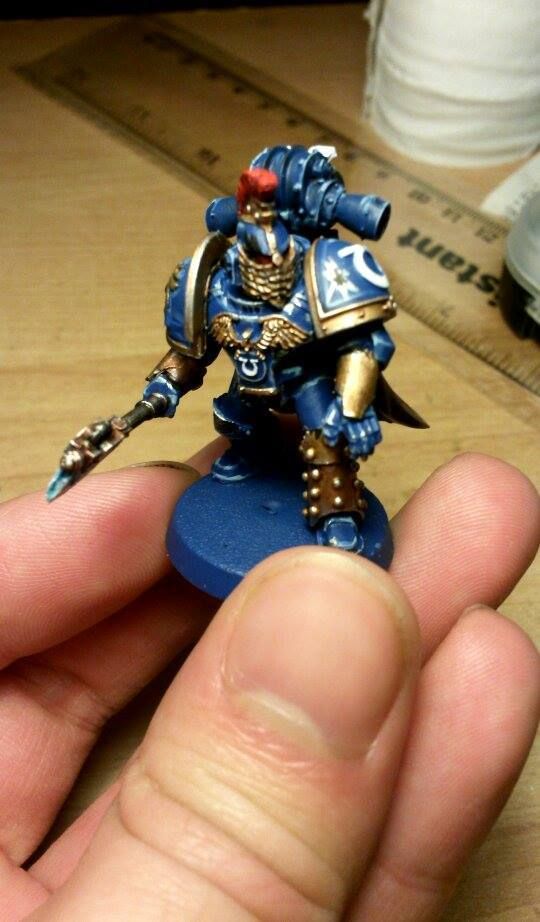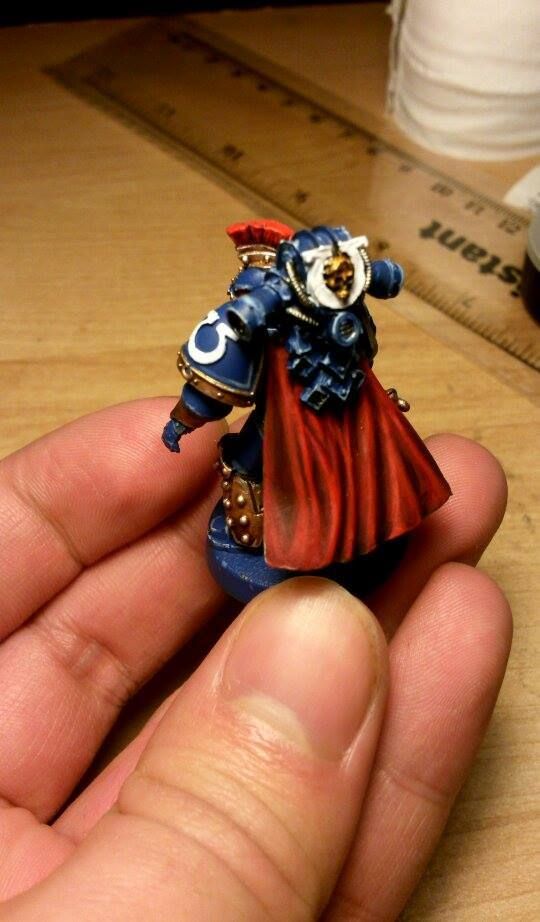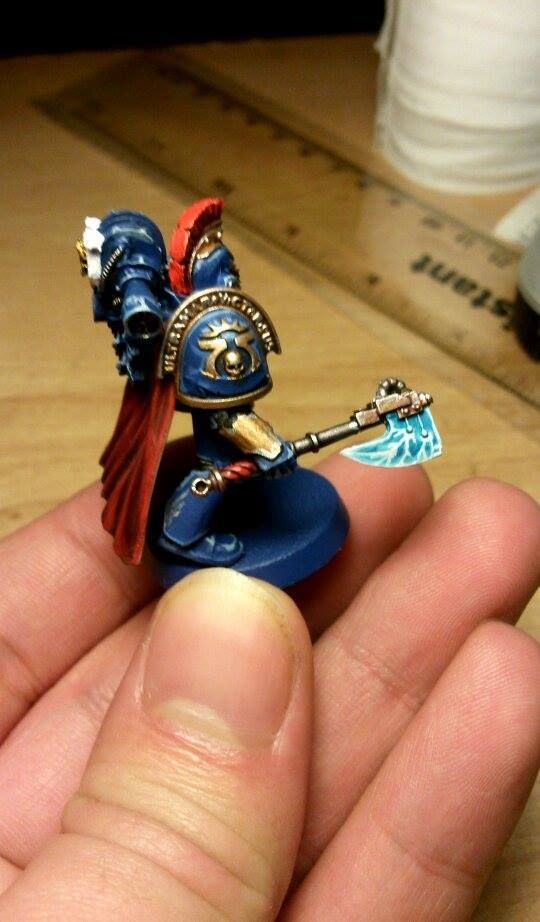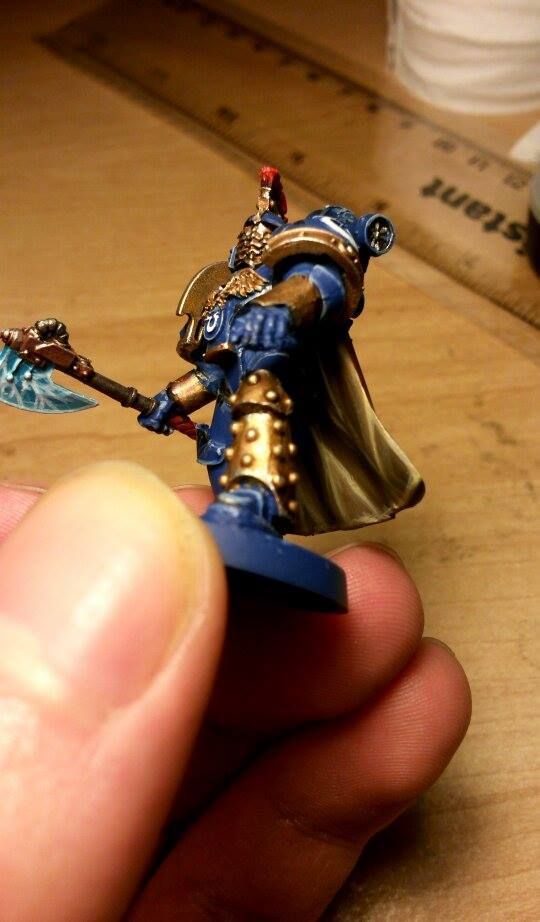 - Not really sure about his backpack, as much as a like the Invictarus backpacks with the Ultra on, it seems a little big, i'm thinking of replacing it for a Mk4 pack
Chaplain (Hasn't got a name yet....)
- Needs to be based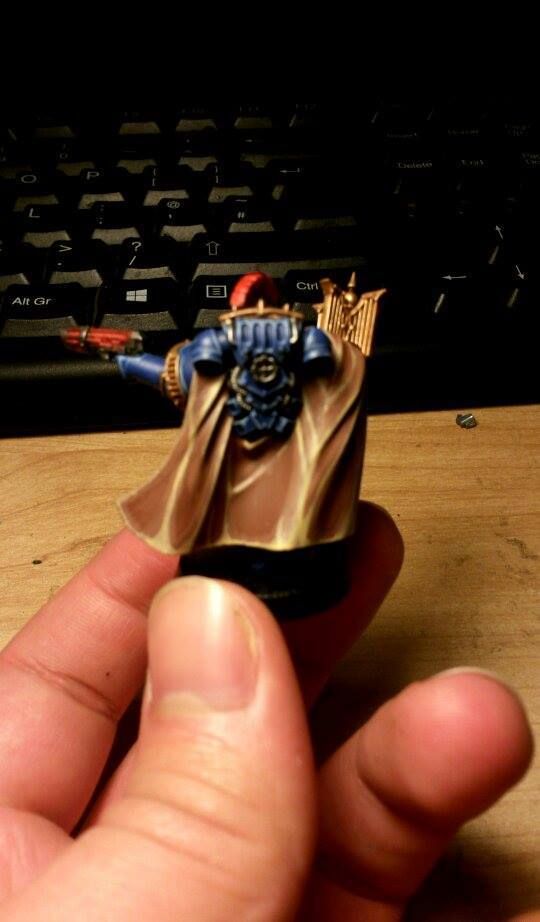 And finally for now - an image of the predominant tabletop force with both 20man squads, Librarian, Captain Asina and the Seeker squad at the back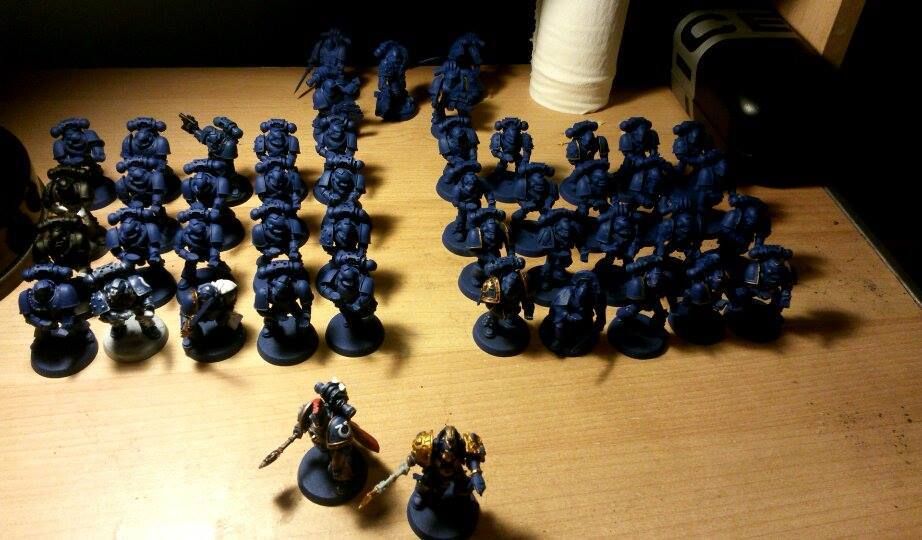 I'm open to all! Critiques, Comments, Suggestions - what have ye =)
Kenny
Edited by Kennyjapan, 30 December 2015 - 07:25 AM.