The Maintenance Bay





Welcome one and all to the Maintenance Bay, a place where we can look at and discuss the role and place of the Questoris Knight Titans and their big brothers from the Legio Titanicus, why the name you ask? Well to put it simply enough we wished to create a place where those who are enthusiastic about their Titans can come and discuss or source ideas/information, trade war stories or just find general inspiration. Along your travels of the battlefields of the Great Crusade and Horus Heresy you will find no talk of cookies and dancing or 40k in this thread not even the mention of the MDRC fabled choom, here we are a Brotherhood and we are founded on the principals of a good scotch or beer coupled with some top class paint jobs and conversions.

I would also like to thank the following frater and Moderatii for their efforts in creating the Maintenance Bay;
-KBA
-Olis
-Depthcharge12
-Slipstream
-Wolf_Pack

So I see your interested in becoming member of the maintenance crew, well firstly let me welcome you to our humble abode hidden within the Deeps of the Age of Darkness forum, now let us get into the nitty gritty items such as the Code of Conduct and Rules for this group.
1• This thread is dedicated to the Questoris Knights and God Machines of the Great Crusade and Horus Heresy which means that we accept Questoris Knight houses, Freeblades, Chaos knights will be subject to approval so send a PM first (this will be due to the nature of this thread being based in the age of darkness forum) and the titans of Mars and other corresponding Forgeworlds.
2• Constructive criticism only, I can not stress this enough we are here to help all frater and unless they specifically ask for feedback we shall strive to keep all criticism positive and help one another, we will be accepting of all skill sets.
3• Limit all WIP pictures so as to not clutter the thread, or use the spoiler option if necessary.
4• Remember were all gentlemen here so use common sense and there should be no issues.
1• Only discuss the topics with regards to knight titans, please try not to go off topic on the legion astrates etc as this is discouraged.
2• Conversions are acceptable as long as 50% of the model is based on the plastic knight kit or one of Forgeworlds Cerastus models.
3• Discussion of new Weapon profiles/creations is encouraged, the only thing we ask is that you have a concept beforehand.
4• Membership to our society is obtained by owning at least one Knight, we ask you post a picture and a brief description of your knight (house, rank, noteworthy features etc) or your Titan, then you will be registered as a member.
5• Strictly no referencing the knights 40k counterparts ranks etc, and campaigns that concluded after the Horus Heresy we are strictly here for the 30k community.
6• As you produce "finished" knights or titans your banner will be updated, as you achieve new ranks you can choose what you'd like represented on your banner, those that achieve multiple ranks will be noted in a future addition to the section "Those who fight further".
7• Last but not least have fun and enjoy this thread (just keep the banter on topic
)
The reason the maintenance bay was created was to compose a resource that the Bolter and chainsword community can access, we will try to keep a comprehensive array of information and updated descriptions and information. Frater are encouraged to ask questions in regards to the Questoris Knights and College Titanica from army lists, to allies to fluff background etc.
Now in order to help with this we have Decided to a fortnightly overview of a household or legio giving a brief description of them, this will cover colour schemes, assets, strengths and weaknesses and notable campaigns. As the thread grows we will touch on tactics and bat reps, and as we progress we will showcase members knights and titans contacting them with a brief interview for them to answer. We aim to delve deep into the Questoris Knights and the process people use when approaching their army.
No this is not in regards to Final Fantasy VII!
Here we will have a record of Set goals that fraters can obtain by meeting the criteria awarding them a rank and honour within the society;
Scion Aspirant
- Completion of a single knight.
Scion Martial
- Completion of a trio of Knight's.
Scion Implacable
- Completion of a Cerastus based Chassis.
Scion Arbelaster
- Completion of a Cerastus knight-Atrapos.
Scion Uhlan
- Completion of a trio of Cerastus chassis.
Scion Dolorous
- completion of either a Knight Styrix or Magaera.
Legendary Freeblade- Completion of 3 knights from a single household and an additional Freeblade knight.
Aucteller - Completing 5 Knight's.
Preceptor - Post a battle report containing minimum 3 knights with victory as a condition.
Lord Scion - Post a battle report where you slay a super heavy and field 5 knights.
Sneschel - Complete 1 of every knight; Paladin, Errant, Gallant, Crusader, Warden, Renegade, Magaera, Styrix, Lancer, Castigator, Acheron, Atrapos, Porphyrion.
Princeps - Complete a single warhound/reaver/warlord titan.
Princeps Majoris - Complete 2 or more Titans
Princeps Senioris - Complete a Warlord Titan.
Fabricator General- Complete 5 Knight's (Including 1 Cerastus chassis) alongside a Warhound, Reaver & Warlord Titan











Alphabetical order of members, containing household representation, loyalty, and named knights.

•DARK BJOERN- HOUSE TARANIS/LOYALIST/SCION AUCTELLER/OMNISIAH'S WRATH/SWORD OF MARS/GODSLAYER/METAL STORM/IRON FIST/INDOMINUS/RED THUNDER/BLACK KNIGHT/CONQUERER/BLADE OF JUSTICE
•DEPTHCHARGE12- HOUSE MALINAX/TRAITOR/SCION ARBELASTER/HOYT
•EZERIEL- HOUSE TOREN/LOYALIST/SCION ARBELASTER/THUNDER IMPULSE/STORMBRINGER/ARIA OF FINALITY/ASTRAROTH VOID
•FREDRATSAILOR- HOUSE DAGARIUS/LOYALIST/SCION AUCTELLER/KAVAN/INVINCIBLE HONOUR
•GANDERS- HOUSE PHORGAL/TRAITOR/SCION ASPIRANT/FATES WARNING
•GRAND MASTER LAERTES- HOUSE RAJHA/TRAITOR/SCION ASPIRANT/DATA THE WATCHER
•KURAMA- HOUSE HERMETIKA/LOYALIST/SCION ASPIRANT/VIRIDIAN/OBSIDIAN
•NINJAMAN- HOUSE MAKABIUS/LOYALIST/SCION IMPLACABLE/THE LANCE OF DAWN
•PETERH- HOUSE ORHLACC/LOYALIST/SCION IMPLACABLE/THE BLEAK TRIUMPH OF REASON
•POOM- HOUSE AVON/TRAITOR/SCION ASPIRANT/BOURNE
•RANDOMMARINE- HOUSE ROHAN/LOYALIST/SCION DOLOROUS/IRONHELM
•RANGAMAN- HOUSE ÆRTHEGN/TRAITOR/SCION DOLOROUS/WRÆKON DREOR
•WITCHKING501- HOUSE HAWKSHROUD/LOYALIST/SCION ASPIRANT/BARTHANIEL











Hyperlinked posts to over views of knight houses covered in fortnightly post.

•HOUSE TERRYN
•HOUSE VORNHERR
•HOUSE MALINAX










A self contained record of all Freeblades home to the Bolter and chainsword

•CRAZYTERRAN- REAPER ETERNAL/CASTIGATOR










An individual overview and summary of each pattern of chassis and load out of every possible knight titan.

•Questoris Knight Paladin-

[i]Amongst the most widely used mark of Knight Armour, the Paladin is renowned for its rugged dependability and the versatility of its Weapons array. There are few challenges on the Battlefield that cannot be met and overcome by the combination of brute force, agility and stubborn resilience represented by the Paladin Armour. A Scion mounted in a Knight Paladin Armour can lay down a withering hail of blast and shrapnel, yet despite the utility and firepower of the battle cannon, many scions still favourite the use of the Reaper chainsword, considering it more honourable to stand face-to-face with their enemy.

These armours are little different from the ancient war machines carried to the stars by the first long March colonists. Only the hand-forged and intricately embossed Armour plating separates them from those early exo-armours, and many of these machines have fought in the defence of mankind for long centuries, bearing the honour markings from wars long since forgotten on their plating.
So the Questoris Knight Paladin is a very decent troop choice when put in perspective, at 375 points stock you get the option of 2 Battlecannon profiles;
•The Questoris Battlecannon- a 72" Strength 6 AP 3 weapon that fires 3 ordnance level 5" templates at the enemy, perfect for nuking power Armoured marines in a highly Marine dominated meta.
•The Rapid-Fire Battlecannon- a 72" Strength 8 AP 3 weapon that sacrifices a 5" template but can glance AV 14 on a 6, perfect for Tank hunting and can even help in wrecking higher profile units.
Now looking at the start line your pretty much guaranteed to hit most things on a 3+ if you don't change him to a Scion Aspirant (admittedly -35 points can help if your finding yourself points heavy but ultimately you need to weigh up the pros and cons of a -1 WS/BS and 5+ Inv save). Now if your versing xenos or lightly Armoured enemies don't pass on the bio corrosive rounds for the heavy stubbers; 10 points each is a pretty decent Upgrade for 4+ poison especially with the likes of high toughness units such as primarchs running around the battlefields.
Now as tempting as it is to charge head first sweeping your Reaper chainsword just remember we can stomp the enemy to death which sometimes is the best option.
So utiliser your paladins, realise they can work in any rank but if your running them consider them alongside the Errant to fill your troop choices and hold those objectives.
Please note: I do not yet have the latest Crusade Imperialis list but I will edit in the cost of equipping carapace mounted Weapons, you can now equip all Questoris Knights (minus the Cerastus chassis variants) with the Iron Spear, Storm Spear & Twin Icarius Autocannons)
•Questoris Knight Errant-
•Questoris Knight Gallant-
•Questoris Knight Crusader-
•Questoris Knight Warden-
•Questoris Knight Renegade-
•Questoris Knight Styrix-
•Questoris Knight Magaera-
•Cerastus Knight-Castigator-
•Cerastus Knight-Archaeon-
•Cerastus Knight-Lancer-
•Cerastus Knight-Atrapos-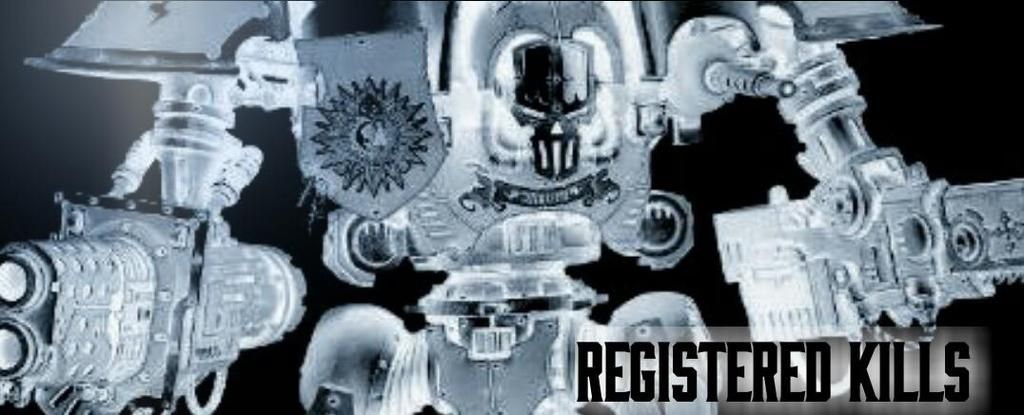 All posted Battle reports will be recorded here with links to the original post.
As we developed tactics we will post overviews from hammer and anvil deployments to creating kill zones utilizing your knights to their peak efficiency
A new addition is the oath bound, for those of you who choose to join a titan legio and fight alongside them as bonded brothers. All Oath Bound will receive a custom banner for their titan completions.
There are 4 ranks to achieve for those of the Legio Titanicus, recorded below will be those that have met the criteria.
•DARK BJOERN- VENERATOR TYRANNIS/LEGIO ASTORUM/WARHOUND TITAN/PRINCEPS
•FREDRATSAILOR- CALIX ASTELDAS/ALLIED TO HOUSE DAGARIUS/WARHOUND TITAN/PRINCEPS
•POOM- SYRGALAH FIRST HUNTRESS OF LEGIO AUDAX/WARHOUND TITAN/PRINCEPS
Edited by Kurama, 11 July 2016 - 04:36 AM.