The Inner Circle presents: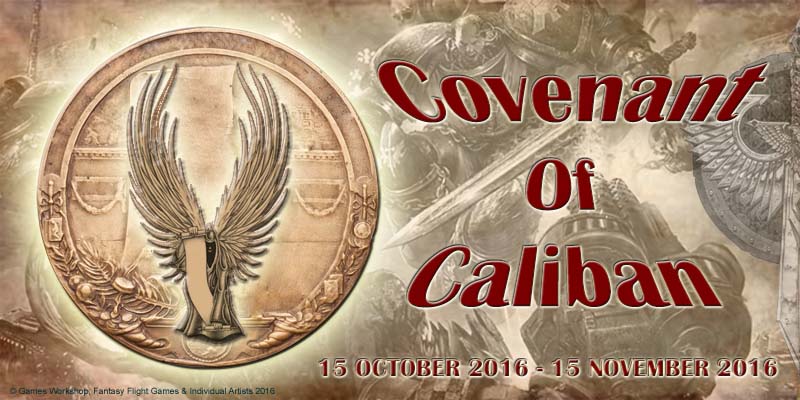 The floor stood littered with Oaths of Moment that had been unfulfilled over the course of time. The reasons for the failure were both numerous and varied. The marines of the Inner Circle stood in silence over the pile. One amongst them lifted from the pile an Oath and read to himself the prior promise. To the one marine, the goal was both attainable and notable. Looking at another one, it was possible to complete it with the changes that have occurred since the Oath was made. "Many of these can be completed now."
From the darkness, the cloaked form of the Shadow Guard stepped forth, "Indeed. It is time that these Oaths be fulfilled and raised in honor."
"Then let them be raised up as new Oaths."
"And let this be a new covenant for the Unforgiven, that we will return to this chamber and bring forth some of these so that they may be returned to a place of honor."
INTRODUCTION:
The Covenant of Caliban is a Dark Angel Forum Event series aimed at having participants vow a single unit and bringing in to completion no matter that current status of the unit (still in plastic, partially assembled, base-coated, or partially painted) and completing it in a month's time.
HOW TO ENTER:
1. Make an oath in this thread in the following manner:
I, <<YOUR NAME>>, OF THE <<CHAPTER / FIRST LEGION>>, IN THE NAME OF THE LION, MAKE THIS OATH OF MOMENT TO FINISH <<INSERT UNIT OR CHARACTER HERE>>.
2. Take a before photo to be placed in the same post as your vow.
3. Work to bring your vow to completion.
4. Post a second photo of the completed unit to be posted by
Midnight of November 15, 2016
. (B&C Board Standard Time)
5. Claim your reward.
RULES:
Only a SINGLE VOW will be allowed for this event.
The Vow must be a SINGLE UNIT that is Codex or Legion Legal. No Formations are allowed for this event.
The Vow can be in ANY state of construction/painting when then vow is made.
REWARDS:
Once you make your oath you may wear the following banner in your signature:

+ + + PRAISE BE THE LION + + +
OATH BEARERS
Completed = 16
Failure = 12
Edited by Darkn3ssF4lls, 16 November 2016 - 01:46 AM.