++ INCOMING TRANSMISSION ++
Brothers, the dogs of Lorgar have shown their treachery today.
Let them know that the Sons of Guilliman do not fall so easily,
and make them pay for their betrayal of the Emperor in blood and death.
Courage and Honour!
++ END TRANSMISSION ++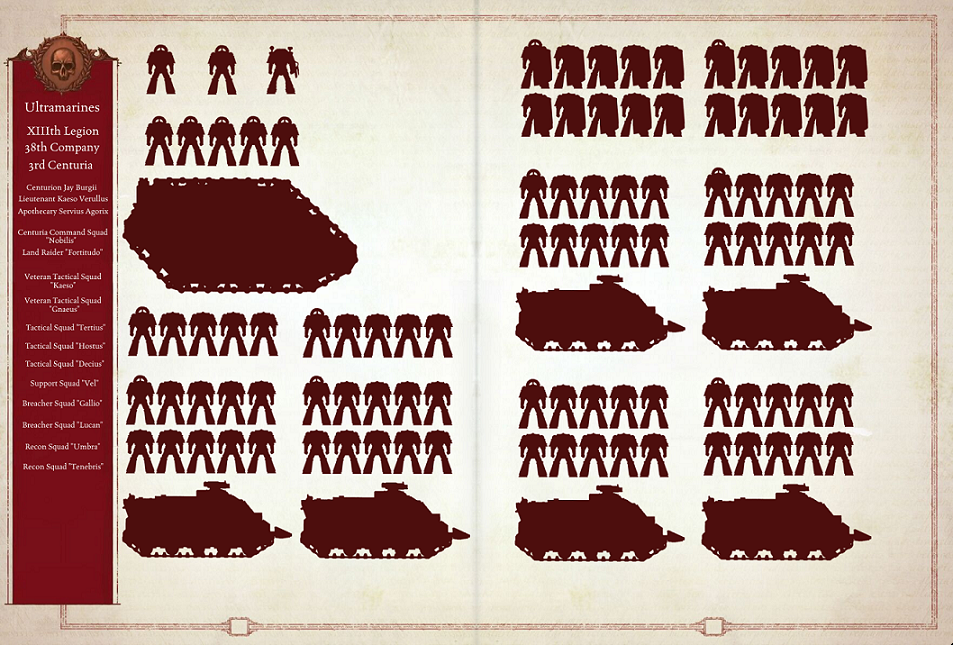 ++ Centurion Jay Burgii and Cyber-Hound Dag ++
++ Hailing from Old Albia on Terra, Centurion Jay Burgii was inducted into the XIIIth Warborn following the Osiris Rebellion. Steadily rising to the
rank of Centurion, Jay was destined to only ever be a Line Captain, his Superiors believing he lacked the Necessary qualities to rise much further.
A Stoic and uncompromising demeanor has lead many to believe he was destined for the XIVth Legion, but the casualties
sustained at the hands of the Psybrids lead to his recruitment into the XIIIth instead. Seen here accompanied by his Cyber-Hound Dag. ++
++ Apothecary Servius Agorix ++
++ Long time friend of Jay's, Servius has served with the 3rd Centuria since his induction in to the Brotherhood of the XIIIth's
Apothecaries. Witnessing the loss of so many loyal warriors of the Emperor at Calth has lead Servius to become a
shell of his old self, grim and brooding where once full of brotherly camaraderie and humour.++
++ Veteran Squad Kaeso ++
++ Whilst the majority of the 38th Company were stationed at Erud alongside the rest of the 3rd Chapter during the muster at Calth,
Veteran Squad Kaeso were accompanying Captain Jay as an Honour Guard within Numinus City itself when the atrocity began.
Battling in the heavy fog that fell upon the city and facing hordes of traitor scum and never-before seen horrors, it would be hours before
they were reunited with what little was left of the 38th. ++
++ Tactical Squad Tertius and attached Rhino++
++ WIP Veteran Tactical Squad Gnaeus ++
++ WIP Legion Sicaran ++
This is actually further along than in this pic, only needs transfers applying now and its finshed!
++ WIP Command Squad Nobilis ++
Some of you may recognize my thread from the WIP part of the forums but I thought I would post them over here in the Ultras subforums as well. The plan is to get a playable fully painted 2000 point force done as soon as possible as I would really like to start playing 30K/40K, something I have never done in 14/15 years of me actually collecting warhammer.
Once the 2000 point force is done, I'm slowly going to try and paint the entire 3rd Centuria (the pic at the top) with supporting elements. To some it might not be that great of a task, but I'm not the fastest painter in the world unfortunately and I have a tendency to get side tracked by other shiny things! I'm currently working on the 2000 point list, but will post it up when I feel like I am happy with it.
For now, heres just a few WIP pics of what else I am currently working on for the army!
Also built and basecoated I have 5 Suzerain, a Land Raider, 5 cataphractii with another 5 in bits, another tactical squad and the B@C contemptor. I thank you all in taking the time to read/view my log and I'll try and do my best to churn out some painting in the meantime!
James
Edited by Wulox, 30 November 2016 - 03:40 PM.