I'll do my best to keep you updated here, proper news shall be in the news and rumours, mainly discussion here.
Garro has released the first snippets.
First post of the event, sales stand is being set up as I type.
-The terminator assault cannons and storm shields are here
-inferno of course
- new character series custodian, don't recognise the name.
From M_R_Parker: legio Custodes Tribune Ixion Hale: £45
Inferno: £80

From imperial truth about Valdor: He's a beast. 5A, 5W 4+ on wound roll is instant death.
Warlord-Sinister Pattern Battle Psi-Titan 3,250 points of amazing and able to 'heal' its HP.....
From Garro:
INFERNO COVERAGE PRT1
please note, I will NOT be sending out photos or posting full page rules, please do not ask for them.
THOUSAND SONS
warlord must be a psyker
any independant character HQ choice can purchase mastery level one and exchange a power weapon for a force weapon for an additional fee
cult arcana, each squad chooses a cult (troops choices must be same as warlord) and gain access to a specfic psychic discipline and an additional bonus, there are 5 cults listed.
if any 1Ksons unit suffers an a wound (unsaved) due to perils, every 1kson unit in the army must take a pinning test
if all indepedant characters in the army are killed the rest of the force suffers -1LD
GENERAL UNITS
praetors may take up to 1-3 mastery levels
veteran squads and terminator squads can purchase brotherhood of the pysker
wargear
item that can ignore the first perils caused wound
plasma cannon with soul blaze
Asphyx rounds (bolter type weapons)
weapon gains shred, various points causes for certain units
UNITS
Osiron dreadnought
contemptor upgrade, gains psychic pliot (lv1), admanitum will, and repaces dreadnought close combat weapon with force blade with combi-bolter (aphyx shells)
special type of castellax
basically plain castellax which uses pyskers instead of cybernetic cortex. only has mauler cannons
SEKHMET terminators
basically terminators with force weapons instead of power weapons, also brotherhood (lv2)
Khenetai occult blade squad
twin force swords, bonuses for more models in squad
brotherhood (lv1)
Ammitara occult intercession cabal
super scouts with access to melta and plasma guns
brotherhood (lv1) with their own special power which gives rerolls to hit and wound, plus ignores cover
RITES OF WAR
number 1
passes all morale and pinning tests while in 6" of an objective
overwatch at BS2
reroll to hit and wound against enemy units which are falling back
all troops choices must be max size
number 2
roll 2d6 for warp charges, and take the highest
terminator armed models may deepstrike, gain fear and may reroll failed invuln saves of 1's until the begaining of their next turn
Sekhmet terminators are complusory troops for this rite
magnus the red is a HQ choice (complusory) not a lord of war as usual
warlord must be magnus, arihman, or praetor with mastery level 3
no allies or fortification
must have less vehicles than units with LA:thousand sons
CHARACTERS
ahriman
mastery level 4
3 1kson units gain scout as his warlord trait
his command squad may take brotherhood of the psyker
mastercrafted force axe
Magistus Amon
master of spies, mastery level 3, allows a single non-superheavy non-flyer unit to deploy by outflank on a predetermined turn
MAGNUS
just under 500pts
mastery level 5
passes warp charge on 3+, must roll 3 6's or more to perils, and rerolls 1's on the perils damage chart
terminators and sekhmet terminators are troops
2+/4++ armour with -1 on the strD damage chart
any unit in range, is considered to be in sight for psyhic powers, and all said attacks have ignores cover
enemy attacks are -1 to hit against him, and barrage weapons scatter +1.
when manifesting a witchfire attack, can choose to do it with 'mind wrath' if chosen, the required Warp charge is +2 to before but adds +2d6 str, and doubles the range. if str11 is reached, it becomes strD.
SPACE WOLVES
gain +1WS if they are successfully charged, and also have counterattack
models without jump packs or terminator armour gain +1 to run and consolidation moves
ignore night fighting, may reroll outflank, and infiltrators may not deploy within 18" regardless of line of sight
consuls may not be chosen as compulsory HQ choices
must take at less 1HQ for each 1,000pts (1,500pts etc must take 2)
champlain, libraran and primus medicae are not allowed (replaced)
all existing troops choices gain 'support squad'
space wolves have their own Warlord traits (sagas) can ONLY take these, not others.
rites of war
number 1
+1 to reserves
all units without terminator armour gain hit and run, but only run 2d6 rather than 3d6 as usual
successful charges gain an additional +1 to attack (stacks with rage, regular charge bonus, etc)
no artillery or drop pods of any kind
only a single Heavy support choice
number 2
all grey slayer and assault squads must attempt a charge if in range
+1 to combat resolution if in enemy deployment zone
gains a certain warlord trait that allows all units to reroll all charges and run rolls for a single turn, warlord can still get this trait allowing for 2 turns
no allied space marines, and no immobile. artillery or slow and purposeful units allowed either
fernisan wolves can be purchased for praetors or centurions for cost
frost blades are in, blade, axe, claw and great blade are choices
aether-rune armour gives +1W and reroll deny the witch
Deathsworn pack
comes with power axe and bolt pistol, may take rad grenades,
are fearless while in combat, also any model killed before it attack in closecombat, may still attack, instead at I1 as long as the squad isn't wiped out.
Varagyr wolf guard terminators
terminators all with frost weapons
if charges over 6", makes a str5 hammer of wrath attack, chosen warriors, gains +1 to combat resolation if enemy challenger is killed
grey slayers
10-20 man troops choice
1in5 can swap out for power fists etc
start with just CCW and bolt pistol, but can buy bolter, combat shield, heavy chainblade, or power weapon for price
can not go to ground.
may charge after runnning or firing bolters, but has -1" to charge range
Geigor fellhand (from burning of prospero boxset)
ap2 mastercrafted lightning claw,may charge after runnning or firing bolters, but has -1" to charge range
Hvarl Red-blade
up to 3 infantry units gain scout
ap2 +2str axe, not unwieldy
in tartarus terminator armour
preist of fernis
general consul upgrades,
must choose to be a 'speaker of the dead' or 'caster of runes' gaining abilites depending
Leman russ
wolf guard and veteran tactical squads are troops,
all wolves gain +1leadership
sword is ap2 with shred, axe is +2str ap2 sunder non unwieldy
wolfkin of russ
1 model units, take must start within 6" of russ, then run off. pretty nasty against small units or stragglers.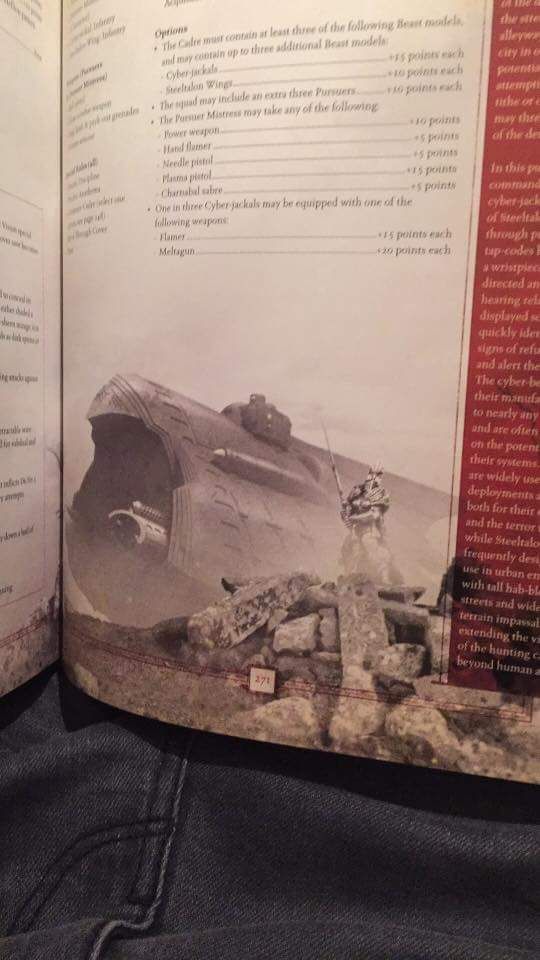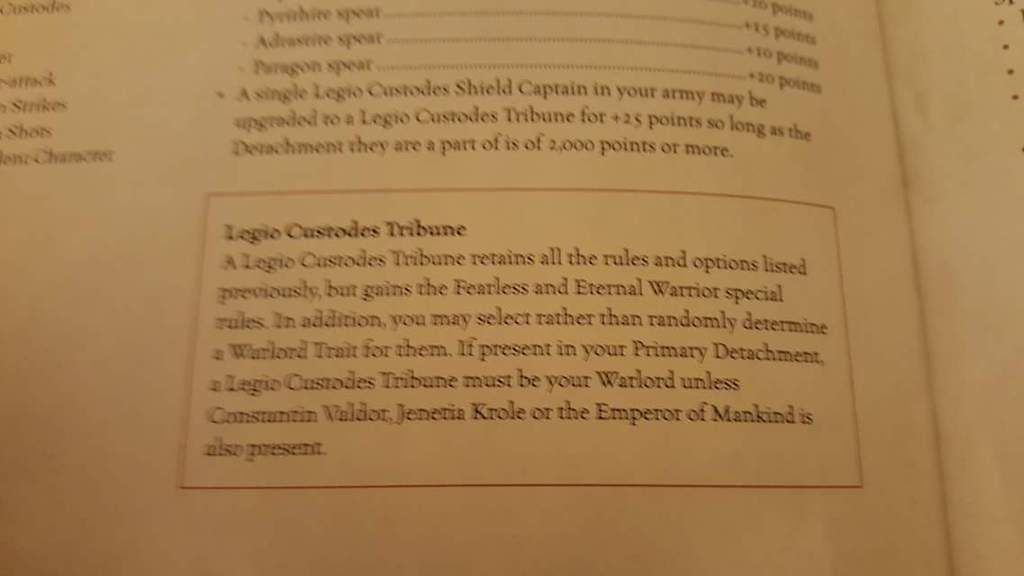 More Via Garro

Sagittarum Guard Squad (heavy support)

More from M R!
then I may post the Custode Termi's. The stats for them are good, but the wargear is insane!
HQ: Legio Custodes Shield Captain
HQ: Sisters of Silence Oblivion Knight-Centura
HQ: Sisters of Silence Excruciatus Cadre
HQ: Constantin Valdor
HQ: Jenetia Krole
Elites: Legio Custodes Hetaeren Guard Squad
Elites: Legio Custodes Aquilon Terminator Squad
Elites: Legio Custodes Contemptor-Achillus Dreadnought
Elites: Sisters of Silence Oblivion Knight Cadre
Troops: Legio Custodes Custodian Guard Squad
Troops: Legio Custodes Sentinel Guard Squad
Troops: Sisters of Silence Prosecutor Cadre
Troops: Sisters of Silence Vigilator Cadre
Dedicated Transport: Legio Custodes Coronus Grav-Carrier
Dedicated Transport: Sisters of Silence Kharon Pattern Acquistor
Fast Attack: Sisters of Silence Pursuer Cadre
Fast Attack: Legio Custodes Agmatus Jetbike Squadron
Fast Attack: Legio Custodes Pallas Grav-Attack Squadron
Heavy Support: Sisters of Silence Seeker Cadre
Heavy Support: Legio Custodes Sagittarum Guard Squad
Heavy Support: Legio Custodes Caladius Grav-Tank
Heavy Support: Legio Custodes Contemptor-Galatus Dreadnought
Lords of War: Warlord-Sinister Pattern Battle Psi-Titan
Ok, I said I would do the Customs Terminators, and I am a man of my word. I will take a photo of their page, and just describe the effects of their wargear and such. I think it's the wargear that's going to make them lethal.

Here's the page from the book that covers them:


Stat wise, they're slightly better than the average Custode, but other squads have better stat lines (specifically the Hetaeron Guard).

Their Aquilon Terminator Armour is based on Cataphractii Terminator Armour that has been "redesigned by the mind of the Emperor Himself for His elite forces"... yeah...
Aquilon pattern Terminator Armour is 2+ / 4++ and has Hammer of Wrath. Models in this armour can fire Heavy and Salvo weapons, counting as stationary, even if they have moved in the movement phase. They may also charge after firing Rapid Fire, Heavy or Salvo weapons. They can't Run, but they can make Sweeping Advances and fire Overwatch. That's some pretty decent armour right there.

Weapon wise, standard armament is a Lastrum Storm Bolter (24", S:5 AP:4 Assault 2, Heliothermic Detonation) and a Solarite Gauntlet (S:x2 AP:1, Master Crafted, Unwieldy). Solarite Gauntlet can go to a Solarite Talons (S:+1, AP:3,Shred Specialist Weapon, Master Crafted). Storm Bolter can be swapped for TL Adrathic Destructor (12", S:5, AP:2, Assault 1, Instant Death, Armourbane, Gets Hot) or a Infernus Firepike (Template, S:6, SP:6, Heavy 1, Torrent)
Oh, by the way, Heliothermic Detonation on the Lastrum, if a model takes an unsaved wound and is not killed must take an immediate Toughness test or suffer Instant Death. Vehicles suffering a Penetrating Hit add 1 to the result on the damage table.

Teleportation Transponders just grant Deep Strike (nice to have on the cheap). Arae-Shrikes are a bit different and have two effects. Enemy models attempting to Deep Strike within 12" must roll a D6 before they determine the result of the Deep Strike - on a 4+ they suffer a Mishap (and this happens for all models, even those that can't Mishap). Plus any unit with a model with a Arae-Shrike targeted by a Barrage weapon, the attacking player must add another D6 to their scatter roll and pick the highest two results. A Hit remains a Hit however.

Don't ask me what Misericordia is, I haven't found it yet.

These guys are nasty...
For the guys wondering about the Saggitarum Custodes - their guns are dual profile: Heavy Bolters and Disintegration Beam (12" Assault 1, Instant Death, Armourbane, Gets Hot). You can fire the Disintegration Beam as many times as you like, but the squad must fire all the same...
From /tg/




Basically a Primarch -1
Via Garro on FB:

Right, I'm going to cover the talons of the emperor in 3 parts. general army rules, then custodes units, and finally sisters units.
so army wider stuff.
preternatural skill, the sodality, and inviolable psyche are unchanged from their WD rules.

custodian armour doesn't give an invuln save, but all units have refractor field so meh.
praesidum shield confers a rerolll to invuln saves (against shooting and in combat), but doesn't give a 4+ anymore, just a -1 to hit them while in combat.
custodes terminator armour
2+/4++, relentless, can't run but can overwatch and sweeping advance
all custodes infantry can by teleportation transponders
Vexilla can be taken 1 per squad, confers fear, reroll failed leadership tests, and +1 to combat resolution to all friendly units within 12" (doesn't stack for multiples)
new wargear option called "arae-shrikes" any enemy unit attempting to deepstrike within 12" of a model with one of these (before scatter) must roll a d6, on a 4+ it suffers a mishap, even if it has rules otherwise (internal guidance systems etc). also causes barrage weapons fired against the squad to roll 3d6 scatter taking the highest.
guardian spear has 3 versions, plain, melta and Adrathic
custodes can have paragon spear (paragon blade meets guardian spear)
cusodes have access to solarite power gaunlets and talons (what imperial fists have, with a lightning claw version)
Adrathic weapons are a set of guns
str5-6 ap, instant death, armourbane, gets hot
adrastus bolt caliver (what the new 'bolter' guys have on the cover)
two versions
30" range heavy bolter, or a disintegration beam which is 12" str5 ap2 instant death, armourbane, gets hot. not a combi-weapon
the arachus blaze cannon has two profiles
burst fire 36" str6 ap5 3shots
concemtrated 48" str8 ap1 1shot, exoshock
sisters of silence
two levels of psychic nulling, best bits reserved for elites and HQs won't go into it here, too much.
all sisters are fearless and have hatred (psykers)
all sisters belong to a cadre, all sisters in a detachment are from the same cadre, gain one of the follow (your pick)
-infilrate
-crusader
-stealth
-overawe (+1 to combat resolution)
execution blade is only ap3, but has duelists edge (+1i in challenges) and is ap2 on rolls to hit of 5 or 6.
have access to needle pistols and an assault2 gun version

talons of the emperor part 2: custodes units
just putting it here squads are all 3-10 men unless stated otherwise.
HQ
shield captain,
standard captain type, full access to armoury, can be upgraded to tribune giving fearless and eternal warrior, may also pick warlord trait.

Valdor
kicks ass as expected.
tons of special rules including but not limited to: eternal warrior, crusader and fearless, his spear is ap2 basic with +1/+2str
bolter rounds in his spear is str5 ap2 concussive
his spear also inflicts instant death on a +4 roll to wound, all successful invuln saves must be rerolled (instant death or not)
gives all custodes get free teleport transponders,and can reroll steal the initiative.
ELITES
hetaron guard squad
basically veterans, 3 attacks base, can mix and match practically any wargear options available to 'infantry' custodes. also have crusader and counterattack.
Aquilon terminators
lastrum storm bolters (storm bolters with heliothermatic rounds) and solarite gaulnets/talons for base. may swap bolters for firepikes (str6 ap6 torrent)
contemptor-achillus
twin lastrum bolters on wrists, refractor field, standard contemptor bar str8 and side 13. can take a spear which is mastercrafted, and which any to hit rolls of a 6, on the turn it charges are strD.
TROOPS
guardian squad
spear guys, can mix and match the three different spears, 1 can take a vexilla
sentinel guard squad (now troops)
shield barracade confers a 4+ cover save not defensive grenades
may swap swords for solarite gaunlets or talons for price.
DEDICATED TRANSPORT
Coronus
troop capacity 12 (so 6 custodes)
12,12,11,hp4
flare shield and machine spirit
FAST ATTACK
jetbike squad
3-6 models, spilt fire, sweeping fire (allows them to fire each of their weapons)
jetbike has a ilastus bolt cannon built in, can be upgraded
fancy power lance
Pallas grav-attack
12,11,11,hp2
flare shield and machine spirit, in squads of 1-3
HEAVY SUPPORT
Sagittarum squad
custodes with 'bolters' guns stats back in other post about armoury. nasty as hell.
Caladius, as on PDF rules, but can upgrade turret to new weapon (heavy blaze cannon)
contemptor-galatus
same as other dreadnought, but with the sword and shield.
shield confers a reroll to his invuln against all attacks against his front arc (and all close combat attacks)
sword is X2str, ap2 shred, rampage, flamer is basically a str6 heavy flamer.
and that ladies and gents is the custodes army list. next onto the sisters of silence....

And Finally, also from Garro

now for part 3: the sisters of silence
HQ
oblivion knight-centura
standard captain type, basic weapon options
4++, improved to 3++ against templates and blasts (including large etc)

Excrusiatus cadre
HQ command squad, higher end wargear options, 2 attacks base,
Jenetia Krole
high end stats (for a non-modified human), rage, preferred enemy(characters & psykers) eternal warrior, sword is +2str ap2 twohanded, muderous strike (5 and 6s) and duelists edge.
can upgrade a single oblivion knight squad into her raptor cadre gaining +1ws.
warlord trait allows her to reroll seize the initiative, and give D3 infantry units scout.
ELITES
oblivion knights
general veterans squad, can swap excuationer blades for power axes for a few points
TROOPS
prosectuor cadre
bolter girls, may swap for twin bolt pistols
Vigilator cadre
excutioner blades, must declare a single enemy infantry unit or IC, all vidilator squads gain preferred enemy against that squad/model.
DEDICATED TRANSPORT
Kharon pattern Acquistor
12,11,10,hp4
carries 12 models
2 TL missile launchers with frag,krak, and psk-out missiles
tank shocks with this vehicle causes D6 str5 hammer of wrath attacks before any death or glory attacks.
vehicle has stealth, and -1BS to any shooting attack that orginates more than 12" away from it.
assault vehicle
FAST ATTACK
pursuer cadre
3-6 sisters include sergeant
3-6 'beasts' either cyber-jackels or bird flock
1in3 cyber-jackels can take flamers or meltaguns in their mouths.
HEAVY SUPPORT
seeker cadre
flamer squad, can swap for grenade launcher with frag, krak, and psk-out grenades
and that's that for today.
see you all tomorrow for the actual main event. expect the first posts before 11am local time (GMT)
New thousand sons:




Lots of stuff popping up on my facebook feed: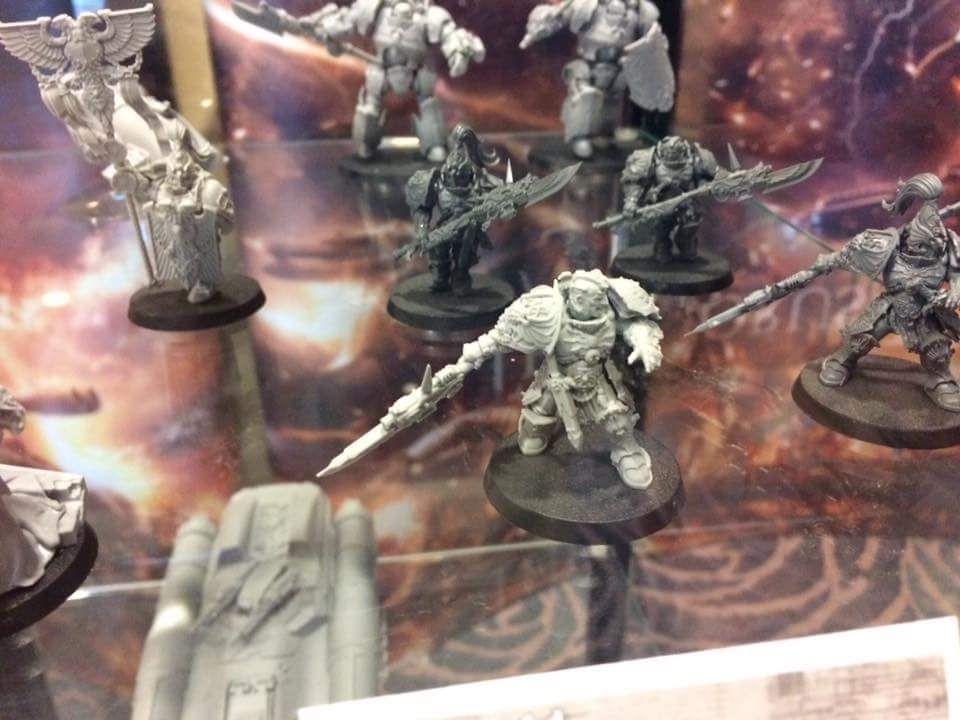 Some new Custodes things, via Garro






https://scontent.xx....b8e&oe=58981B63

https://scontent.xx....72e&oe=5897F842
From battlebunnies: VOLKITE DUNECRAWLER!
https://3.bp.blogspo...00/IMG_2054.JPG
Not posted in this thread yet...

http://is2.4chan.org...86145536134.jpg
http://is2.4chan.org...86146161093.jpg
What's in Angelus?
What's in the book:
1) blood angels legion
2) dark angels legion
3) daemons
4) dark Mechanicum
5) night lords
Edited by helterskelter, 05 February 2017 - 02:34 PM.