Bloodied Waters
+++++DATE OF TRANSMISSION: 910.M41+++++
+++++SYSTEM: SIGARD SYSTEM+++++
+++++PLANET/COLONY: MILITARY COLONY 29378 "ANDERA"+++++
Flee, for the love of the tyrant, whoever finds this message, flee. They came from the dark, clad in pale grey and black. We laid out traps for them, welded gates shut, isolated them but... it didn't help us at all, it made everything worse. After brief encounters in the lower levels, the invaders managed to destroy the generators. Everything is dark, it has been for two weeks. The heating has been defunct for nearly three days, I believe. It is hard to tell the time
. Even the Mantis Warriors assigned to this station were no match for the Pale Nomads. We'd seen brutal Astartes, aye, the Executioners. But they were laughing and yowling maniacs that threw themselves into the breach, hungry for glory and blood.
Those...those creatures were different. Silent and shrouded in fresh blood. Like revenants they broke free from the dark and tore us apart. They did not heed our initial warnings, nor the piss-soaked begging and pleading that followed. We were wrong. We were foolish to turn away from His light. I see that now. This is why they are here, these revenants. To collect the blood that we had refused Him-on-the-throne.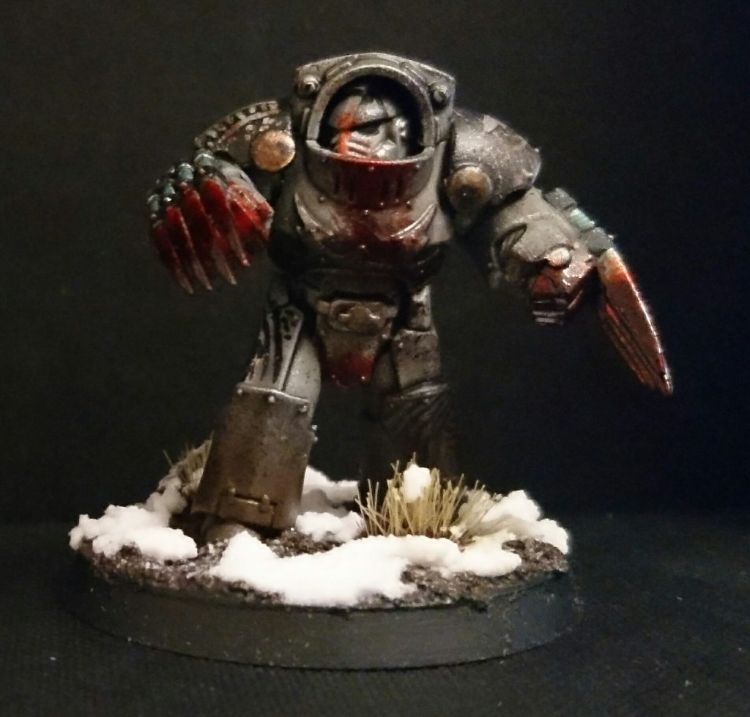 I remember how Ianosh and his regiment had tried to work out a peace treaty with them. He had tracked them to a habitation bay, which is where he also chose to confront them. Stupid moron. I was in safe distance then, I believe. Who knows how close some of them may have been. I'd seen everything through the inbuilt transmiter in Ianosh's helm. The creatures had stood still, covered in viscera and greasy tissue, their oily-black eyes locked on the men who were laying down their lasguns. In a matter of seconds, the men had died. Punishment was to be absolute.
I could hear the crunching of bones and the tearing of flesh through the vox. I shudder at the merest thought of what they had done. That the Emperor would employ such savage beasts to punish us, who would've guessed. We all had long since capitulated, laid down our weapons, but to no avail. They won't stop until only they dwell in this darkness. Their shadow lies upon this iron tomb. Our tomb.
My tomb.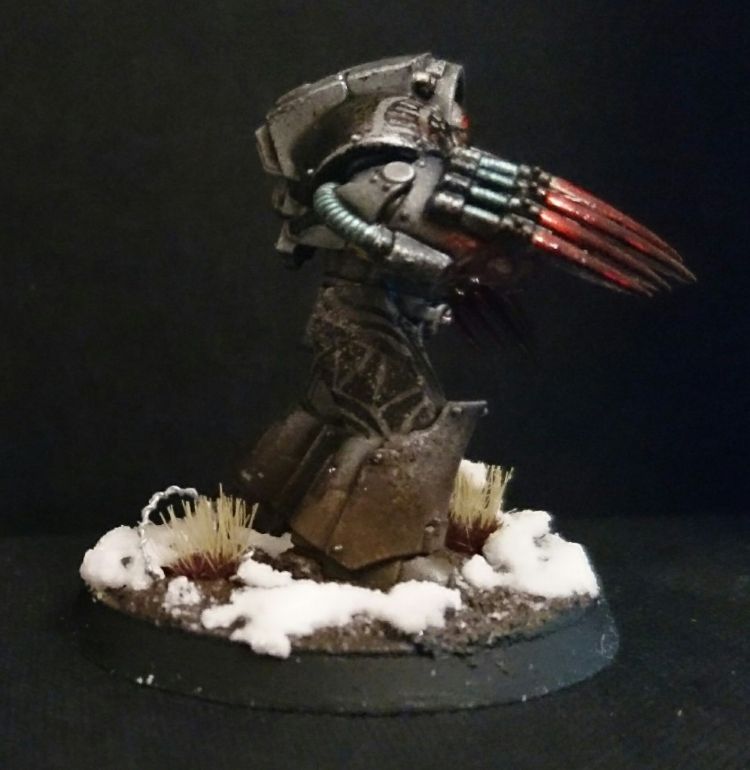 I am starving. I haven't eaten in almost two weeks. Had I the chance, I'd eat one of the soldiers, no doubt. I am no strong man, I know. But I am afraid to leave. Sometimes I awake from my night-horrors, only to see the surrounding dark as I gasp and claw for fresh air. I hear them more frequently now, the hard clanging of ceramite upon steel is one of a kind, much like the hiss and the thrumming of tactical dreadnought armor. Never seen such a pattern. Colonel Baruhk had called it the "Tartaros" pattern, whatever that is supposed to mean. Old fool had died of a heartattack. Lucky bastard. The rest of us is stuck in this iron will, too desperate to fight, yet too scared to pull the trigger.
Dear Emperor upon Terra, if you hear this, end me in my sleep, I beg you.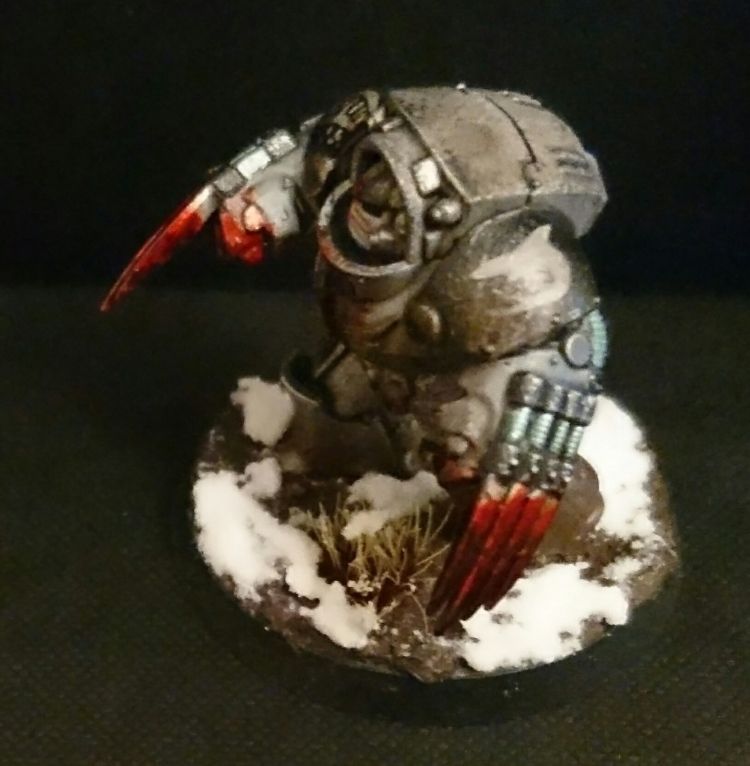 My time is comming to an end. I can barely hold my tablet, not to speak of typing. I miss the sun of Badab Primaris. Well, I miss the sun in general. Haven't seen her in, I believe, a month's time. No light at all, not a single lumen. I've forgotten how water tastes, only thing I had was piss and blood. I am sick of raw meat, just can't stomach it. The warm, slightly steaming, acidic pile next to me is testament to that.
I have no ammo anymore, but I have a knife. The desperation is too strong.
I can't take it anymore.
Emperor forgive me.
-------------------------------------
Inquisitorial annotation: Subject was found with a slit throat, presumably self-induced. It is to be noted that, according to transcripts of the Red Scorpions chapter, the Carcharodons Astra had left this particular station 9 standard-Terran days after the initial assault. Who, or what, the subject had heard, is unknown. Fear and famine induced hallucination is possible.
+++++END OF TRANSMISSION+++++
Edited by Brother Tyler, 08 April 2017 - 03:04 AM.
Tags edited