Hey folks,
I was originally going to merge this with my 30K Word Bearers, but decided that while they are technically Word Bearers of the Chapter of the Sacred Vessel, these guys represent their evolution 10,000 years from my Heresy Era force and thus merit their own thread.
The Kill Team is led by Corphyaeus Batir Harazk, who some have seen in his 30K incarnation as my Delegatus. Fast forward 10,000 years and while he still plays the role of Diplomat in regards to the Traitor Legions, he's also responsible for the Chapter's Cult Militia. It has become customary for Harazk to lead a Vanguard to Imperial planets chosen for corruption and personally assist with recruiting the base of their Militia but also with the sabotage of the Planetary Government through various means, including guerilla warfare and small scale open warfare.
So here's Coryphaeus Harazk, back when he was Delegatus Batir Harazk: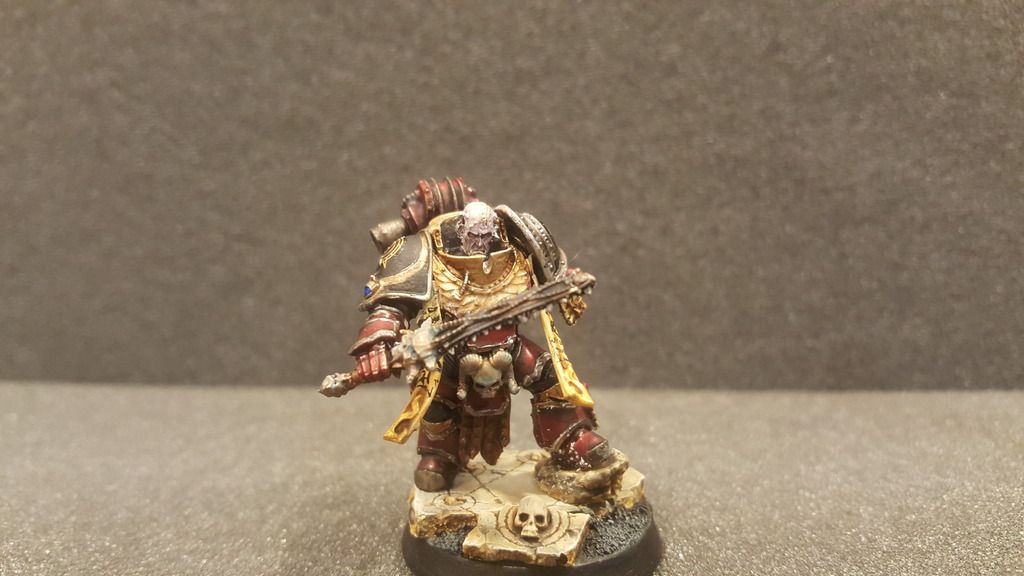 And here he is in M41:
Funny what 10 millennia will do to a man. His 40K model is actually carrying something that is also a little easter egg from my 30K Word Bearers... the Paragon Blade of the Chapter's Praetor. I have some background in mind for all of this, but the idea is to also leave a little mystery as to what has happened to the major players of my 30K force.
Next up are the Shadow Operatives of the Word Bearer Kill Team. These guys have made it a career of infiltrating hostile territory and sowing disruption and taint.
I've utilized Evil Craft Chaos Space Marine models not only for their excellent attention to detail, but also because they're actually true scale. Each one is about the size of a GW / FW Terminator, as you can see in these photos:
And what would any Chaos Marine force be without it's disposable meat sacks?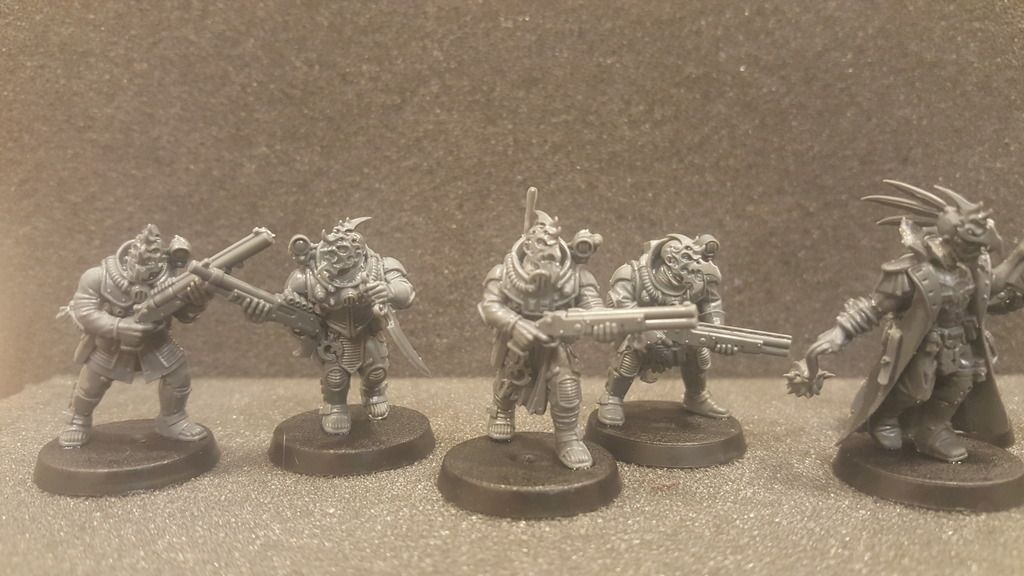 Interestingly, I came up with the idea for these guys before I did the Marines. My original intention was to run a Kill Team comprised mainly of Cultists with a Champion leading them and perhaps a Gunner or something. Unfortunately, the Cultists in Shadow War are mainly just relegated to meat shield status, so that had to be abandoned. I absolutely love the Genestealer Cult Neophyte kits and as they're wearing standard Imperial issued work suits, they work well as the common citizen. I wanted to give them a more... unnerving... look, so I used the Kairic Acolyte heads, which will be painted as golden masks. I purposefully used some of the hybrid hands / arms, they'll represent Warp taint on these guys. I still need to apply some greenstuff to their necks and do something about the Genestealer Cult icons. I was also able to put together a bit of a "Leader" for them using the Chaos Cultist Leader from Dark Vengeance. It was a happy coincidence he's armed with a Shotgun.
Next is one of my Special Operatives... a Chaos Spawn (as seen with his master)
I wanted a Spawn. It makes sense with Word Bearers, considering they worship the Dark Gods more than any other Traitor Legion. However, the GW Spawn models are a bit uhh... goofy. Thankfully, FW made an amazing and really creepy model for Warhammer Fantasy, the Nightmaw. It worked out too, my buddy plays AoS Tzeentch so he bought Sayl the Faithless off of me. I LOVE this model.
Finally, a little group pic for more scale and everything I have so far for the Kill Team together:
The group pic really shows off how much these tainted Astartes dwarf humans.
My starting list is as follows:
Aspiring Champion – 305 points
-Mark of Tzeentch
-Power Sword
-Bolt Pistol
-Camo Gear
Chaos Gunner – 305 points
-Mark of Nurgle
-Autocannon
-Red Dot Laser Sight
-Camo Gear
Chaos Space Marine – 195 points
-Mark of Nurgle
-Assault Blade
-Boltgun
-Red Dot Laser Sight
-Camo Gear
Chaos Space Marine – 195 points
-Mark of Nurgle
-Assault Blade
-Boltgun
-Red Dot Laser Sight
-Camo Gear
Not the largest Kill Team in the world (especially compared to my Blood Axe Team), but they'r'e well equipped right out of the gate. I do intend to add Cultists as the game progresses to represent my Word Bearers recruiting planet side. I do have something down the line for a Terminator, but since he has to be true scale I'm going with a very non-traditional base. There's also another Evil Craft order coming for a second Autocannon Marine as well as some extra bits (think dual Sword wielding Khorne Marines).
Edited by DuskRaider, 05 May 2017 - 09:36 AM.