I've mostly lurked on the sisters forum, but I thought it was time I posted pictures of my army, since I just posted some of my tanks over on the finished models sub-forum.
As background, I painted most of my sisters in late 2nd ed., early 3rd. ed... meaning most of them are about 15 years old, and thus kind of beat up.
I've played across a bunch of codexes, mostly with the sisters "codex" in the back of the 3rd ed. rulebook (the worst ruleset they've had), then the rules for them that were released in WD (the "chapter approved" rules - the best ruleset for them that I played under), and finally under the witch hunters codex. I've also played a little under the most recent chapter approved rules.
My sisters unusual colour scheme is because they were originally an order of sisters dialogus who were given militant status after arming themselves to defend against an ork incursion. They speak an unusual version of high gothic which they feel is "truer" to the language once spoken by the Emperor himself, which is why all the words used on the models are French.
Anyway, here are my vehicles:
Here are the last the tanks.
My exorcists - from before there was an official model or any indication as to what they should look like. The turrets are made from the valves inside household taps/faucets:
They can also be fielded as immolators, but I never do so: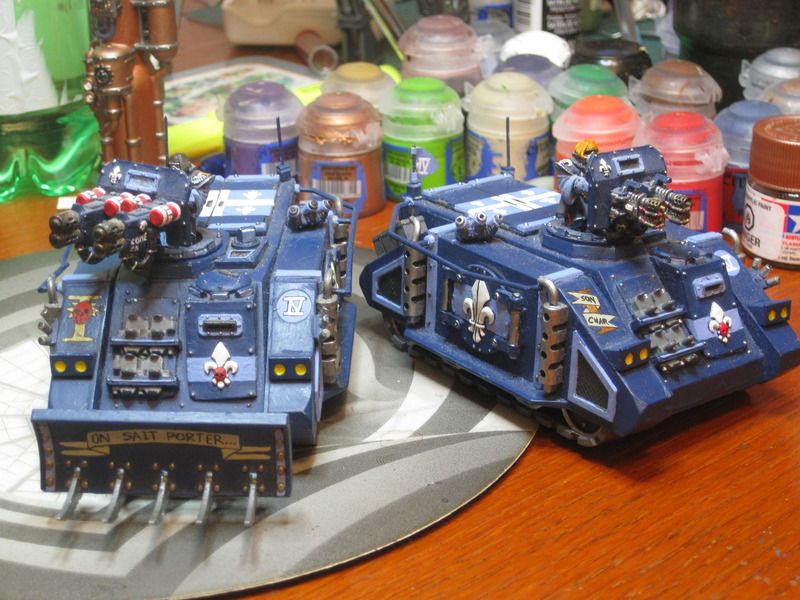 My rhinos:
Inquisitor Psychologis Ruminahui
Edited by Dr_Ruminahui, 17 June 2017 - 07:35 PM.