Update 8/6/2018: LINKS TO TUTORIALS
Hey all,
What a year so far for our hobby! If you told me a couple years ago that GW would do such a 180 from their course at that point in time, I would have laughed. But here we are with a very promising future, not just for the gamer but the hobbyist. I would have never believed we'd see dedicated armies for the likes of Harlequin, Genestealer Cult, and now Legion-dedicated forces.

Which brings me to this topic and it's title. I started this game back in 2003 knowing nothing about the background, how it was played... anything. I remember when I was much younger watching guys battle it out with tanks in dense city ruins at an old store long since closed and ever since wanting to know more.

So I took the plunge. I started with Death Guard because the idea of space zombies was too cool to resist, being a big Romero fan. I was also lucky enough to start right around when 3.5 dropped, so I began my journey into Chaos in it's golden age.

My first army was... interesting. Knowing nothing of the Legion's background, I painted them green like GW told me to. They had blue skin to match the undead in the original Dawn of the Dead as an homage. God, they were ugly. As time progressed, I soaked up all knowledge of the XIVth, learned of their tragic fall, their favored tactics, and so on. I repainted the army in a (rather poor) Pre-Heresy scheme around 2005.

I had amassed a massive force (all metal models, of course), taking advantage of various local hobby stores going out of business or selling off their GW models. Around 2008 or so, FW had begun their Siege of Vraks series and with it some great models and upgrade kits. At that point, I began to completely rebuild the army using the Death Guard upgrade kits. My painting technique began to improve and so the new scheme was much better than it's predecessor, and I believe I have an OLD thread lurking somewhere on here from around that time.

The gaming portion of the hobby began to stale. The holy scripture that was 3.5 was phased out in favor of the bland 4th Edition codex. As far as things went, I suppose I made out the best of that bad situation, with Plague Marines become even more powerful at the cost of everything else losing all flavor. I made do and eagerly awaited the next edition's book as the response to 4th was universally panned. Then 5th came. Nothing.

The 6th Edition codex dropped at the time of the new edition itself being released, and... wow. What a disappointment. I was pleased to see Plague Zombies make an appearance, but the rest just felt like a reprint of the previous book. With this unfortunate situation and FW releasing Horus Heresy, I closed the book on my Chaos Death Guard, seemingly forever.

Over time, I sold most of the army off. I had moved onto 30K Death Guard, I had no need for Nurgle.

But... Well, now here we are. A Return to the past. The beginning. It's like meeting an old friend you haven't seen in years.

I must apologize for this massive introduction, but I felt it was necessary to explain how near and dear to my heart the Death Guard truly are. This is my Legion and it feels so good coming back to them after years away.

Of course, things have changed quite a bit, both the army itself and my painting skills. One thing I wanted to avoid was falling into the trap of making the models dull, as I feel occurred with my last iteration and even my 30K Death Guard. I'm not too sure where I'm going with the scheme... I was contemplating avoiding green trim completely in favor of black or even red, but I don't know yet. For now, I've finished the white and am extremely pleased so far. I want to capture another side of Nurgle with brighter, possibly some vibrant colors.

You'll notice on some models I've also dabbled a bit with crackle paint. I didn't want to overdo it, but looking at them I feel perhaps I was a little too conservative with it. I'm okay with that, I have more on the way and perhaps I'll step it up a bit with them.

Enough rambling, I present you the beginning of my new Death Guard army. I'll also be pulling some models out of storage to join these guys on their new Unholy Crusade. Until next time, comments and criticism is greatly appreciated.

COUNT THE SEVEN!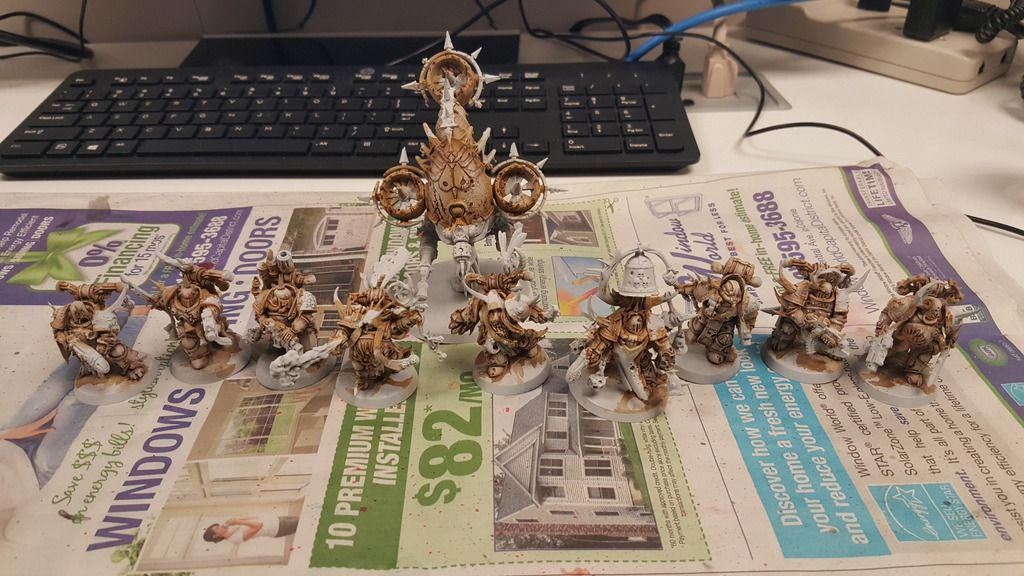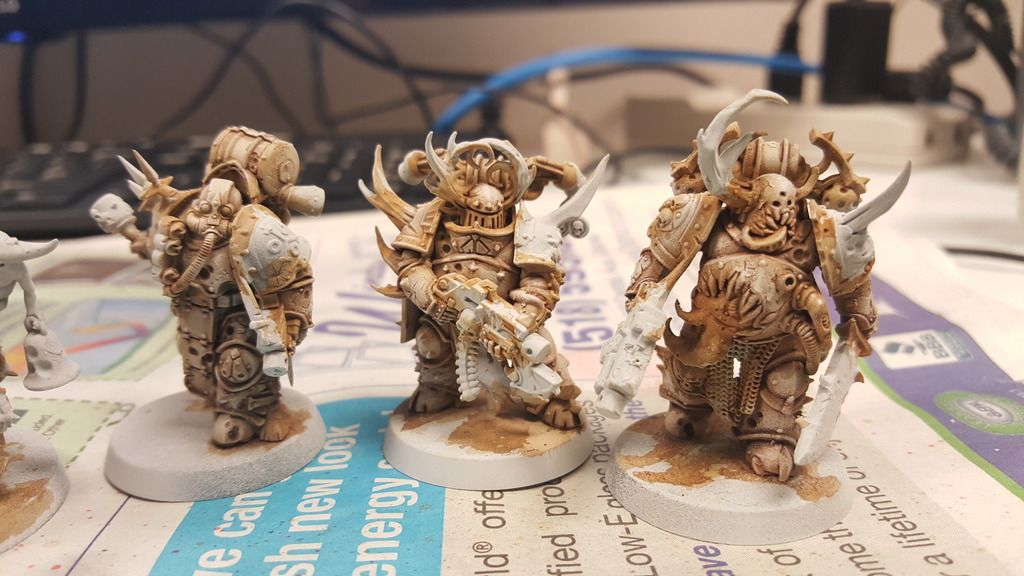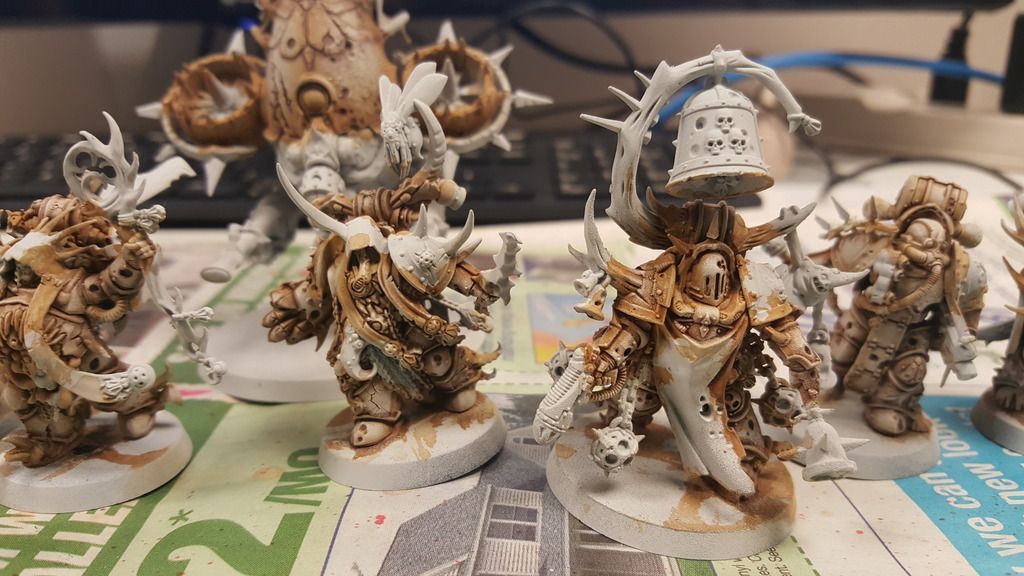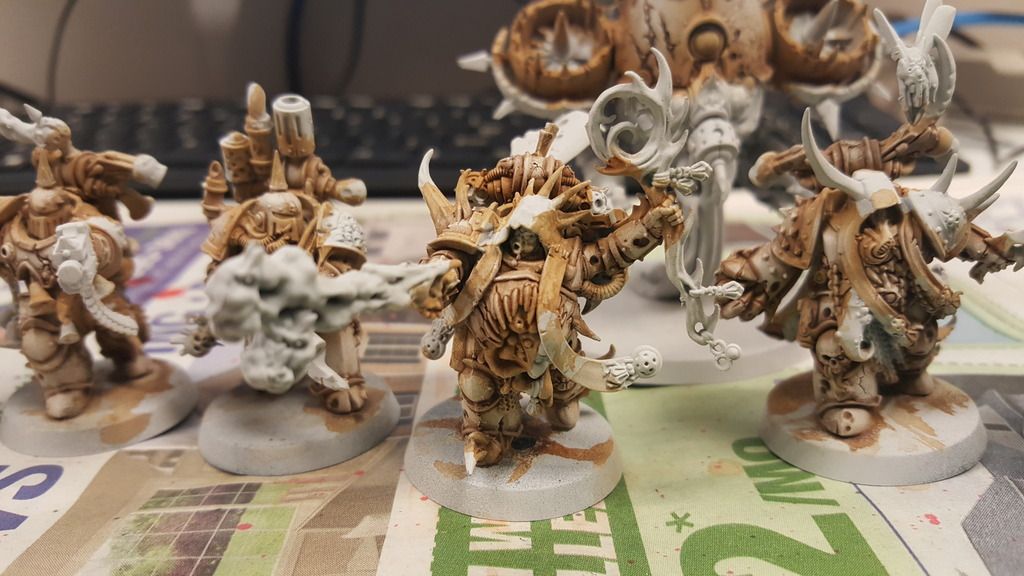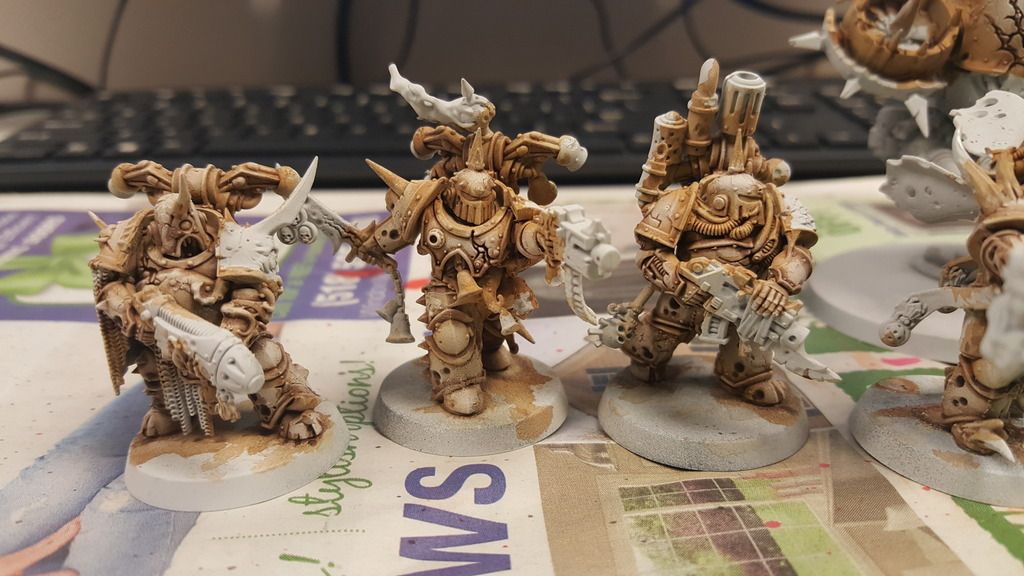 Edited by DuskRaider, 30 October 2018 - 07:50 AM.