+++AGE OF DARKNESS LOYALIST OUTPOST+++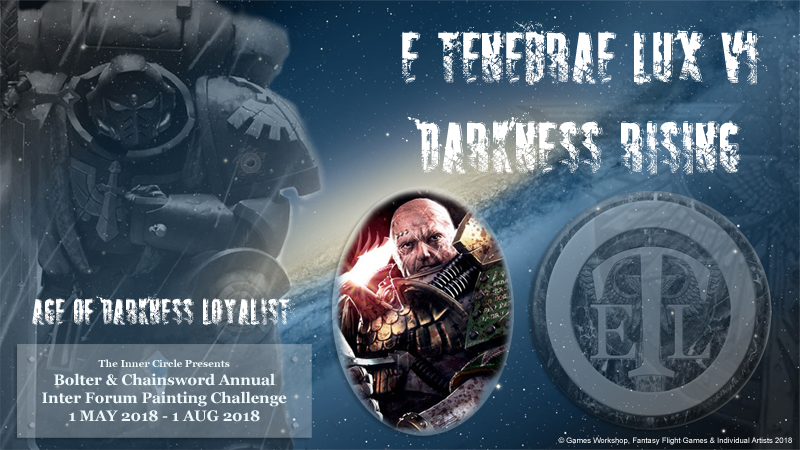 Welcome to the Age of Darkness – Loyalist (AoD-L) Outpost. AoD-L belongs to the "Age of Darkness" Faction (AoD). Here is the home for those Horus Heresy fans of a Loyalist inclination.
HERE IS WHERE YOU MUST POST YOUR VOWS
Here you must also post your "before" and "after" pics of your vows as well as any WIP you may want to share. You may also use this thread to discuss the progress of the event with your fellow participants, exchange ideas, offer and receive modelling/painting advice and generally have some ETL–related fun!
You can vow any Units from all official Black and Red books or PDFs (even experimental) – provided the points are taken from the latest version.
IMPORTANT NOTE: THE COLOURS OR LOYALTY AND TREACHERY
The only limitation is that participants of the AoD-L Outpost cannot choose units explicitly labelled "Traitor". Other than that, there is no restriction. You can paint whatever Legion or other HH sub-faction you like provided you respect the condition above.

IMPORTANT NOTE: TITANS ARE TITANS
It is a fact that the AoD Faction will suffer from a discount in points vs. 40k for similar units. This is not viewed as an overwhelming handicap in general, but we believe it is especially unfair for Titans. As such, for Titans and Titans only, the AoD faction will be using the 40k points, i.e.
Warhound: 2,000pts
Reaver: 4,000pts
Warlord: 6,000pts
IMPORTANT NOTE: ALWAYS USE THE LATEST PUBLICATION TO SELECT AND PRICE YOUR UNITS
This means that if there is an update of any Red book or a new Black book that revises pre-existing units during the life of the event, then all vows made AFTER the release of the updated book must be priced according to the new book. Also, any official PDF releases relevant to Horus Heresy are also admissible (even if experimental) until an official publication that contains them is released.
Before you post you vow make sure you familiarise yourself with the ETL VI rules. You can find a link to the ETL VI rules below:
+++DEATH TO THE TRAITORS!+++