So I've had this idea kicking around for a while about building a mercenary army neither loyal to the imperium or chaos. After reading through all my options I've settled on the renegade and heretics list since it seemed the most flexible for what I had in mind.
My goal is to have the units look as unique as possible by kitbashing the units together out of all the boxes I've accumulated over time. Considering I don't have much hobby time I expect this to take a while.
Another aspect of building the army I want to try my hand at is coming up with a little story for the various units making up the force. I'm not much of a writer but figured it could be fun and help give some personality to my little plastic dudes.
Anyways, here's the first unit built, stalker marauders. Hopefully they'll see some paint in the next month or two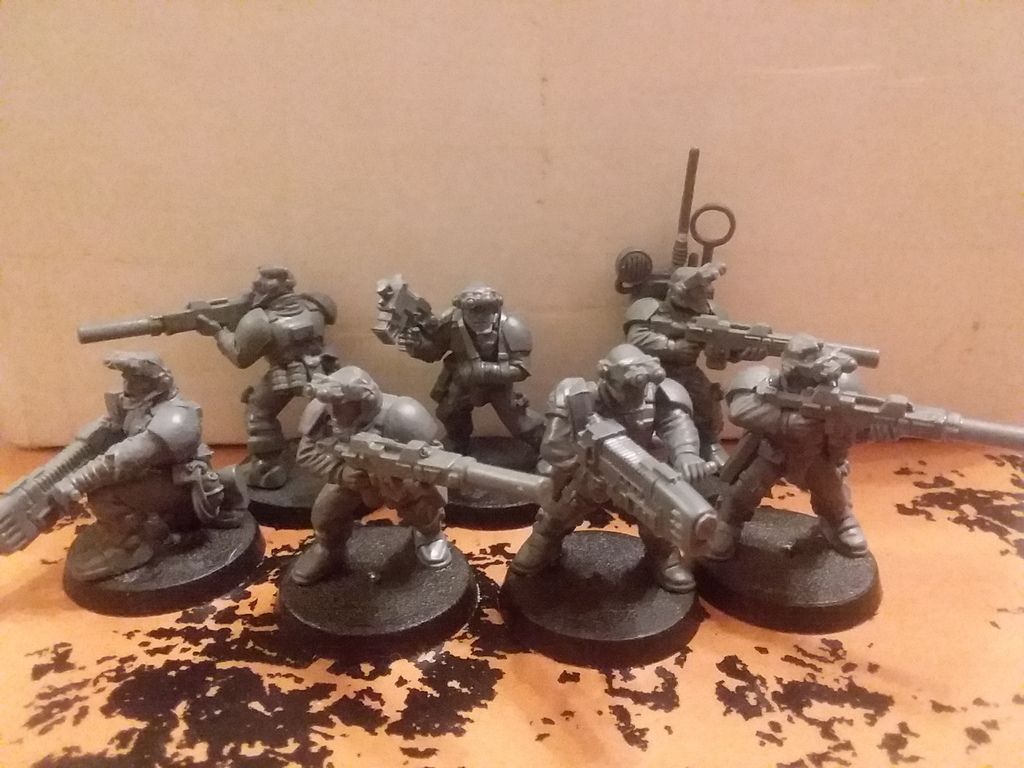 And for a little background
Dekker considered himself lucky as he watched the rest of the platoon mount up to meet the oncoming speed freaks. 3rd squad had been ordered to stay behind and secure the landing pad and await the governor along with his retunue. His only complaint was that the lieutenant didn't take the platoons junior commissar with them.
Time was going by slowly and Dekker started to get a bad feeling. The governor and his escort were behind schedule. He started to wonder if the landing pads two automated guns and 3rd squad would be enough in case the green skins broke through.
"Sarge you better come hear this," Conner, the squads vox operator looked worried as Dekker approached. It was hard to make out the transmissions, they were incoherent at best. "What's happening?" Dekker knew he wouldn't like the answer.
"The LT just called in an artillery strike on his position. They're being over run. We're going to have company soon and it ain't the governor."
Dekker knew things weren't going to go well. He had no intention of dying on this miserable planet and didn't give the governor a second thought. The last arvus on the landing pad was starting to look very appealing.
"Borey, go tell the pilot to get ready. We're leaving..." Dekker was interrupted by the sound of a bolter shot discharged into the air. He had forgotten about the commissar.
Junior Commissar Fenwood leveled his bolt gun at Dekker as 3rd squad froze in their tracks. "Sergeant, our orders are to hold this landing pad and await the governor. Any man who attempts to flee this post will be dealt with as all cowards and traitors are. In the name of the holy Emperor of mankind..."
Fenwood didn't get to finish his speech as he simply ceased to exists from the waste up after a blinding flash of plasma struck him from behind.
"Never was much of a religious man," Jynks said as he lowered his plasma gun.
"Right, now like I said, tell the pilot to ready the engines. Rangers, we are leaving." Dekker stopped to pick up Fenwoods bolter and boarded the arvus without looking back.
Edited by Redmonster, 13 May 2018 - 03:26 AM.